From the "Greenest Green Bean" to 2018 Top Tech Grand Champion...
Dickinson-Cox Ambassador, and back to 2021 Top Tech Grand Champion
Jeremy Piepmeier's talent as a diesel technician should not be underestimated. He has been with Dickinson for 10+ years. His service truck is plastered with awards for his multiple achievements in
Dickinson's annual Top Tech skills competition.
Jeremy Piepmeier's Journey
We caught up with Jeremy over email to learn about more him as a person and how the "greenest green bean" became a decorated diesel tech veteran that would eventually meet Cox Automotive Mobility President, Joe George. He also had the chance to teach Joe a thing or two about what he does best- fixing trucks.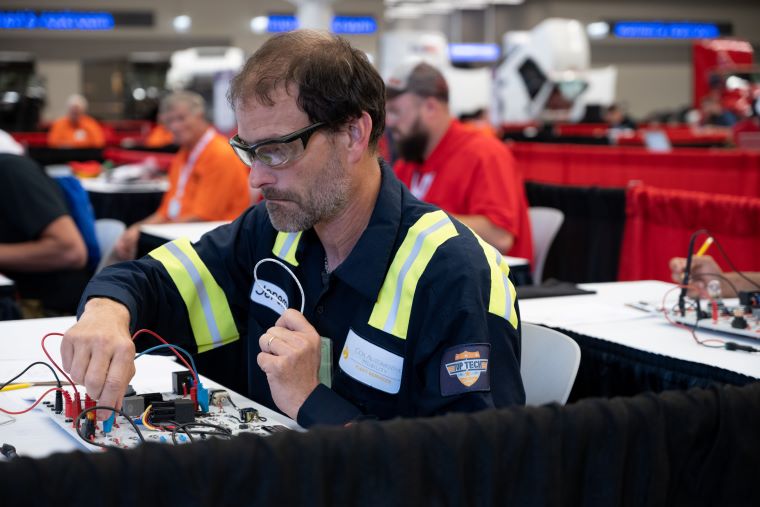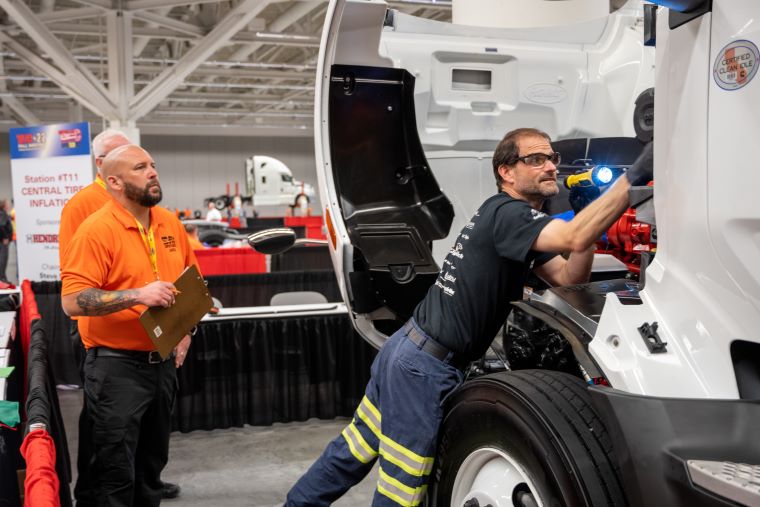 Tell us about your proudest moment at Dickinson Fleet Services.
My proudest moment was winning Top Tech. My wife was sick, she had been diagnosed with a chronic illness a year earlier and that year she wasn't doing well. We had a ton of doctor visits and a lot on our plate. I almost didn't do Top Tech but she told me not to worry about that and do the competition because the years prior I enjoyed it so much. So I did it and I won it that year. That was 2018.
What is a challenge you learned from?
I think our competition is the challenge I learned most from. They have competition stations run by experts in those fields, electrical, diag, brakes and so on. After it's over they take time and explain the systems and how they work. They give tips and tricks to help diag faster and more efficiently… To repair it faster. And how to use diagnostic tools properly.
We saw a video recently of you chatting with Joe George – cool! What was it like meeting him?
It was awesome meeting him. Not knowing what to expect was nerve racking. I mean he's the president of Mobility. But I was totally surprised. He is a great guy. He's friendly, personable, down to earth. I never got the vibe from him like he's better than me. He was very interested in what we do on a daily basis, how we do our job, what issues we deal with. He made me feel like I could talk openly and freely. Not like it's his way or the highway.
What do you think makes Dickinson a great place to work?
Dickinson has the family-owned feel and atmosphere. They had been very flexible with me and my work schedule and my family schedule. Our Human Resources department has been awesome. Alyce Hammond there has been a huge help with me. They just don't act like, "well you've got problems, and that's your problem not ours." They've gone above any beyond in helping me take care of my family.
What is your advice for newer technicians?
Don't give up. Figure out a groove. Being mobile is hard. There's a lot to juggle. Having multiple customers, a lot of travel, scheduling the work, pm, follow-ups, getting the parts and keeping the customers informed about the trucks and repairs needed on the trucks. The hardest part about being mobile is you're working alone, but you aren't alone. We have a great team of techs and support staff, MSW, parts, training staff, that have vast knowledge and will help. If you run into problems reach out. You aren't alone.
Tell us a bit more about life outside of work—hobbies you enjoy, family, etc.
I have a basic life outside of work. I spend most of the time with the family. My youngest kids are now 15, twins. The boy plays video games a lot. So sometimes we'll go kill some zombies in the call of duty game. My girl likes to play guitar and paint. So trips to the art store. She's really good at landscapes, trees, and people's eyes. I enjoy cooking and we stream movies a lot. So there's a lot of dinner and a movie after work.
Is there a mentor or someone you've looked up to – either at Dickinson or in your personal life?
I don't remember anyone in particular. I worked at a trucking company in Columbus, GA, I was 21 years old. I worked in the trailer side of the shop. There were 3 guys there, 2 were retired military, they would tell me stories about equipment they've worked on and problems they had. Man the knowledge they had. It was incredible. I learned so much from them.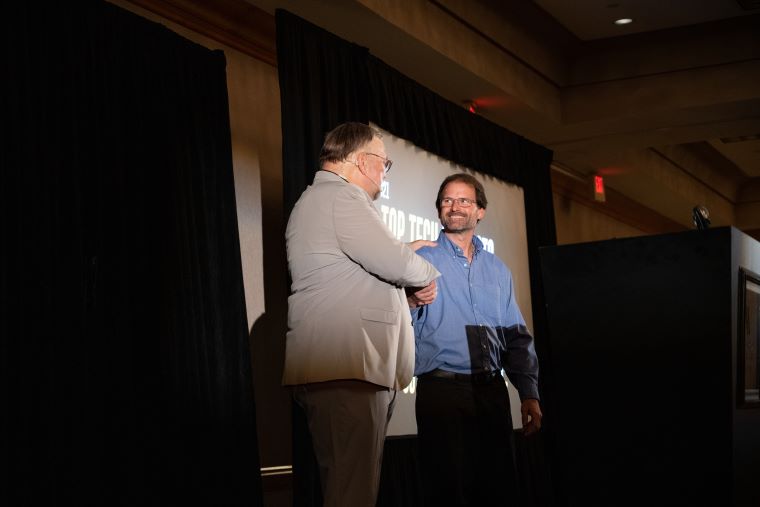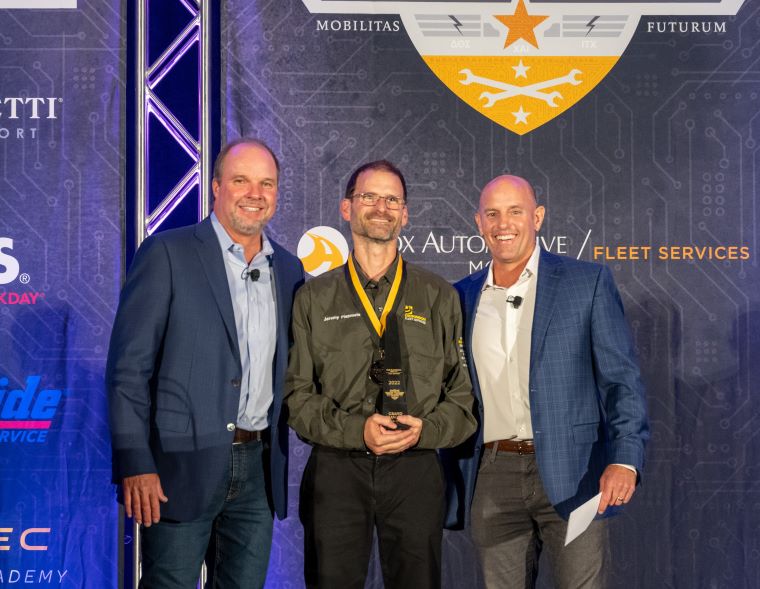 Tell us about your background – your journey to America and how did you get started as a technician?
First, as a kid I was fascinated by trucks. The size, the look, the noise. I would always look at them. Wondering about them. My dad was a computer engineer. The most he ever did on a car was change the oil. So I didn't have the mechanical background that so many techs have. Most grew up around it. So my first car, the water pump went out. I had no clue what it was or what it did. I decided to try and fix it myself. We had basic tool and I bought a book and did it. It was hard not knowing anything. But after I fixed it, I realized I enjoyed it. That great feeling of satisfaction. "I did it". So after high school looking at career paths, I decided to learn how to work on them. Went to tech school. I remember the first day at school, I was the greenest green bean there. The instructor asked "what's the main difference between a diesel engine and a gas engine?". My answer was the best. "One runs in diesel and one runs on gas". Wow I didn't know anything back then. That was like 25 years ago.
Hey, awards are wonderful. We're always grateful for positive recognition. But to us, the most important thing about these honors is that they're based on feedback from our employees, customers and community partners. We really love that. Below are just a few. See all awards here. 
Hey, awards are wonderful. We're always grateful for positive recognition. But to us, the most important thing about these honors is that they're based on feedback from our employees, customers and community partners. We really love that. Below are just a few. See all awards here.