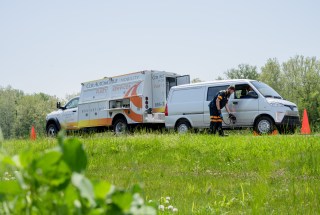 EV Fleet Future: What to do now to prepare for tomorrow
Over 100 years ago, Henry Ford hired Thomas Edison to develop an electric version of the Model T for his wife. Now, electric vehicle (EV) sales are on the rise for consumers – including the doubling of available medium- and heavy-duty EV models.
With the expansion of the EV lineup and the federal and state incentives for EVs, there is now a clear path for fleet operators to take to electrify their fleet.
"With the expansion of the EV lineup to include medium- and heavy-duty options, there is now a clear path for fleet operators to electrify their fleet," says Kevin Clark, Sr. Vice President of Shop Operations. "Things they can do right now include taking advantage of incentives to bring EVs into their fleet and partnering with maintenance providers that have technicians with EV experience."
Things you can do right now:
Train your technicians on EV
If you have technicians, consider putting them through EV training now. There are courses and instructors that can teach the basics of EV maintenance, including medium- and heavy-duty vehicles.
Get access to an emergency charge
You do not necessarily need to buy an emergency charge unit right now but knowing where one is can alleviate a lot of stress. See if there are any local charge services in your area that offer emergency services.
Develop a sustainability plan
Things can change in the blink of an eye and as the world shifts to a sustainable outlook, you should keep pace. Identify ways your business can reduce environmental impact and make plan on executing.
Take advantage of EV incentives
State and federal governments are offering powerful incentives to increase the adoption of electric vehicles. Analyze your situation and determine if the incentives align with your financial plan – now may be an advantageous time to add an EV to your fleet.
What to do prepare for the future:
Think differently about refurbishing existing fleet
Truck inventory is still hard to come by, which means your current fleet will begin aging if it hasn't already. As you take the steps to refurbish your aged vehicles and get them road sound, consider converting one or two to an electric engine. There are teams and companies specialized in converting ICE trucks to EV, should you need the assistance. This will allow you to get more life out of your fleet without needing to purchase new trucks.


Plan to train new hires on EV
Not all of the technicians you hire will have experience with EV fleets and that's okay. You can overcome any obstacles by developing and implementing a training curriculum for your new hires on EV engines. If you use a partner to service your fleet, confirm with them about whether or not they train their vehicles on EV or plan to do so in the future. Getting ahead of the curve will bring you peace of mind when you do convert vehicles in your fleet to EV.
It took over 100 years to get where we are in the fleet industry today, so don't expect it to change overnight. But shifts have already begun and if you're not thinking about how to electrify your fleet now, you may be too late to the game when it does happen. Develop your plan and take proactive steps now to keep your fleet running smoothly when the EV future arrives.