Military Friendly. Military Ready.
Mobile Diesel Technician in Nashville
Years with Fleet Services: Since Nov 2021

Military branch / years served: Army / 3.5 years
Can you give an overview of your time in the military, your role, experience?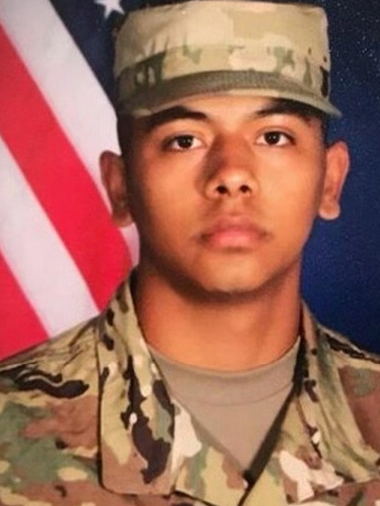 September 2017 I started at Ft Jackson, SC where I completed basic training. They try to break you down and build you up how the want you to be: that perfect soldier with integrity and respect.
After graduation, they sent me to Advanced Individual Training (AIT) at Ft Lee, VA and that's where I learned my job be an all-wheeled mechanic. I worked on hum Vs, LMTV (light/medium tactical vehicle), PLS (paralyzed loading system), LHS (loading/handling system), MAT-V, and each one had a different motor. 
At AIT, they taught us the basics. At the time I struggled learning it, because it didn't click the first time. Then through repetition and getting hands on, it started to make sense. From there I transitioned to Ft Campbell, KY for about a year and half working on more trucks, and finally my time came up to either re-enlist and stay for another 4 years or pursue other opportunities as a civilian.
At the time, I was starting my family, my son was only 5 months old. I wondered if there would be much opportunity compared to what I had in the Army. It was hard to walk away from guaranteed benefits and pay. I sat on it for 2 months and ultimately decided to transition out of the military.
From there, the last stop was SFLTAP (Soldiers for Life Transitioning Assistance Program), you take certain classes to prepare you for civilian life. I finished all my classes and then March 12, 2021 was my official last day of active duty. 
What was the transition like going from military to civilian life?
It was an adjustment, I could still use what I learned in a professional environment, but there's certain things in military: crazy hours, field exercises, etc that just don't match civilian life. 
We went to ranges, learned to fight in close quarters and embodied that before you're a mechanic you're a soldier. How do you deprogram that behavior? It's not that I struggled with it, it was more of relearning who I was before but knowing that I'm not the same person anymore.. The learned behavior of being a fighter is no longer required as a civilian and deprogramming that soldier mentality and instincts is challenging and takes time. 
I've been out a year and 2 months now, and I'm still adjusting. 
What led you to work at CAM Fleet Services?
When I transitioned out, military paid for my training in HVAC classes. My plan was to be an electrician or HVAC technician. I decided on HVAC. I liked the job, but I was paid commission. One week I'd get a decent check, but other times, it wasn't worth 60 hours. Benefits weren't that good either. One day I got online to see if other opportunities were available. I looked at different things like cyber security, overseas work doing military contract work.
Then I thought, let me stick with what I'm comfortable with, so investigated diesel mechanic opportunities. I threw in applications everywhere, but there was always something that made it not a good fit – whether it was benefits, commute, or pay.

Then I got a call from Cox Automotive Mobility Fleet Services, they explained the opportunities, benefits, responsibilities, etc. 
They encouraged me to go through FleeTec Academy and I'm glad I did because it's been awesome. Our instructors here back up what they are teaching with hands on experience to help it make sense.
What is a typical day like for you on the job?
Wake up, I meet with my mentor, we are dedicated on-site technicians. Our morning routine is starting up trucks, turning on lights, doing a walk around, making sure all is good before they take off. Once the drivers take off, whatever is left behind, we work on them for the day. If parts are needed, I run to the store and pick it up. My mentor is there teaching me, walking me through stuff, we'll take a lunch break, and do it some more in the afternoon. 
Every fix poses a new challenge. We had a truck that we couldn't figure out what was going on with the lights. The company that previously owned it made up their own wiring, it wasn't OEM, they just grabbed a bunch of wires, in a bundle and improvised their own harness. There was no schematic we could refer to. We basically had to build our own schematic on the spot. Trying to figure out what was going on with the lights was a challenge. We followed every inch of the wiring harness and inspected every single wire until we found the problem. One of the wires was heavily corroded so we replaced it with new wire, and it fed the system power. 
After that we inspected every additional wire after to make sure there was no additional corrosion or loose wires. We fixed the problem, and we didn't stop there, we kept going to make sure there were no other problems in that circuit that could potentially cause a similar issue down the road. Got to have a lot of patience to do the job right.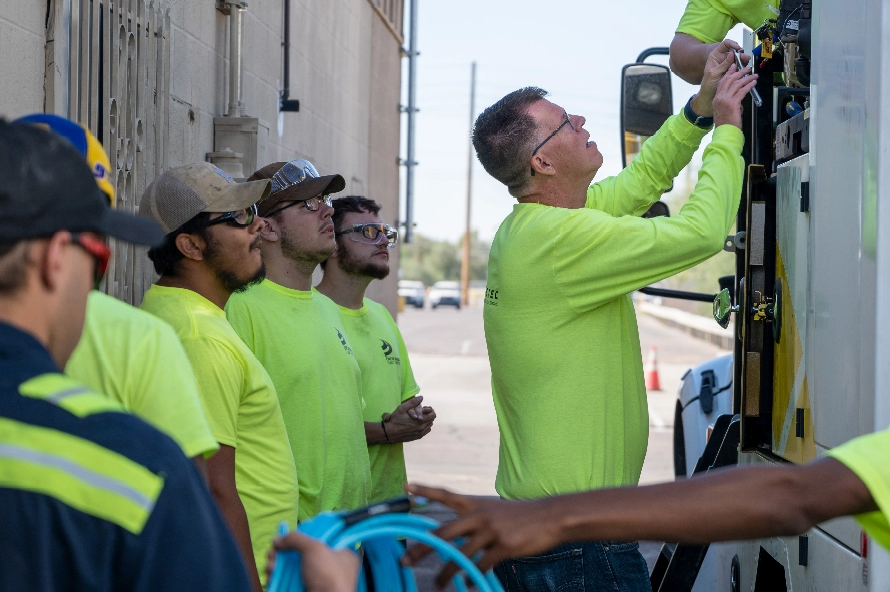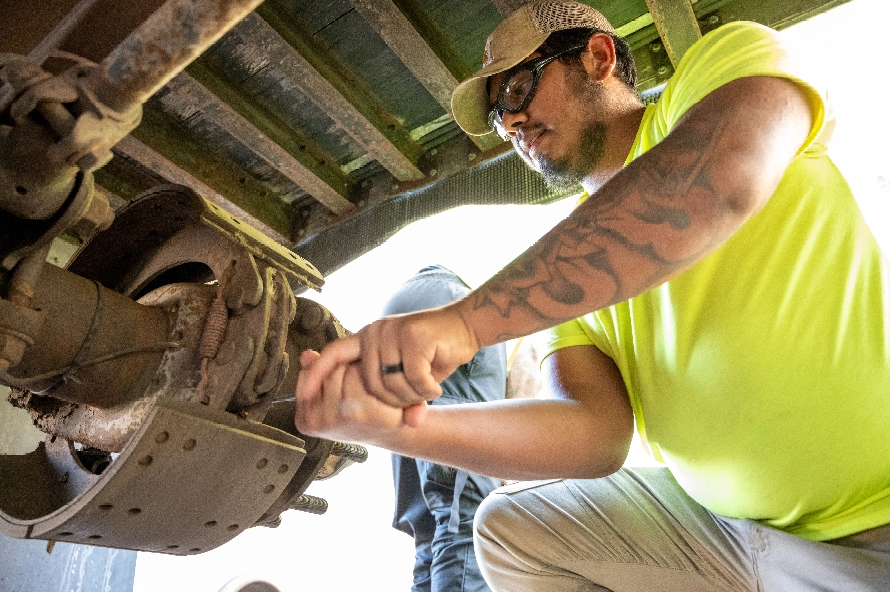 What skills did you learn in the service that you still use on the job today?
The military gave me base, marketable skills and taught me to quickly adapt, improvise and overcome any situations I find myself in. Plus the traits that define a good soldier, clear communication, ability to take direction, respecting those around me, and overall being an exemplary employee.
Then there's the mechanics – learning how to perform preventative maintenance, basic electrical troubleshooting, changing brake shoes and drums, etc.
How would you describe the work culture of CAM Fleet Services?
Cox Automotive Mobility Fleet Services values equal opportunity and inclusion. I get to work with a lot of people with different backgrounds and beliefs but we're all on the same team with a common goal. At the end of the day, we're all here to do the same job. They believe in safety and getting you home to your family in the same condition you left them in the morning. 

Here at Cox my manager sees me as a person, not just an asset like the military did. I like that my managers see that I care and put in the work. They give me that reassurance and take the time to learn who I am and genuinely care. 
I'm proud to see how many veterans we have working here. Why do you think CAM Fleet Services is an attractive opportunity to veterans?
It's a good opportunity because you have coworkers and managers that have been in your shoes, so they understand. We also have great benefits; health insurance is really good. In my experience the money is better here than in the Army with plenty of opportunity to grow. I'm starting as a Mobile Technician and in a few years I could stand up in front of the class and teach. 
Similarly, what can you share about this being a great next career step for military/veterans?
Having the big broad opportunities to take my career any number of directions our company offers: recruiting, marketing, communications, things beyond turning wrenches. There's so much we can do and take the time to figure it what the next step is to get there. Electric vehicles are new so not many technicians know how they work yet, so with FleeTec offering EV classes, that's going to give us the training resources we need to keep our skills relevant as the industry shifts. 
What would your advice be to veterans interested in pursuing a tech career with CAM Fleet Services?
Work to build your experience to translatable civilian experience. For techs, look for a company who values military people and offers their own training curriculum. 
Take the leap of faith. I was hesitant at first, but you've got to give it a chance. 
What do you think makes CAM Fleet Services the employer of choice vs. others in the industry?
Far more people-focused company and they mean what they say. Best-in-class benefits and an abundance of resources for both personal and professional growth and wellness. 
What do you enjoy most about the work you do?
Technically, being able to see how different things work together, part of a larger whole. There's so much to it if you just look at it it's overwhelming. At first, I thought it was a lot more complicated, but now I'm learning how simple it is, seeing how all of these pieces work together to make the truck move forward. Being the guy that fixes something that's so important to our world, it's a good feeling.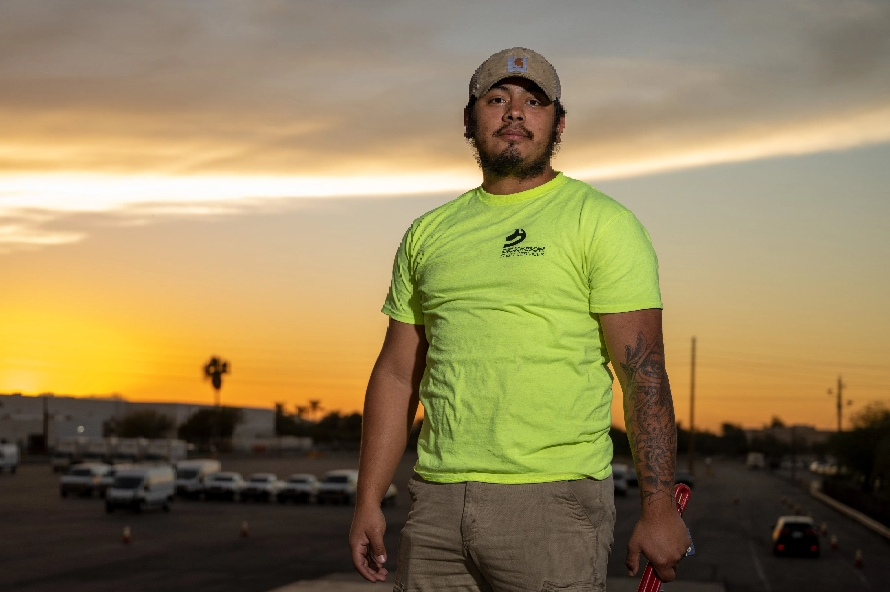 Who has made the biggest impact on you professionally? In what way?
My mother, she was a single parent raising 3 kids. She worked 3 jobs to support us. Just seeing her dedication and drive to want to be better. I didn't see it when I was younger but now, I know I want to be like that. I want that ambition to be better, to grow, to provide for my own family and give them a great life.
Cox Enterprises & Veteran Support
Explore ways that Cox is helping veterans everyday and see what opportunities we have to start you on the next part of your journey.
Hey, awards are wonderful. We're always grateful for positive recognition. But to us, the most important thing about these honors is that they're based on feedback from our employees, customers and community partners. We really love that. Below are just a few. See all awards here. 
Hey, awards are wonderful. We're always grateful for positive recognition. But to us, the most important thing about these honors is that they're based on feedback from our employees, customers and community partners. We really love that. Below are just a few. See all awards here.