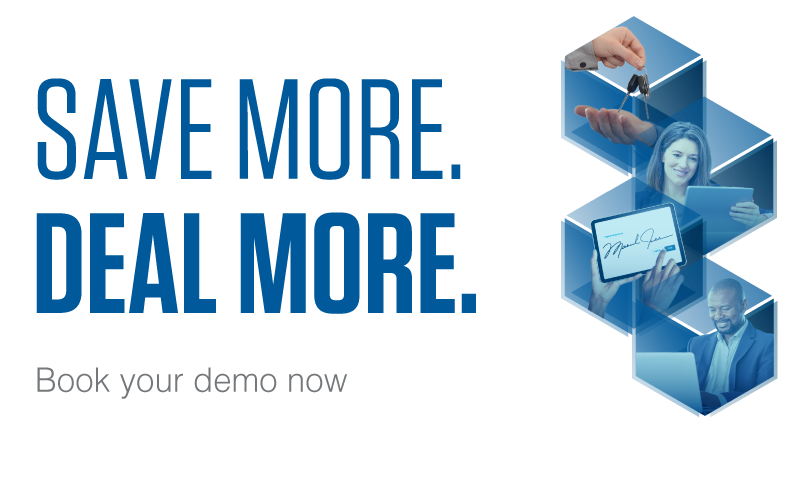 LAST CHANCE TO SECURE YOUR GIFT CARDS!
NADA is this week! Make sure you schedule your demo before the show so when you visit us at the booth, you'll receive your demo, gift card(s), and 2023 diecast collectible car.*
Simplify deals and streamline operations with connected technology solutions designed to reduce costs and ramp up profits. Deliver a better buying experience for your customers and vital efficiencies for your staff while increasing speed and preserving profitability.
Sign up and attend demos at NADA2023 to receive a $25 Amazon Gift Card.*

faster funding compared to paper contracts1
faster in-state reg & title transaction submission with DMS integration2
faster recognition of trade-in profits3
estimated yearly savings on hidden fees paid by dealerships4
Dealertrack F&I
Power fast, accurate and compliant vehicle transactions from credit to contracts to aftermarket with access to the industry's largest financing platform and deeper integrations.
Featuring:
Digital Contracting and Remote Signing
Compliance
Dealertrack DMS

Make life easier with the #1 easiest-to-use, flexible DMS solution. Save time and money with the one solution that lets you, not the provider, dictate how best to run your business. 
Featuring:
Critical Analytics
Dealertrack DMS Document Management
Payment Solutions
Dealertrack Registration & Title

Speed transactions and reduce costs from trade-ins to vehicle sold through integrations and connections to lenders and state motor vehicle divisions.
Featuring:
Dealertrack Accelerated Title® (Trade-In Titling)
Electronic Registration & Title direct to your state DMV
RegUSA® (Out-of-State Registration & Title)
F&I Express
Are you a provider looking to meet with F&I Express?
Contact your representative to set up a meeting at NADA
1 Data based on user input and calculations using Dealertrack's Digital Contracting Savings Calculator as of July 2022 and are not a guarantee of actual savings. 2 Based on Dealertrack DMS configurations – April '22. 3 Based on average industry timeframe for vehicle title release and vehicle payoff process of 18+ days, as determined by 2021 Dealertrack data. 4 US-based non-Dealertrack DMS dealers using Xtime, VinSolutions, vAuto, HomeNet, Dealertrack F&I and Dealertrack Serve Pro from April 2022 – September 2022. We respect your privacy. The information you submit is secure and will only be used to communicate with you about your reservation. 5 Based on industry standards for labor costs and Dealertrack and dealer customer data as of August 2022. Not a guarantee of actual savings. *Promotion terms apply. While supplies last.
Click
for gift card details. Restrictions apply, see
amazon.com/gc-legal
. Here's our
privacy policy.
*Schedule and attend a demo for Dealertrack products and services during NADA Show 2023 and receive a free 2023 Dealertrack diecast collectible car – the Mercedes Benz EQS – for your dealership. The car will be sent to you following NADA Show 2023. Attending a demo is not a condition of or obligation for purchasing any Dealertrack product or service. ©2022 Cox Automotive, Inc. All Rights Reserved.
Do Not Process My Sensitive Information
|
Do Not Sell My Personal Information