Check out the latest news
NADA Newsroom
Monday March 12, 2018
Article Highlights
We hope to see you at the Cox Automotive Press Conference, March 23, 2018 at noon PDT in Las Vegas Convention Center Room N233.
The Year of the Launch: See how Cox Automotive is bringing unprecedented innovations and integrations to the market in 2018.
Check out the reinvented and expanded Cox Automotive 2018 Used Car Market Report & Outlook.
Cox Automotive
NADA 2018
Press Conference
Thank you for attending!
We are glad that so many media could attend the press conference and see Cox Automotive President Sandy Schwartz; Jessica Stafford, general manager of Autotrader; Dale Pollak, founder of vAuto and executive vice president for Cox Automotive; and Grace Huang, president of Cox Automotive Inventory Solutions; as they highlighted the innovation that Cox Automotive is bringing to the market in 2018.
Cox Automotive Chief Economist Jonathan Smoke unveiled the reinvented and expanded Cox Automotive 2018 Used Car Market Report & Outlook. This report maintains a decades-long tradition of offering exhaustive data, smart insights and keen observations, but this year offers much more, including forward-looking perspective; useful advice for clients; and outside voices. The report can be downloaded here.
The press conference presentation can be downloaded here.
You Helped Fuel Red Cross Disaster Relief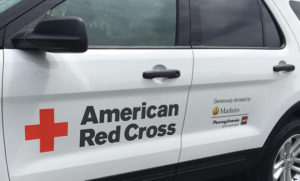 Supporting Cox Automotive's American Red Cross campaign during NADA, the Cox Automotive Public Relations team is donating more than $3,000 to the American Red Cross based on the number of media in attendance at the Cox Automotive NADA press conference. This donation will help fund an emergency response vehicle.
Check out the Announcements from Cox Automotive and its Brands
AccelerateSM, Cox Automotive's new connected retail platform, launched Monday, March 12. Learn more›.
Nexi, the automotive industry's first digital assistant for dealerships, launched Monday, March 12. Learn more›.
nVision, the only integrated digital marketing platform to offer transparency into a dealer's end-to-end marketing strategy, launched Tuesday, March 13. Learn more›.
Manheim ExpressSM, a new mobile application for dealers, launched Wednesday, March 14. Learn more›.
Offers on Stockwave, notifies Stockwave users of the right car at the right place at the right auction, launched Friday, March 16. Learn more›
Kelley Blue Book Trusted Advisor Program, which streamlines the vehicle trade-in and purchase process delivering the fast, easy and more enjoyable experience dealers and consumers deserve, launched Monday, March 19. Learn more›
Cox Automotive Car Buyer Journey Study, explores how consumers complete the entire vehicle purchase process by exploring when, where and how consumers decide to start their research, make their decision and close the deal – and how dealers can best position themselves to be their store of choice. The study was published March 21. Learn more›
Xtime's "Fast Lane: How to Accelerate Service Loyalty and Unlock its Profit-Making Potential", a book by Jim Roche, dives into the perceptions and attitudes of U.S. car owners toward service departments. Pick up a copy on Friday, March 23 10:30-11:30 a.m. PT in Room N220 of the Las Vegas Convention Center. Learn more›
OVE intelligent search, the industry's first intelligent search for wholesale inventory on OVE, a digital channel within the Manheim Marketplace, will reduce search time and deliver more accurate and personalized search results to clients. Learn more›
InSight Condition Report, features more manufacturer data, crisper photos and improved visuals, which makes it easier and faster for clients to view important information and make smarter and more confident decisions. Learn more›
Cox Automotive Used Car Market Report & Outlook, formerly called the Manheim Used Car Market Report, this reinvented and expanded annual report provides insights, data and information that will help you navigate our ever-changing auto industry and economy. Learn more›
Check back for more.
See what Cox Automotive is Highlighting at NADA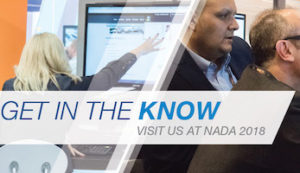 Get a sneak peek at the innovations and insights the Cox Automotive brands are bringing to the market. Visit the special NADA section on the Cox Automotive website to learn about launches and who is speaking at the conference.
Contact us for more information
Chintan Talati, senior director, Cox Automotive Public Relations, 949 267 4855, chintan.talati@coxautoinc.com

Mark Schirmer, senior manager, Cox Automotive Public Relations, 734 883 6346, mark.schirmer@coxautoinc.com
Or, click here to contact other members of the Cox Automotive PR team.