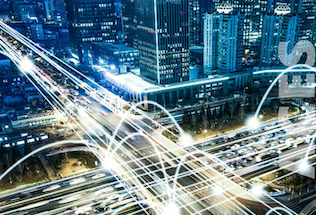 Driven by emerging technologies, the future of fleets will comprise of high-tech vehicles. Leveraging the latest insights and market research, this study aims to inform fleet owners, operators, and managers about the ever-changing technology landscape that will continue to redevelop the nature of fleet vehicles. In the study you'll discover more about fleet ADAS adoption and sentiment:
Safety is top of mind when Fleets consider autonomous and ADAS features – Fleets see adoption of autonomous and ADAS technology as an opportunity to enhance the safety of their drivers and others on the road.
The majority of medium and heavy-duty fleets say that new vehicle technology improves the way they manage their fleet. Data brings safety and efficiency to fleet management.
40% of fleets feel that Connected Services will be more important to business in the next five years.
Practical vehicle options are needed for mass EV adoption – Fleets that are in the market for EVs currently need vehicles that are practical for longer trips and convenient infrastructure.
Learn more about how Autonomous, Connected, Electric, and Shared technologies will be leveraged in your fleet vehicles and how it will impact fleet services around the country.
Enter your information below to download the study:
---
About The Author, Zo Rahim
Zohaib (Zo) Rahim is Senior Manager, Research & Market Intelligence at Cox Automotive. Zo has spent over a decade in the industrials and technology space supporting extensive strategic and management initiatives along the way. His primary role is to monitor developments in light, medium, and heavy-duty vehicles as well as understand changes in technology, mobility, and the economy. Zo is responsible for leading and developing actionable insights to support Cox Automotive Mobility Solutions. He has spoken at major industry conferences and his views on the economy and the auto industry are featured regularly in industry and national news outlets such as Automotive News, Bloomberg and WSJ.
About Cox Automotive Mobility
Cox Automotive Mobility is driven to keep fleets and people moving safely and sustainably for the next generation. Building on our rich automotive legacy, we are a fundamental enabler of the emerging global transportation ecosystem – one that is autonomous, connected, electric and shared. www.coxautoinc.com/mobility
About Cox Automotive
Cox Automotive Inc. makes buying, selling, owning and using vehicles easier for everyone. The global company's more than 27,000 team members and family of brands, including Autotrader®, Dealer.com®, Dealertrack®, Dickinson Fleet Services®, Kelley Blue Book®, Manheim®, NextGear Capital®, VinSolutions®, vAuto ® and Xtime ®, are passionate about helping millions of car shoppers, 40,000 auto dealer clients across five continents and many others throughout the automotive industry thrive for generations to come. Cox Automotive is a subsidiary of Cox Enterprises Inc., a privately-owned, Atlanta-based company with annual revenues of nearly $20 billion. www.coxautoinc.com