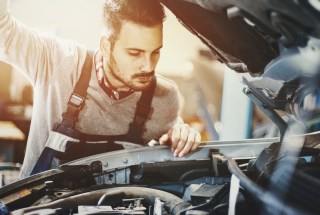 June 8, 2023 – As the summer season approaches, it's crucial to take various factors into consideration to ensure that your fleet operates at maximum efficiency and minimizes downtime. While the industry has been dealing with service technician shortages, there are signs of improvement compared to the challenges faced in the summer of 2022. Labor market tightness still poses some issues for dispatch and service responses, but overall market conditions, including parts availability and new equipment deliveries, have improved.
Regardless of market and economic conditions, the summer heat can put a strain on even the most well-maintained fleets. Tire maintenance, cooling systems, and charging systems require close attention to prevent costly downtime events. To keep your fleet on the road and reduce emergency roadside failures, it is essential to prioritize preventive maintenance in the following key areas:
Tire Yard Checks: The number one reason for tire failures is low air pressure. Conduct routine tire yard checks to identify tires that need replacement or inflation before hitting the road, thereby reducing road failures. Whenever possible, schedule yard checks during regular business hours to avoid after-hour labor rates.
Batteries / Charging Systems: Heat significantly affects battery performance, yet batteries are often overlooked during the summer driving season. Conduct load tests on batteries, clean battery terminals/posts, and ensure charging systems are functioning correctly.
Cooling System: Modern engines operate at higher temperatures under the hood, requiring cooling systems to perform at their best. Inspect belts, including idler pulleys, hoses, and coolant protection levels. Age is a critical factor when assessing belts and hoses, as they age from the inside, making visual inspection alone unreliable. As a preventive maintenance measure, replace belts and hoses that are five years or older. Additionally, ensure that radiator screens are free from debris to enable proper airflow.
Air Conditioner Inspection: Emergency repairs to A/C units can be challenging and costly in roadside environments. With rising temperatures, it is vital to warrant driver comfort and safety. Conduct preventive maintenance inspections on A/C units to verify proper operation and ensure that condensation drain lines are clear of debris.
By focusing on preventive maintenance in these key areas, you can significantly reduce service failures and costs, keeping your fleet on the road and operating efficiently throughout the summer season.
About Cox Automotive Mobility
Cox Automotive Mobility is driven to keep fleets and people moving safely and sustainably for the next generation. Building on our rich automotive legacy, we are a fundamental enabler of the emerging global transportation ecosystem – one that is autonomous, connected, electric and shared. www.coxautoinc.com/mobility
About Cox Automotive
Cox Automotive Inc. makes buying, selling, owning and using vehicles easier for everyone. The global company's more than 27,000 team members and family of brands, including Autotrader®, Dealer.com®, Dealertrack®, Dickinson Fleet Services®, Kelley Blue Book®, Manheim®, NextGear Capital®, VinSolutions®, vAuto ® and Xtime ®, are passionate about helping millions of car shoppers, 40,000 auto dealer clients across five continents and many others throughout the automotive industry thrive for generations to come. Cox Automotive is a subsidiary of Cox Enterprises Inc., a privately-owned, Atlanta-based company with annual revenues of nearly $20 billion. www.coxautoinc.com