EV Battery
4 MIN READ
Supply Chain Challenges Impacting Electric Vehicle Adoption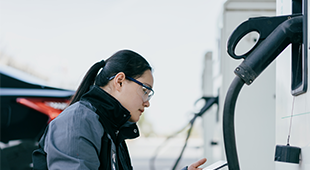 Vehicle electrification is gathering steam. But supply chain disruptions and the soaring cost of raw materials, exacerbated by geopolitical conflicts, threaten to put the brakes on electric vehicle (EV) sales just as demand is taking off.
The battery pack is the most expensive part of an EV, contributing to up to 40% of the cost of a new EV. In the near term, meeting increased EV production commitments and demand means more mining. The U.S. reliance on importing materials critical to EV battery production has become an economic and national security vulnerability. Fortunately, the U.S. has the resources to build an EV supply chain strategy from the mine up. While efforts to jumpstart critical mineral production for the metals that can be found stateside are currently underway, it takes time.
Get an in-depth look at what's causing the disruption, and most importantly, how to harness the supply chain and pave the way for increased EV adoption, energy security and cleaner air and water for all in our latest white paper:
---
About Cox Automotive EV Battery Solutions
The EV future is here, and Cox Automotive Mobility is leading the way with a commitment to support the global transition to battery power and electrification of the transportation industry to help lower emissions. But we won't stop there. Our focus on the entire battery lifecycle will help keep batteries out of our oceans and landfills to help ensure a more sustainable future.
That's why we're building a global service network focused on management and innovation within the entire EV battery lifecycle. It will set the industry standard in EV battery health inspection and valuation, while also offering complete end-to-end battery services—from storage and logistics to remanufacturing, reuse, and pretreatment recycling.
About Cox Automotive
Cox Automotive Inc. makes buying, selling, owning and using vehicles easier for everyone. The global company's more than 27,000 team members and family of brands, including Autotrader®, Dealer.com®, Dealertrack®, Dickinson Fleet Services®, Kelley Blue Book®, Manheim®, NextGear Capital®, VinSolutions®, vAuto ® and Xtime ®, are passionate about helping millions of car shoppers, 40,000 auto dealer clients across five continents and many others throughout the automotive industry thrive for generations to come. Cox Automotive is a subsidiary of Cox Enterprises Inc., a privately-owned, Atlanta-based company with annual revenues of nearly $20 billion. www.coxautoinc.com