Discover exponential value
No other solution turns high-quality traffic into buy-quality traffic.
Join the ever-growing list of dealers who are using digital retailing to increase the value of visitors to their listings and website offerings. Not only are you delivering the experience shoppers expect, you're getting qualified traffic that's significantly more likely to submit a lead form and convert.
Nine out of 10 consumers are more likely to buy from a dealership that offers at least one component of digital retailing.
Reach the largest audience
Cox Automotive dealers with Digital Retailing
Track record of generating greater profits
Get VDPs that go the distance
If your goal is to drive consumers to your website and keep them there, this is traffic you're going to love getting stuck in. Our VDPs deliver the consistent wow factor they expect, right down to key deal-making tools.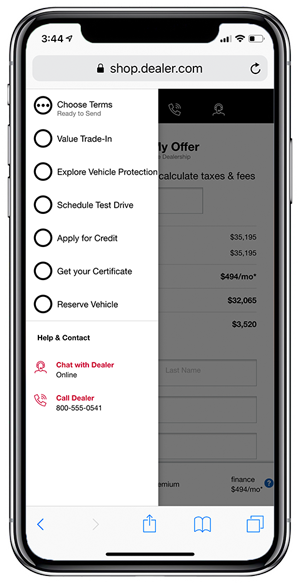 more likely to submit leads3
Wow factors create momentum. Shoppers who use our Digital Retailing solution are significantly more likely to submit lead forms.
Take that qualified traffic and make it priceless. High-quality leads determine how quickly and effortlessly you can convert them to profitable sales.
Shoppers get the process they want, while you're able to configure deal structuring that helps you increase close rates, improve profitability and generate more F&I sales — all while lowering selling process time and cost per vehicle sold.
"There are a lot of digital retailing products out there. We chose the Cox Automotive Digital Retailing product because of the ease of use for the consumer and the connectivity to the banks. All the others just give you a nice lead. But when we joined Cox Automotive Digital Retailing, it was actually a true deal that was coming in and not just a lead."
"Digital retailing leads are hot. If I offer up two leads, one digital retailing and one not… my staff always wants the digital retailing lead because it's much more likely to produce a sale."
"Digital Retailing has definitely helped us speed up the sales process for our sales team."
Learn how to accelerate your sales
Demo Digital Retailing today!
Sources:1) Dealer.com hosted websites (July-Dec 2018); Comparison of visits with digital retailing activities to those without.
2) Cox Automotive Accelerate platform Close Rate and Profit Analysis (Jan – Aug 2019); sold leads from Digital Retailing compared to other Cox Automotive leads excludes active leads (open opportunities not lost or sold).
3) Cox Automotive Accelerate platform Close Rate and Profit Analysis (Jan – Aug 2019); gross profits compared to other Cox Automotive leads.
4) Cox Automotive Car Buyer Journey Study 2018.
©2019 Cox Automotive. All Rights Reserved.