Data Point
New-Vehicle Inventory Edged Lower; Listing Prices Stabilize
Thursday February 16, 2023
Article Highlights
The total active supply of new vehicles dipped to 1.73 million at the end of January.
Average listing price rose to $47,743 for a new vehicle at the end of January.
Supply varies widely by brand, segment, price and region.
Revised, March 16, 2023 – New-vehicle inventory edged lower in January from December but remained significantly higher than a year ago, according to Cox Automotive's analysis of vAuto Available Inventory data.
---
1.75M
Total Inventory
as of Jan. 23, 2023
$47,521
Average Listing Price
---
The total U.S. supply of available unsold new vehicles stood at a upwardly revised 1.75 million units near the end of January, compared with a revised 1.80 million vehicles at the end of December. Supply was up 62% from a year ago, or 660,000 units higher. Days' supply was 58, down from 59 at the end of December 2022 but up 65% compared with the end of January 2022. Historically, a 60-day supply across the industry had been considered normal and ideal.
The Cox Automotive days' supply is based on the daily sales rate for the most recent 30-day period when about 913,688 vehicles were sold. For the full calendar month of January, total new-vehicle sales were up 4% from January a year ago for a sales rate, or seasonally adjusted annual rate (SAAR), of 15.7 million, up from 15.1 million last January and 13.4 million in December. Retail demand softened last month, but January sales were buoyed by fleet purchases, up 58% from the year-earlier January.
While inventory is up substantially from 2022 levels, it remains low by historical standards. At the end of pre-pandemic January 2019, supply stood at 3.63 million vehicles for a 95 days' supply.
The following commentary, while directionally correct, is unrevised from the original publication on Feb. 16, 2023.
New-Vehicle Asking Prices Rose Again in January
After showing some signs of stabilizing last fall, the average listing price – or the asking price – remained stable at $47,521 at the end of January, according to Cox Automotive's analysis of vAuto Available Inventory data. The listing price was 6% higher than in January 2021.
The average transaction price (ATP) – or the price paid – declined slightly in January to $49,388, down 0.6% or $310 from December's record, according to Kelley Blue Book, a Cox Automotive company. The January ATP was up nearly 6% from a year ago, and the share of luxury brand sales was at a record high near 20%.
Supply Shows Wide Variation by Brand, Segment, Price and Region
January continued to show wide variation in supply by brand, segment and region.
Closing the month, the industry had a non-luxury vehicle inventory totaling 1.46 million vehicles for a 58 days' supply, compared with 1.53 million vehicles for a 57 days' supply at the end of December. The inventory of luxury vehicles (excluding uber luxury ones) stood at nearly 260,000 units for a 53 days' supply. That compares with 270,000 vehicles for a 61 days' supply a month earlier.
As for non-luxury brands, Toyota, Kia and Honda had the lowest inventories to close out January with days' supply under 30. Subaru was also at the low end. Luxury brands at the low end were Lexus and Land Rover, which both had about a 31 days' supply. BMW and Porsche also had low supply.
January Days' Supply of Inventory By Brand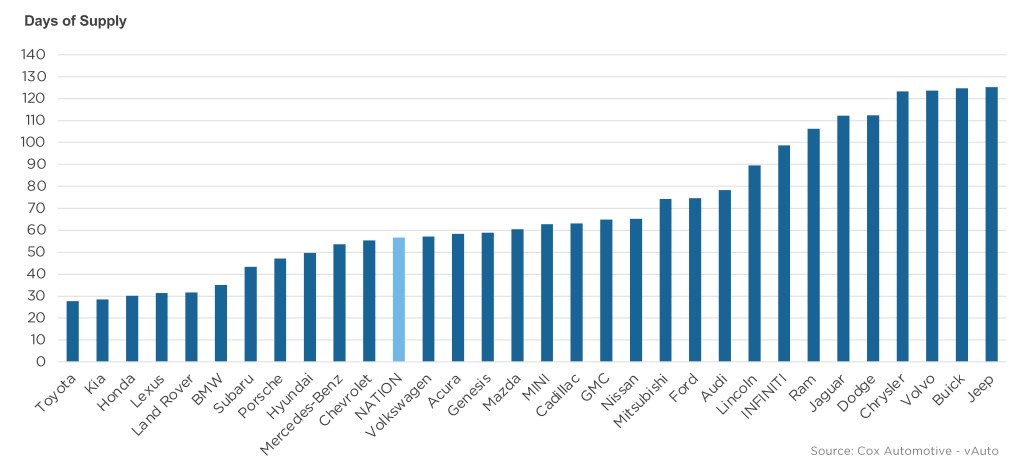 Seven brands, a mix of luxury and non-luxury, import and domestic, had days' supply into the triple digits. Jeep had the highest at 123 days' supply, followed by Buick, Volvo, Chrysler, Dodge, Jaguar and Ram.
Affordable vehicles popular with less affluent consumers had the lowest supply. Large and/or expensive cars had the highest along with domestic SUVs and trucks.
The lower the price category, the tighter the supply. Under $20,000, a segment with a low active supply of just over 3,000 units had 31 days' supply. Between $20,000 and $30,000, the days' supply was 42; $30,000 to $40,000 had a 48 days' supply; and $40,000 to $50,000 had 55 days' supply. The $50,000 to $80,000 category had the most supply at over 70 days' supply.
Except for low-volume, high-performance cars, vehicles in the lowest supply were compact, midsize and subcompact cars. Full-size SUVs and large luxury SUVs also were in lower supply. Larger and/or expensive cars had the highest inventories, as well as electric vehicles and full-size pickup trucks.
Of the 30 best-sellers for the 30-day sales period, Toyota, Kia and Honda had the most models at the low end of supply. Starting at the very bottom were Kia Sportage, Honda CR-V and Kia Telluride. Of the 30 best-sellers, the Ford Escape had the most inventory, with days' supply in the triple digits. It was followed by domestic pickup trucks and SUVs with larger inventory.
Supply showed wide variation by Designated Market Areas (DMA). Northern DMAs, led by Minneapolis-St. Paul, followed by Detroit and Denver, had the highest supply, likely because they are heavier on domestic brands with a more abundant inventory. Southern DMAs, specifically Miami-Ft. Lauderdale and Orlando-Daytona Beach-Melbourne in Florida and Atlanta were at the low end.
---
More insights are available from Cox Automotive on new-vehicle inventory, using a 30-day rolling sales methodology to calculate days' supply.
---
Michelle Krebs is executive analyst at Cox Automotive.
Tags