Commentary & Voices
Mid-Year Review Replay Available
Friday June 28, 2019
At the 2019 Mid-Year review held on June 26, the Cox Automotive industry insights team presented their view of the first half of the year.
Watch the replay below to learn from Cox Automotive Chief Economist Jonathan Smoke, Charlie Chesbrough, senior economist, and Michelle Krebs, senior industry analyst, how the automotive industry has fared for the first half, including the June U.S. auto sales forecast, and what they see coming for the remainder of the year.
The presentation for the 2019 Cox Automotive Mid-Year Review can be downloaded below.
For more information or to speak with a Cox Automotive spokesperson, please contact a member of the Cox Automotive PR team.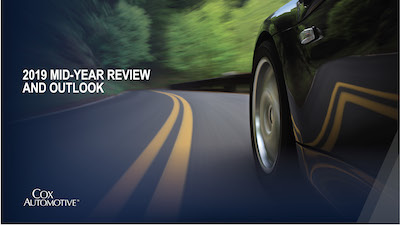 2019 Mid-Year Review Presentation
Download the full presentation.
Download