Data Point
Just listed: 2020 Kia Telluride
Thursday February 28, 2019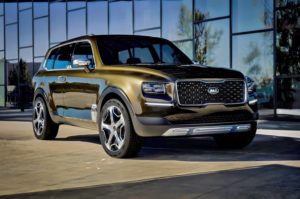 What is it: The 2020 Kia Telluride, on sale this spring, is an all-new model. The largest sport-utility in the Kia line with seating for seven or eight passengers, it slots just above the Kia Sorento, upon which it is based. Its cousin is the Hyundai Palisade. The tech-laden Telluride competes against midsize, three-row models, including Chevrolet Traverse, Ford Explorer, Honda Pilot and Subaru Ascent. Depending on trim level, base prices range from $31,690 to $46,935. The Average Transaction Price in the midsize utility category is about $38,000, according to Kelley Blue Book.
Why does it matter: Kia has been at a disadvantage as one of the most car-heavy brands in a market in which consumers are more favorable to crossovers and sport utilities. The Telluride is intended to better balance Kia's portfolio.
Going forward, car sales are expected to decline further while utility vehicles are forecasted to climb. The midsize category in which Telluride competes is expected to be the fastest-growing utility segment. It draws buyers moving out of cars as well as compact-utility owners moving up a size for more cargo- and passenger-carrying space.
A recent Cox Automotive analysis of the SUV market showed the top priorities of midsize-utility buyers are space. [The full SUV report is available for download below.] Millennials having families and increasing their household incomes are likely buyers.
The Telluride, named after a city in Colorado, plays up its American roots – designed in California and built in West Point, Georgia, a theme in a commercial during the last Super Bowl.