Dealerships Earned More Service Revenue on Fewer Tickets in 2022
Wednesday June 7, 2023
Xtime service data indicates that U.S. franchised dealerships generated more revenue on fewer service tickets in 2022. The overall volume of repair orders remained lower in 2022 compared to the pre-pandemic period, according to an analysis by Cox Automotive of Xtime metrics. While research from Cox Automotive in early 2022 showed that consumers were still delaying vehicle servicing, the number of delays had decreased significantly from the pandemic's peak. As 2022 began, service trends on Xtime reflected winter weather and a spike in COVID-19 cases. The record number of infections from the highly contagious Omicron variant resulted in school and business shutdowns and people limiting personal interactions. Throughout 2022, lower new-vehicle sales impacted the number of guaranteed service appointments for oil changes and other routine maintenance, while untenable wait times due to labor and parts shortages caused some consumers to delay service. Regardless, pricing power at franchised dealerships' service departments remained stable.
Historically a strong month, July saw an unexpected decline in service appointments, likely related to capacity and labor challenges. This situation – which is ongoing but not as pervasive – involved unacceptable wait times and a shortage of loaner vehicles, causing some consumers to delay service and repair appointments, in hopes the situation would improve. The service volume index average for 2022 ended the year down 2.3 points compared to 2021 and down 8.6 points from before the pandemic.
Xtime Repair Order Volume Index
Despite fewer appointments, U.S. franchised dealerships saw service revenue grow in 2022. In January, the Xtime Repair Order (RO) Revenue Index was 11.1% higher than in January 2021. This upward trend continued in February, with a 10.3% year-over-year increase. March, April and May also saw increases in the Repair Order Revenue Index, reaching record highs for the index dating back to January 2018. The higher revenue per RO was in part driven by inflation in 2022.
Xtime Repair Order Revenue Index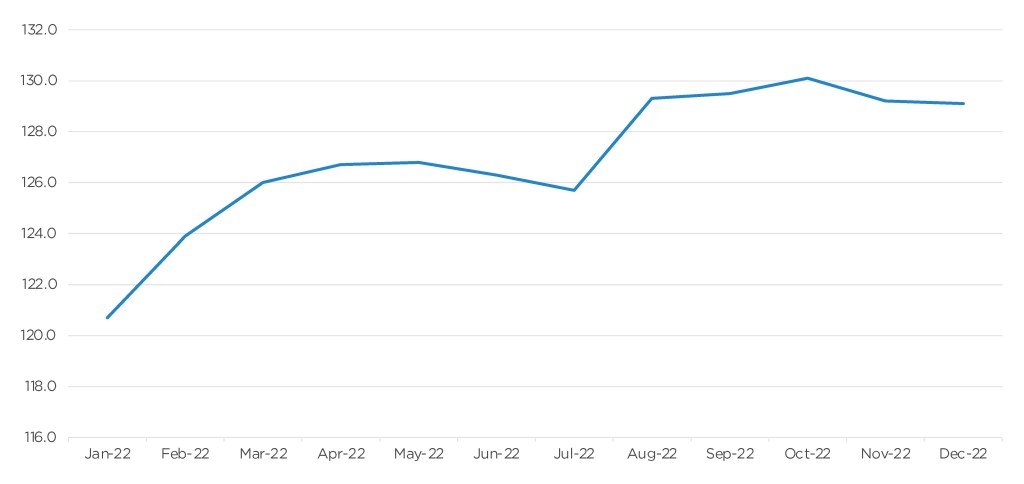 However, the Repair Order Revenue Index experienced some fluctuations. June and July slightly decreased but quickly recovered, setting record highs in August, September and October. The index saw slight decreases in both November and December but ended 2022 on a positive note. The revenue index average for the year showed a significant increase of 12.4 points compared to 2021, indicating a positive growth trend in repair order revenue.
The revenue per repair order trend showed a significant change since the COVID-19 pandemic hit the auto industry. The average revenue generated per repair order remained above 2021 levels throughout 2022, ending the year up 10.8% on average.
Outlook: Fixed operations at franchised dealerships continues to be a mostly positive story. Staffing continues to be a big issue in 2023. Ongoing parts shortages and being able to service vehicles in a timely manner could hold tickets down, but revenue and pricing power will remain strong. Some deterioration in repair order volume is coming from vehicles less than 4 years old, a function of the decrease in new-vehicle sales since 2019.