Smoke on Cars
Auto Market Weekly Summary
Monday August 12, 2019
Article Highlights
Consumer credit growth is slowing as credit card and auto loan borrowing slow.
Credit standards are tightening on auto loans, weakening subprime buying power.
Used vehicle sales stay strong.
It was a relatively quiet week for new economic data but featured plenty of stock market volatility amidst continued trade war drama.
Consumer credit growth slows: Consumer credit growth is slowing as credit card borrowing is declining and auto lending is slowing down. A decline in credit card balances signals that consumers are starting to pull back from the more aggressive spending that has characterized much of the last year. The consumer has been driving economic growth.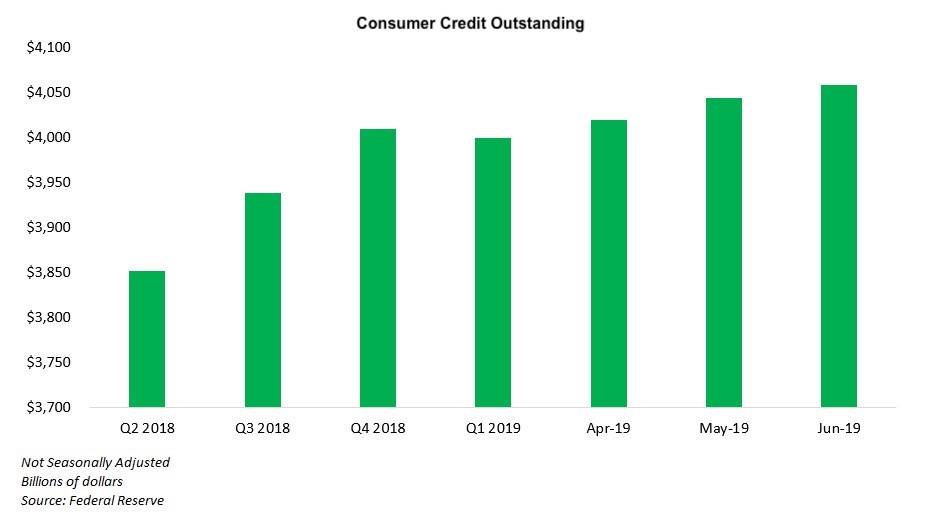 Auto loan standards tighten: In auto, credit remains available and lending continues to grow, but auto loan standards are tightening, thus weakening buying power especially for subprime borrowers. Lending is challenged in subprime as tighter standards and higher rates force consumers to accept smaller loans. That continues to favor the retail used market at the expense of new-vehicle sales.
In addition, data from Equifax continue to show a problem with severe delinquencies in subprime auto loans. In June 4.6% of subprime auto loans were behind in payment by 60 days or more. That was the highest rate for the month of June since the Great Recession.
Used-vehicle sales strong: Used-vehicle sales remained strong in July, and demand appears to be stronger than supply as depreciation was again very low in July.  But compared with last year when used vehicles appreciated, we are beginning to see year-over-year price gains on Manheim Index trend down. The third quarter has been a critical quarter for vehicle price performance in each of the last two years thanks to hurricanes, tariffs and growing demand. This July was stronger than 2017 but not as strong as 2018.
The July used SAAR was 39.7 million, down from last July's incredible 40.1 million pace and down slightly from June's 39.8 million. CPO sales were up 6% year-over-year in July and are up 2% year to date.
Looking ahead: This week we'll get data on July consumer prices, retail sales, and new construction, and we will get the first reading on August consumer sentiment.