Commentary & Voices
California Vital to Automakers Volunteering to Meet Stricter Fuel Economy Rules
Wednesday August 21, 2019
Article Highlights
California represents around 13% of new-vehicle sales, the biggest market in the U.S., and California plus states and the District of Columbia that take its lead collectively account for 38% of new-vehicle sales.
California and the states that join it account for as much as 50% of sales for 3 of the 4 participating automakers. Honda is an obvious candidate to agree to California standards as it already has the nation's highest sales-weighted mpg of any brand.
Increased fuel economy results in reduced emissions and money savings, especially for consumers in California and the states that follow its lead as they have the most expensive gas in the U.S.
Four major automakers recently announced they had agreed to voluntarily meet California's tougher fuel economy standards, while the Environmental Protection Agency attempts to weaken federal fuel economy rules.
BMW, Ford, Honda and Volkswagen have said they will increase the fuel economy of their fleets under California rules, which are looser than those proposed by the Obama administration but stricter than what the Trump administration has proposed. To meet the California mandate, automakers would have to sell more electric cars, plug-in hybrids and fuel-cell vehicles.
Automakers have long wanted a single nationwide rule because multiple standards negatively affect production costs. The Obama administration rules would have done that as California would have gone along with the national standard. However, now, with the Trump administration planning to dial back the more stringent standards, California insists it will proceed with its own rules, undoubtedly leading to a court battle.
The New York Times has quoted sources saying Mercedes-Benz will join the other automakers in signing on to California's rules. The paper quoted sources saying other automakers, including Mercedes-Benz, were summoned to a White House meeting in an effort to prevent them from joining the California pact.
The automakers' agreement initially was only with California. Recently, Colorado's Air Quality Control Commission voted 8-1 in favor of adopting the California rules. Some 15 states and the District of Columbia typically follow California's lead.
Cox Automotive pulled together data on the importance of California and the states that follow as well as data on the automakers' sales in those areas and fuel economy performance.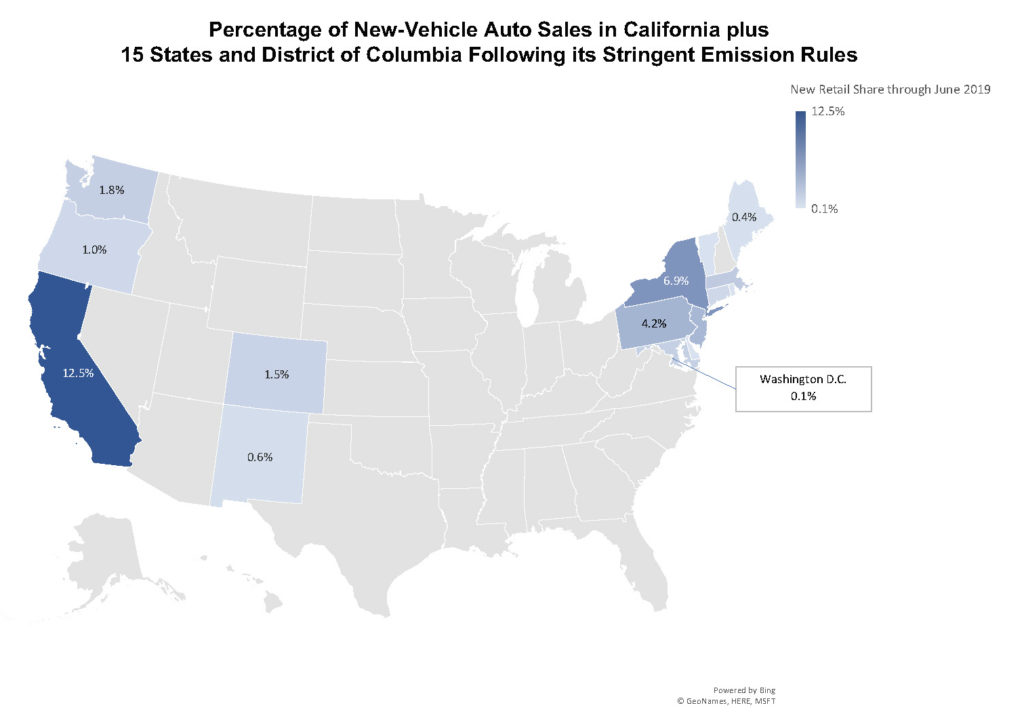 First, California alone represents nearly 13% of new-vehicle sales, making it the biggest new-vehicle market in the country. The states plus D.C. that follow California's lead are extremely important for the U.S. auto industry. Collectively, they represent 39% of all new-vehicle sales, according to a Cox Automotive analysis.Second, these states plus D.C. are critically important to the participating automakers.
They represent more than half of all BMW new-vehicle sales.
They represent 46% of sales for Volkswagen and its various brands, including Audi.
They represent 45% of all Honda sales.
For outlier Ford, these states represent only 28% of its new-vehicle volume, partly because the high-volume Ford F-150 sells so consistently in every single state.
The point of higher California fuel-economy standards is to reduce emissions. But higher miles-per-gallon also impact the consumer's wallet, and particularly so in California and the states that follow its lead. Those states collectively pay more per gallon at the pump. At an average $3.5921 per gallon, California has the most expensive gas in the country at almost 40% more than the U.S. average. New York, Oregon, Pennsylvania and Washington are not far behind.
The fuel efficiency story varies with the automakers who have signed on with California's standards, according to Cox Automotive data.
Honda is an obvious candidate for the California standards as it already has made outstanding progress in fuel efficiency. Honda has the highest sales-weighted mpg of any brand (29.9 mpg). Honda also has also produced the biggest gains in fuel efficiency over the last decade. Its Acura division is middle of the road.
BMW is one of the better luxury brands in terms of fuel efficiency. It ranks fifth in most-improved fuel economy in the luxury segment over the past decade. BMW is aggressively introducing electric vehicles. Interestingly, Mini was middle of the road on mpg in 2019 and is the only make to have seen a sales-weighted decline in the last decade. Mini sales have been in decline.
VW is above average in fuel efficiency but has underperformed the industry average in gains over the last decade. Audi is average for luxury and has underperformed the industry in improvements. Porsche is close to the bottom. After the diesel scandal, Volkswagen AG has shifted gears from diesel to electric vehicles, which is probably why it signed on with the California regulations.
Ford, with its heavy line-up of trucks and practically abandoning the sedan market, is among the worst for fuel efficiency (21.7 compared to industry average of 24.8 mpg). It has not kept pace with industry gains over the last decade. Lincoln, which has been reinventing itself with a line of new luxury models of late, is also below average but has seen better than average improvements. However, Ford is in the process of revamping almost its entire product line. It will offer electrified versions of all of its SUV models, including a Mustang-inspired, exclusively-battery electric SUV next year, and is working on an electric pickup truck. Ford and Volkswagen also have announced plans to work together on a variety of future technologies, including electric vehicles.
This story will continue to evolve as other automakers and states choose to sign on with California or not and as California and the federal government feud, likely in the courts, over fuel economy rules and who can establish them.
While automakers look for ways to meet stricter fuel efficiency standards, learn about electric vehicle adoption in the Cox Automotive Evolution of Mobility: The Path to Electric Vehicle Adoption study.