Data Point
Chip Shortage Still No Major Disruptor of Inventory
Thursday March 4, 2021
Article Highlights
About 30 models sold in the U.S. are potentially affected by the computer chip shortage.
The average days' supply of models affected stood at 86, above the national average of 77.
Most affected models have lower prices, high supplies and older inventory.
Vehicle models affected by the global shortage of computer chips that forced automakers to trim production continue to have a healthy supply, with some exceptions, according to a Cox Automotive analysis of vAuto Available Inventory data.
In the U.S., about 30 models are affected by the chip shortage based on AutoForecast Solutions' analysis of plants that have experienced production cuts due to the shortage. 
It seems likely that the major automakers have thus far managed to strategically allocate chips to maintain the production of more popular, and profitable, vehicles. The most affected vehicles – where production has slowed or halted – have higher days' supply than those not affected by the shortage, where production continues. Of that supply, most of the affected models have a bigger share of leftover 2020 models than do those not affected. By having an average price tag lower than the industry average of $40,000, the affected models generate lower revenues and lower profit margins than those not affected.
Specifically affected vehicles have around 1.06 million vehicles in inventory for an 86 days' supply, according to the Cox Automotive analysis. Models not affected have 1.72 million vehicles in inventory for a 72 days' supply. Cox Automotive calculates days' supply based on the daily sales rate for the most recent 30-day period.
Models Not Affected By Chip Shortage

Of the affected inventory, nearly a quarter is leftover 2020 models. Of the inventory of models not affected by the shortage, 19% is leftover from the previous year. The average listing price of affected models is $35,918. The average listing price of models not affected is $38,322
Models Affected By Chip Shortage

Broken down further, of the approximately 30 models affected by production cuts due to the chip shortage, 17 have more than a 60 days' supply, traditionally considered an ideal level of inventory by the industry.
Models With <60 Days' Supply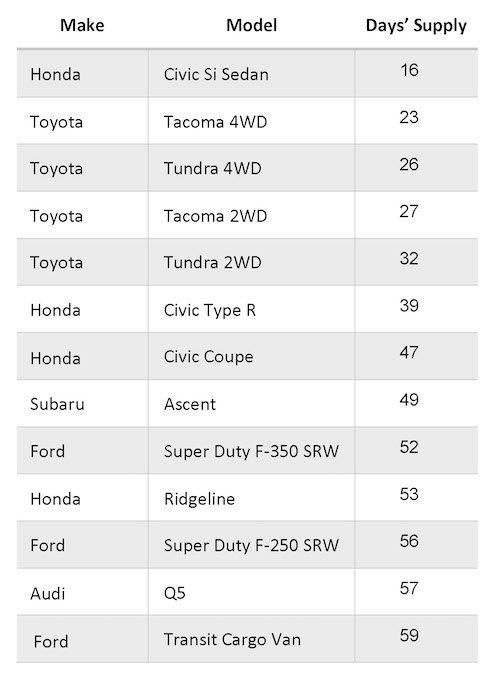 Thirteen models have more than a 60 days' supply, including models from Audi, Ford, Honda, Subaru and Toyota.
Models With >60 Days' Supply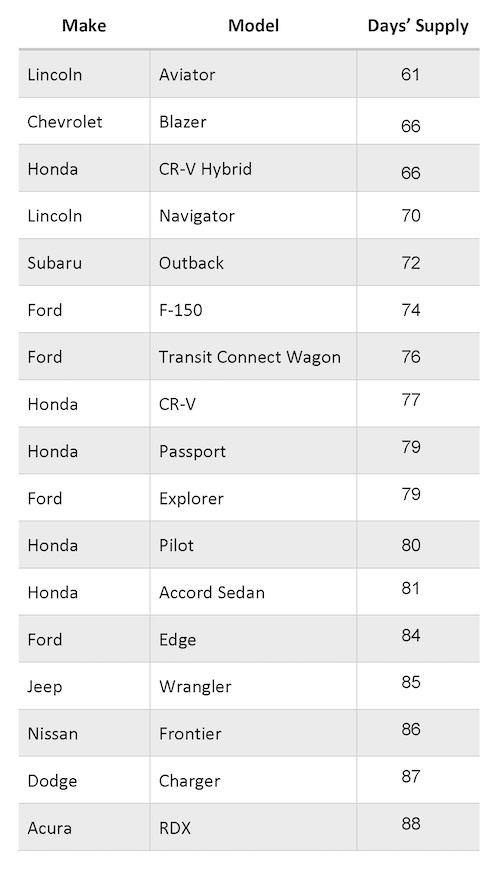 Notable shortages are with Toyota trucks. Toyota and Lexus, in general, have had among the tightest inventories in the industry since auto manufacturing resumed after shutdowns last spring and sales took off.
Toyota trucks – Tacoma and Tundra – had the most severe shortages, which have been exacerbated by the chip shortage. Depending on the specific version, the Tacoma and Tundra have days' supply between 24 and 32, which is extremely low considering trucks tend to have higher inventories due to the variety of configurations available.
Toyota has slowed Tundra production, reallocating its computer chips to other hot-selling models, like SUVs, since the current Tundra is being phased out and a redesigned Tundra goes on sale later this year.
The chip shortage came at an inopportune time for Ford, forcing it to trim production of the newly redesigned F-150. However, the F-150 seems to be in decent supply with 74 days of inventory, while the larger F-Series trucks have tighter supplies, as does the Transit Cargo van.
Other strong sellers in short supply include the Subaru Ascent crossover, the Honda Ridgeline pickup truck and some low-volume specialty versions of the Honda Civic.
GM announced Wednesday, March 3, it is extending production cuts at three North American plants and adding a fourth to the list of impacted plants. A plant in San Luis Potosi, Mexico, will be down through the end of March while plants in Fairfax, Kansas, and Ingersoll, Ontario, will be down through at least mid-April. In addition, the plant in Sao Paulo, Brazil, will be idled in April and May. The plants produce the Cadillac XT4, GMC Terrain and Chevrolet Malibu, Equinox and Trax, as well as the GMC Terrain. All of these models fit the profile of vehicles in an overabundance of supply with leftover 2020s and are the least expensive models that GM sells except for the Cadillac. In GM's case, the models are also heavily incentivized.

Tags