Data Point
Cox Automotive Analysis: FCA's Q1 2020 U.S. Market Performance
Monday May 4, 2020
Article Highlights
Q1 sales fall 10%, but FCA ekes out market share gain.
FCA incentive spending rose 12%, aimed at trucks and SUVs.
ATPs rise on strength of Ram and Jeep Gladiator pickups.
As Fiat Chrysler prepares to re-open its plant in North America, it will report its first-quarter 2020 financial results on Tuesday, May 5.
Here are some data points from Cox Automotive on FCA's first-quarter performance in the U.S. market where the company derives the bulk of its profits.
Sales and market share
FCA sales dropped 10% in Q1, less of a decline than the overall industry, so the automaker eked out a small market share gain, largely due to Ram. In total, FCA had 13.01% market share, up from 12.62%. In terms of sheer sales volume, the 446,686 vehicles sold marked FCA's lowest Q1 in five years.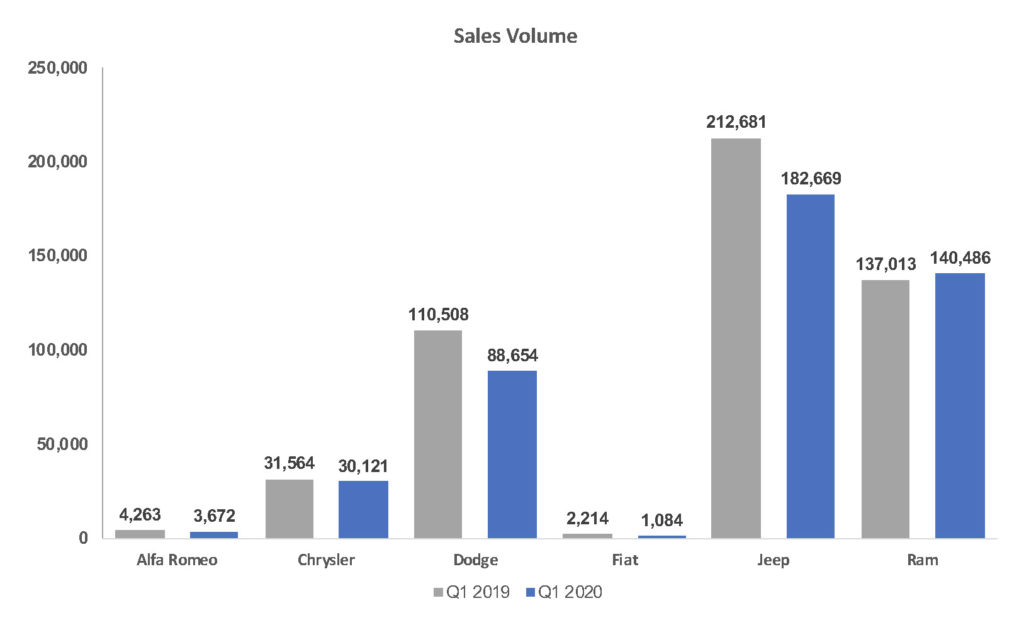 All but one of FCA's six brands recorded lower sales. Ram sales rose nearly 3% to 140,486 units, its highest volume level in the past five years. Still, the Chevrolet Silverado regained its sales lead over the Ram pickup truck, even though Ram sales climbed 7%.
By contrast, Dodge sales plummeted 20% to well under 100,000 units sold, a first for the past five years of first quarters. Only the Durango SUV had an increase. Chrysler brand sales fell 5% to around 30,000 units, the lowest for the quarter in the past five years. Chrysler has basically only two model lines – minivans, which had a sales increase, and the aged 300 sedan.
Fiat brand is all but dead, selling only about 1,000 vehicles in the quarter, half of what it sold in the year-earlier quarter. Alfa Romeo was down 14% to under 4,000 vehicles sold in the quarter. Jeep dropped 14%. All Jeep models posted drops with the Gladiator adding incremental sales.
Incentives
FCA focused its incentive spending on Ram trucks and Jeep SUVs. Like its Detroit competitors, FCA quickly shifted to an aggressive program of zero-percent financing for up to 84 months when the full force of the pandemic hit.
FCA's Q1 incentive spend rose 12% to an average of $4,986 per vehicle, according to Kelley Blue Book calculations.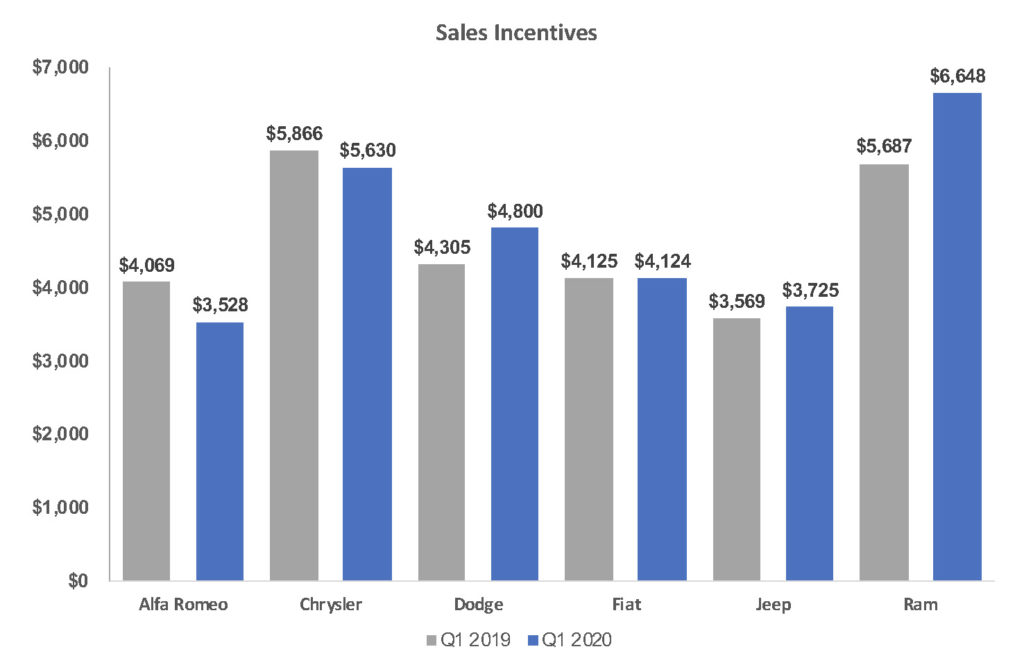 Incentives on Ram soared 17% to a hefty $6,648 per vehicle. Jeep incentives climbed 4% to an average of $3,725 per vehicle. Dodge incentives also rose, by 12% to an average of $4,800. To offset the higher incentive spending, FCA scaled back Chrysler brand's incentive spending by 4% to a still high $5,630 per vehicle and lowered Alfa Romeo's incentives by 13% to an average of $3,528; Fiat incentives were flat.
Average Transaction Prices
FCA's average transaction price rose nearly 7% to $40,894 per vehicle, according to Kelley Blue Book calculations. It was the first time FCA had surpassed the $40,000 mark in a first quarter.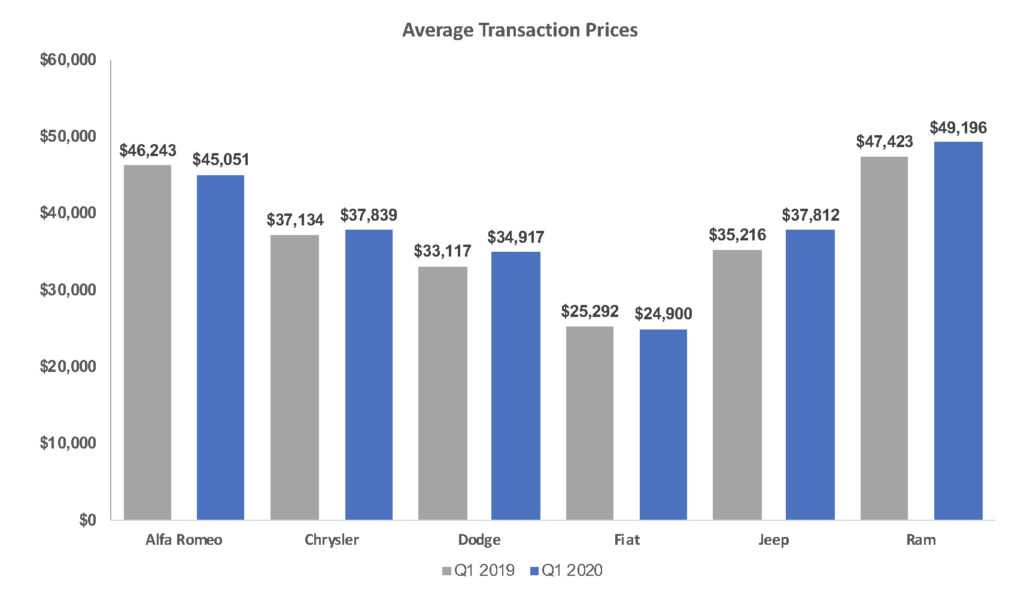 The higher ATP was on the strength of the Ram pickup truck, Jeep Gladiator, Chrysler Pacifica and Dodge Durango. Alfa Romeo and Fiat had lower ATPs.