Data Point
Cox Automotive Analysis: FCA's Q2 2020 U.S. Market Performance
Thursday July 30, 2020
Article Highlights
FCA sales fall 39%; market share slips to 12.65%
FCA boost incentives by 20%; Jeep's up 43%
FCA ATP's nearly 8% higher; Jeep Gladiator ATP falls 15%
Fiat Chrysler Automobiles (FCA) reports second-quarter 2020 financial results Friday, July 31, and analysts are forecasting a loss likely larger than the $1.83 billion posted in the first quarter of this year.
Here are key data points from Cox Automotive on FCA's second-quarter performance in the U.S. market where the company derives the bulk of its profits.
Sales and market share
In an overall market that saw a COVID-19 driven decline of 34.1%, FCA sales fell even deeper, 39% to 367,015 units. All of FCA's six brands saw double-digit declines. With the drop, FCA's overall market share slipped to 12.65% from 13.63%. FCA's year-ago Q2 2019 market share marked a five-year high, driven mostly by the launch of the then-new Ram pickup truck.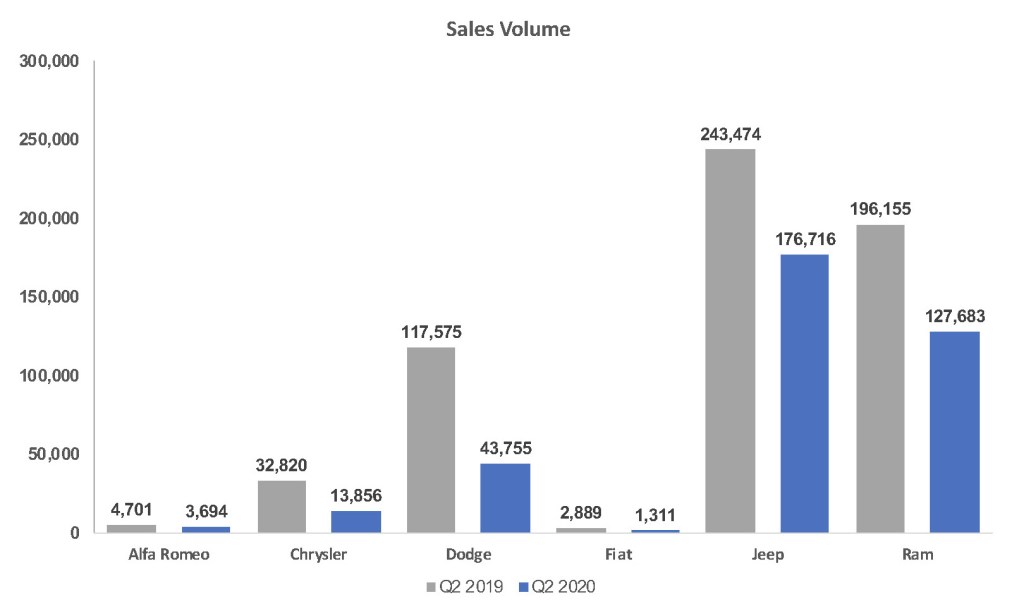 Jeep sales dropped 27% to 176,716 vehicles. Jeep's decline was below the industry average, causing Jeep to gain market share. At 6.09%, Jeep's share in Q2 was the highest in at least five years.
Jeep's strength came from the Gladiator pickup, with sales up 175% to nearly 20,000 units. Wrangler sales were off only by 16%. Renegade and Grand Cherokee fell under 30%, beating the industry. In contrast, cheap Jeeps – the brand's more youthful, less expensive Cherokee and Compass models – saw 50% declines. Consumers likely shopping for cheap Jeeps were hardest hit by job losses and credit issues. In that category, the Renegade fared better, down less than 30%.
Ram sales dropped 35% to 127,683, but the comparisons to last year and, more so, the year before are tough. In Q2 2018, Ram surpassed 600,000 units sold, though only briefly. Despite the sales dip, Ram's market share held relatively steady.
The Ram pickup was not able to repeat its thrashing of competitor Chevrolet Silverado in sales in this year's second quarter as it did last year. Ram sold 117,448 pickups; Chevrolet had the edge with 120,744 sales of the Silverado. Last year, Ram sold nearly 40,000 more full-size pickups than did Chevrolet.
Chrysler brand sales fell 58% to only 13,856 vehicles. The comparison to the second quarter of 2015 is stark when the brand sold nearly 90,000 vehicles. Chrysler is now down to selling only two models – the Pacifica minivan and the aged 300 sedan. The 300 is a fleet favorite and fleet sales are being clobbered by the pandemic with daily rental companies de-fleeting and commercial enterprises holding off on purchases.
Dodge sales plummeted by 63% to 43,755 vehicles. Like Chrysler, today's Dodge is a shadow of its former self. In the same quarter three years ago, Dodge sold more than 130,000 vehicles. And the brand likely will shrink further. FCA recently announced it will focus exclusively on performance with the likes of the Charger and Challenger. It is dropping the Mexican-built Journey crossover.
Alfa Romeo sales fell only 21% but on small volume. Alfa sold 3,694 vehicles in Q2, a far cry from the 6,432 of the same quarter in 2018. Fiat generated even smaller volume. It sold only a scant 1,311 vehicles in the quarter, down 55% from a year ago, and a stark contrast from its five-year Q2 high in 2015 of 9,406 vehicles.
Incentives
FCA heavily boosted incentive spending by 20% to an average of $5,477 per vehicle, according to Kelley Blue Book calculations. It marks the first time in a second quarter that FCA has spent more than $5,000 per vehicle at least in the past five years.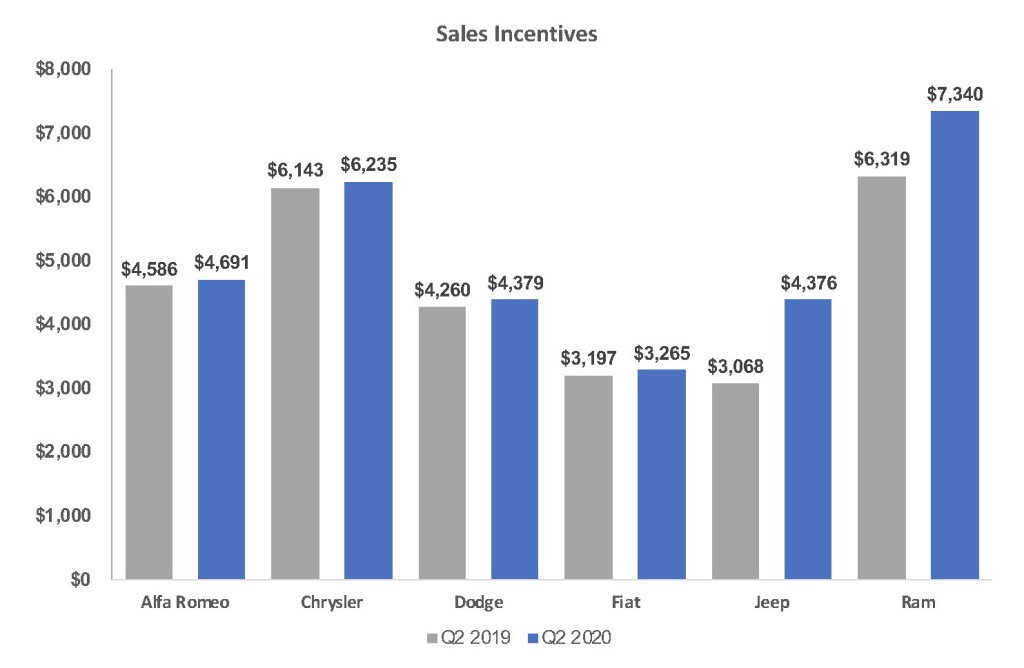 The bulk of the higher spending went to FCA's pillar brands. Jeep incentives rose a whopping 43% to $4,376 per vehicle. Ram incentives rose 16% to an extremely high $7,340 per vehicle. The rest of the brands received smaller incentive bumps in the range of 2%. Though Chrysler brand's increase was the lowest, it still had the highest per-vehicle spend of all FCA brands, at $6,235 per vehicle.
Average Transaction Prices
FCA's Average Transaction Prices (ATP) climbed nearly 8% to $43,920 per vehicle, according to Kelley Blue Book calculations.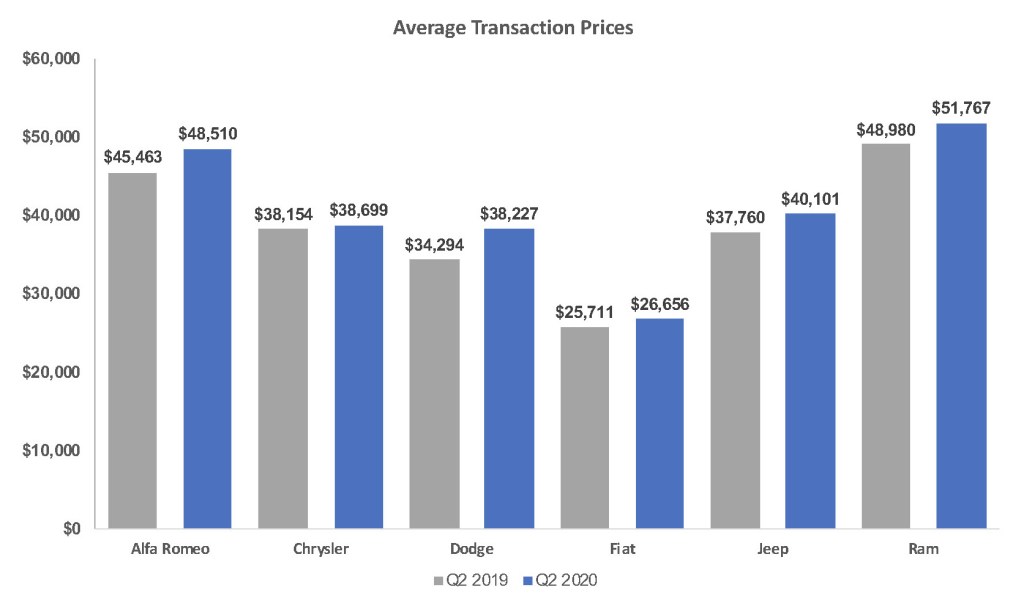 The Ram brand had the highest ATP of all six FCA brands at $51,767 per vehicle, up 6% from a year ago. The higher ATP was driven mostly by higher prices paid for Ram pickups, up nearly 6% to $53,227 per truck.
Jeep's ATP rose 6% as well, to an average of $40,101 per vehicle, the first time the brand hit the $40,000 mark for the quarter. Interestingly, however, the Jeep Gladiator's ATP dropped by 15% to $46,495, compared with $54,951 a year ago. Other Jeep models eked out small hikes in ATPs to push the overall brand higher.
Dodge's ATP rose the most, up nearly 12% to $38,227, on the strength of pricier, higher-performance versions of the Charger and Challenger. FCA's other brands gained in pricing by smaller percentage.