Data Point
Cox Automotive Analysis: FCA's Q3 2020 U.S. Market Performance
Wednesday October 28, 2020
Article Highlights
FCA sales fell 10%, in line with the industry.
FCA incentives edged lower to a still-high average of $4,884 per vehicle.
FCA's ATP rose to $43,646, a Q3 high for five years.
Fiat Chrysler Automobiles on Wednesday posted net income of $1.4 billion in the third quarter, including a record profit in North America despite lower sales. Analysts expected relatively healthy earnings, considering the pandemic, on the strength of robust truck and SUV sales in North America.
Here are key data points from Cox Automotive on FCA's third-quarter performance in the U.S. market, where the company derives the bulk of its profits.
Sales and market share
FCA's Q3 sales fell 10% to 507,351 vehicles. FCA's decline is on par with the total industry, which had sales down 10% as well, according to Cox Automotive data. As a result, FCA's total market share stood at 13.02% for the quarter, compared with 13.06% a year ago.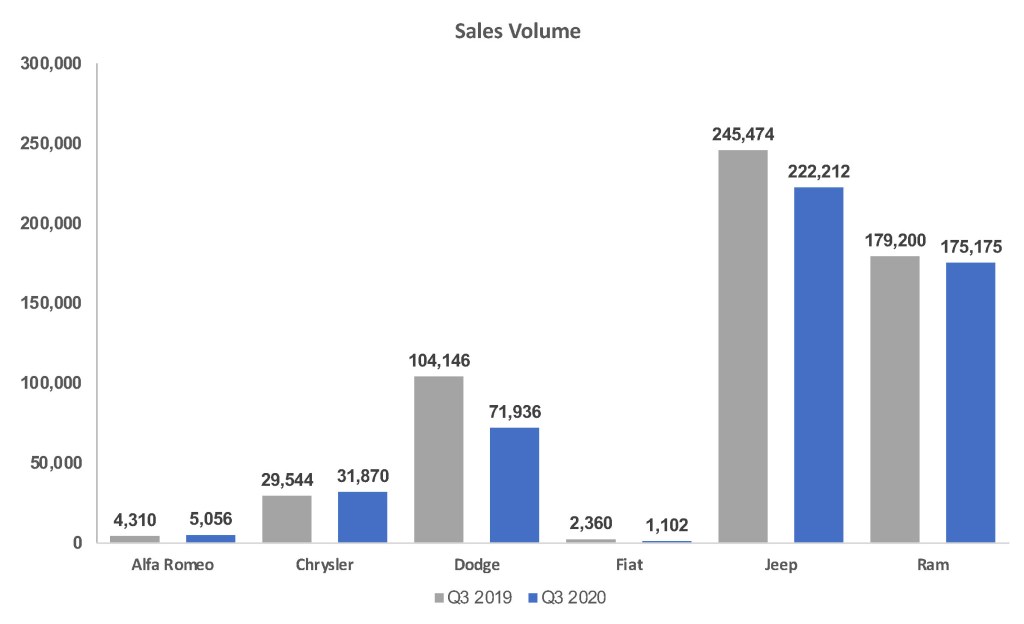 Jeep sales declined by 10% to 222,212 vehicles. Every model had a sales decline except for the Jeep Gladiator pickup, which posted a 37% gain. Jeep has several new models coming out in the next year, including the Grand Wagoneer, Wagoneer and a revised Grand Cherokee.
Ram sales dipped only 2% to 175,175 vehicles, still the second-highest level of sales in any third quarter for the past five years. Cargo van sales were 10% higher than a year ago. Pickup sales were down only 3% from a year ago.
Alfa Romeo's Q3 sales rose 17%, albeit on a small volume of just 5,056 units. Its strength came from its volume-leading Stelvio SUV, which had sales up 27%.
Chrysler brand sales climbed 8% to 31,870 vehicles. Still, Chrysler is a shadow of its former self. Five years ago, Chrysler sold nearly 70,000 vehicles in the third quarter. Now, the brand is down to only two models: the Pacifica minivan, with sales up 32% in the quarter, and the aged 300 sedan that had sales down 60%.
Dodge sales dropped 31% to 71,936 units. Five years ago, Dodge sales were 126,778 vehicles in the third quarter. Dodge has dropped a number of models and is becoming a niche performance brand. Only the Durango SUV posted a Q3 sales gain – up 2%. The backbone of the brand, the Challenger and Charger, had sales decreases of 9% and 10%, respectively.
Fiat brand had the biggest drop – again – with Q3 sales down 53% to a scant 1,102 vehicles versus nearly 11,000 in the Q3 five years ago.
Incentives
FCA cut back a tad on incentives in Q3. They were down 2% to a still-high average of $4,884 per vehicle, according to Kelley Blue Book calculations.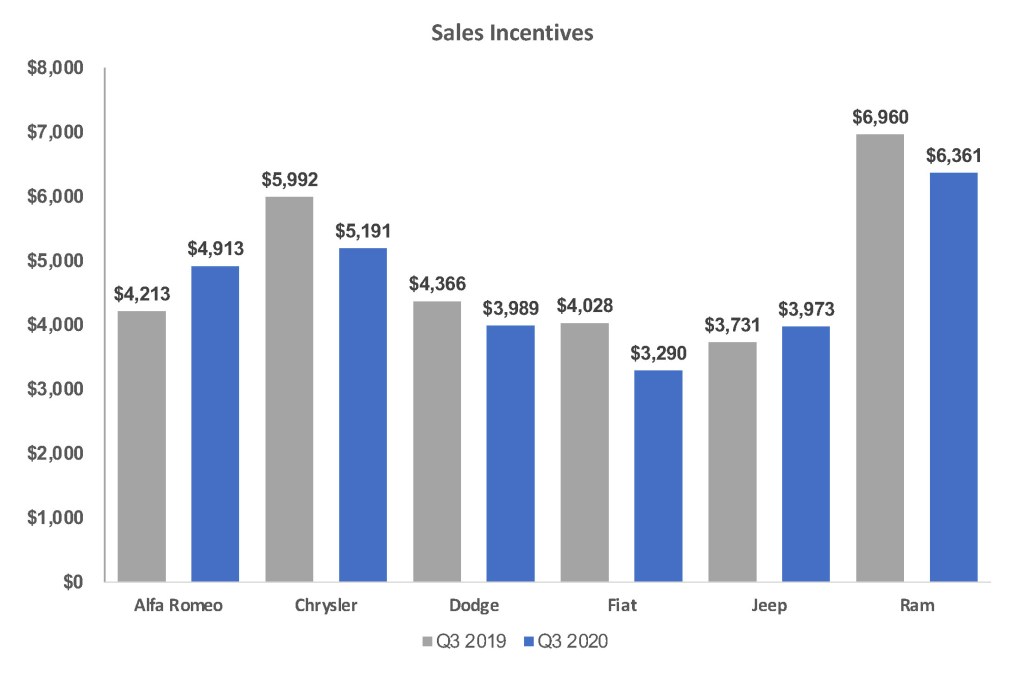 The automaker pulled way back on incentives for Fiat models, cutting them by 18% to an average of $3,290. It also trimmed Dodge incentives by 9% to $3,989 per average vehicle and 13% to $5,191 on Chrysler models.
FCA scaled up incentives on Alfa Romeo vehicles by nearly 17% to an average of $4,913 per vehicle, which likely helped with the sales boost. FCA also increased Jeep incentives by nearly 7% to an average of $3,973 per vehicle.
Average Transaction Prices
FCA's overall average transaction prices (ATP) rose nearly 7% to $43,646, the highest ATP for any third quarter in the past five years, according to Kelley Blue Book.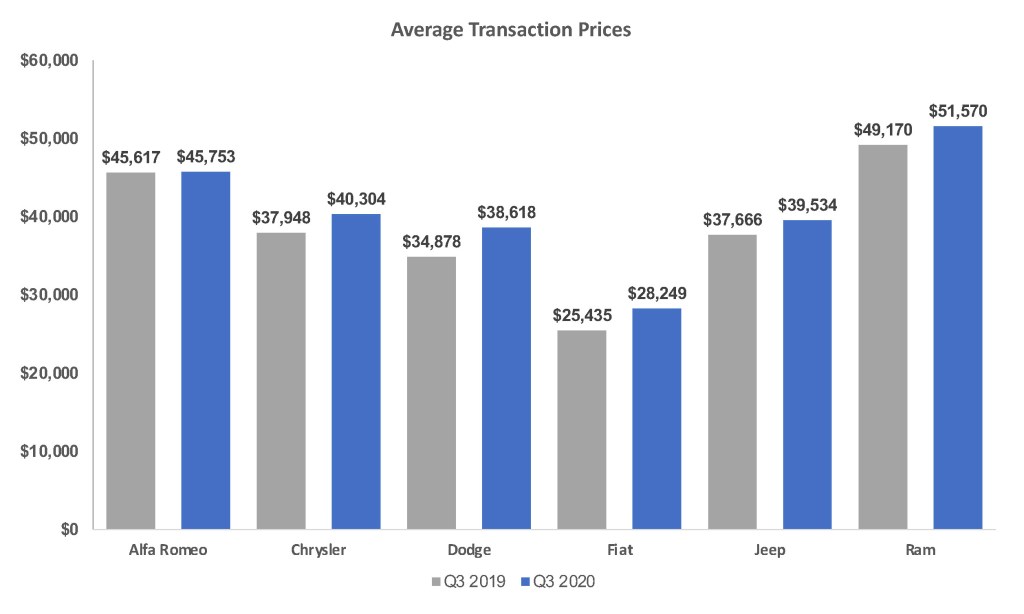 Ram brand's ATP rose 5% to $51,570, surpassing the $50,000 mark, the highest Q3 ATP for Ram in the past 5 years. All Ram models saw ATP increases, with the Ram pickup climbing the most, up 5% to a hefty $53,430.
Jeep's ATP was up 5% to $39,534 due to higher ATPs on the Wrangler and Grand Cherokee. The Gladiator had its ATP slip nearly 8% to an average of $46,282, likely due to the sale of less expensive versions.
Chrysler brand's ATP rose 6% to $40,304, the first time it broke the $40,000 mark in the past five years of third quarters. The Pacifica minivan had a nearly 4% gain in ATP, putting the Q3 ATP over the $40,000 mark – $40,881, to be exact – for the first time in five years.
Also, at a five-year high for the quarter, Dodge had its ATP rise 11% to $38,618. The Dodge Challenger's ATP surpassed the $40,000 mark for the first time – to $41,054. The Charger ATP also rose by 6% to $39,414, its five-year high.
Alfa Romeo ATPs held roughly flat at $45,753. Fiat's ATP was up 11% to $28,249, on the strength of a higher ATP on the 124 Spider.