Data Point
Cox Automotive Analysis: FCA's Q4 2020 U.S. Market Performance
Tuesday March 2, 2021
Article Highlights
FCA underperformed the market with a 10% sales drop.
FCA trimmed incentives by 3% to a still high $4,870 per vehicle.
FCA's ATP climbed 8% to $44,949.
The last quarterly financial report issued by Fiat Chrysler Automobiles, now part of Stellantis, will be posted on Wednesday, March 3.
In January, FCA closed the deal with France's PSA Group (Peugeot) to merge into the newly formed Stellantis, becoming the world's fourth-largest car company. Speculation has swirled regarding the new management's plan for the future of FCA's brand. In the U.S., it has a half-dozen makes, more than any major automaker. Some of those brands have seen sales fall as they have few models and/or aged ones. Jeep and Ram are the pillars of FCA.
Here are the key data points from Cox Automotive on FCA's fourth-quarter performance in the U.S. market, where the company derives the bulk of its profits.
Sales and market share
FCA sales fell 8% to 499,431 units in the fourth quarter, underperforming the overall market in which sales slipped only 2%. That put FCA's market share at 11.92% compared with 12.66% in the year-earlier quarter.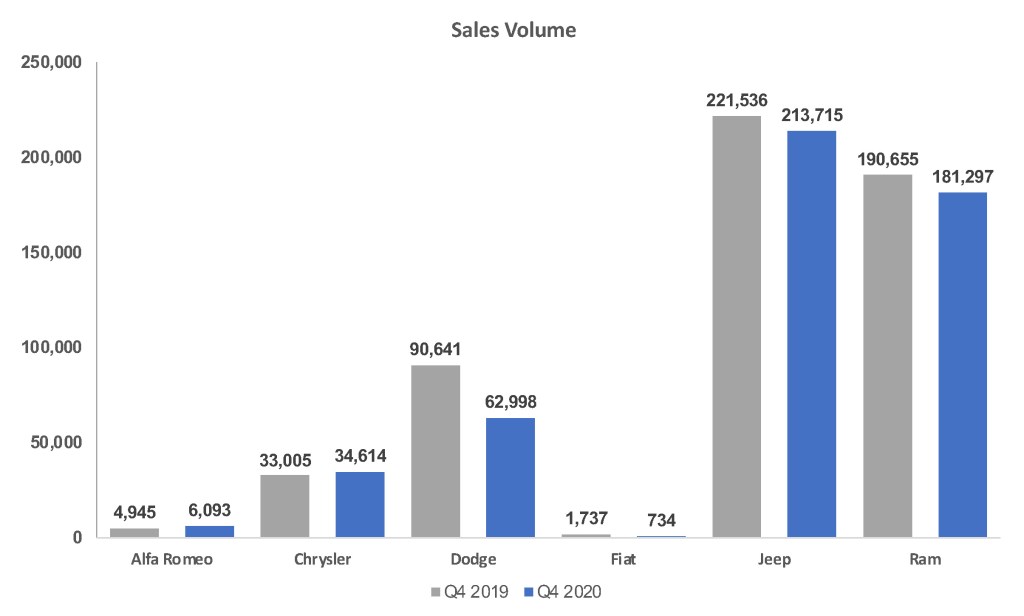 Alfa Romeo was a big success story in 2020. Alfa Romeo and Tesla were the only brands to post higher sales in pandemic-stricken 2020 than in 2019. In Q4, Alfa Romeo sales soared 23% to 6,093 units and with significantly lower incentives. The Stelvio SUV, with sales up 36%, was the brand's volume leader with 3,526 sold. The Giulia car had sales up 10% to 2,560 units.
The Chrysler brand was also in positive territory for the quarter, posting a 5% gain in sales to 34,614 units. Still, Chrysler is a mere shadow of itself. In Q4 2015, it sold nearly 80,000 vehicles. In the latest fourth quarter, the Pacifica minivan, which includes the hybrid version, had sales up 7% to 29,512 units. It marked the second highest sales level for the fourth quarter in four years. The brand's only other model, the aged 300 sedan, had an 8% sales decline. Chrysler sold only 5,100 of the sedans compared with 13,215 in Q4 2015.
As for FCA's volume leaders and profit generators, Jeep and Ram sales slipped a bit.
Jeep sales fell 4% to 213,715 units. The volume-leading Grand Cherokee had only a 2% decline in sales to 56,930 units. The flagship Jeep is a consistent sales performer and should get a lift when the new one launches this year. The other volume leader, Wrangler, also had a 2% sales decline to 51,109 units. Still, it was the Wrangler's second-best fourth quarter in the past five years. The Gladiator had a 34% increase in sales to nearly 21,000 units.
The rest of the Jeep line had sales declines. Those models – Cherokee, Compass and Renegade – are popular with young buyers because they are small and less expensive yet carry the Jeep label. However, small, cheaper vehicles haven't sold as well during the pandemic because buyers of those vehicles are more likely to have been hit with job losses and credit challenges.
Ram brand sales were off 5% to 181,297 units. Truck sales fell 7% to 161,266. Promaster van sales were up significantly to their highest level in five years as delivery vans were in high demand for delivering goods during the pandemic.
Dodge sales fell 31% to 62,978 units, compared with nearly 140,000 five years ago. FCA purposely is shrinking and focusing the Dodge to be a niche performance brand. It is down to three models as it sells down the Journey crossover and Caravan minivan. Challenger sales were up while Charger and Durango sales fell.
Fiat is nearly non-existent, with sales down 58% to a scant 734 units in Q4 2020. The 124 Spider was the volume leader with sales of 326 units.
Incentives
Though it remains one of the industry's biggest spenders, FCA trimmed incentives by 3% in Q4 2020 to an average of $4,870 per vehicle, according to calculations by Kelley Blue Book. FCA had been extremely aggressive with incentives in late 2019, especially with Ram trucks, in an effort to take advantage of the UAW strike against GM. Indeed, Ram beat Chevrolet Silverado in sales in 2019 but reverted to Silverado leading Ram in 2020.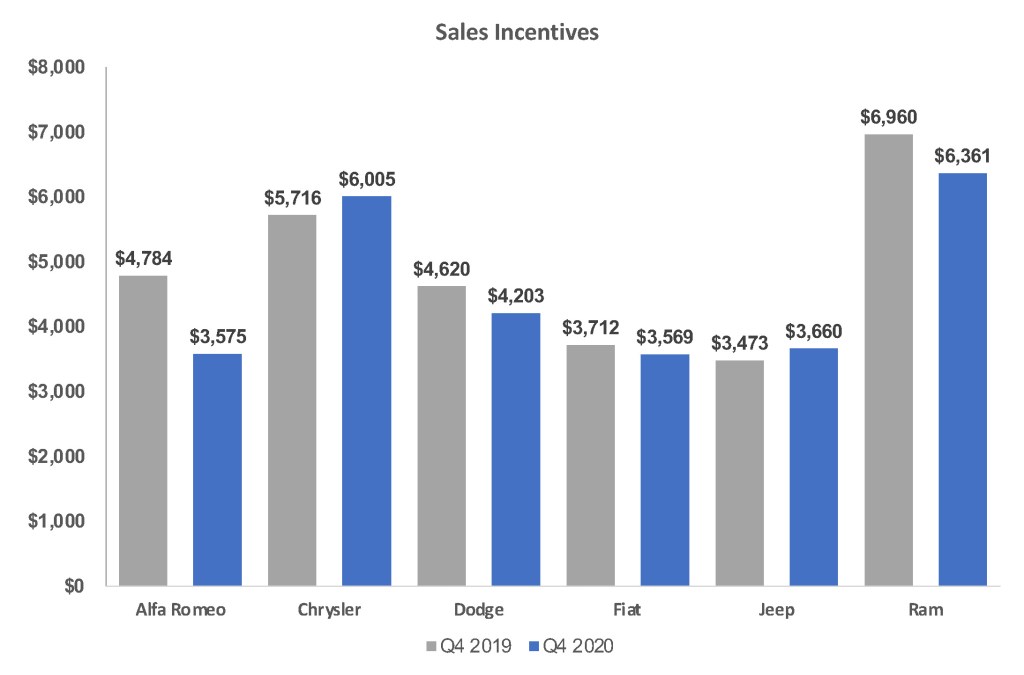 Incentives for Ram were dialed back by 9% but remained high at an average of $6,361 per vehicle. Incentives for the Chrysler brand were boosted 5% to an average of $6,005 per vehicle. Jeep incentives also were increased by 5% to an average of $3,660 per vehicle.
FCA cut incentives on other brands: Alfa Romeo, slashed 25% to $3,575; Dodge, down 9% to $4,203; and Fiat trimmed 4% to $3569.
Average Transaction Prices
FCA's overall average transaction prices (ATP) rose 8% to $44,949, according to Kelley Blue Book calculations.
The brands that matter in terms of volume – Jeep and Ram – both experienced increases in ATPs. Jeep's ATP is just shy of $40,000 and may well surpass that mark with the new offerings coming this year that are positioned as more upscale and more expensive. The Gladiator currently has the highest ATP among Jeeps at $47,603.
The Ram brand had a 9% hike in ATP. The Ram pickup was up 10% to $56,230. Cargo van ATPs also rose.
Dodge's ATP rose 11% to $39,000 as the brand focuses on pricier muscle vehicles, all of which had higher ATPs in Q4 2020 than the year earlier. The Challenger's ATP surpassed the $40,000 mark, the Charger's is closing in on $40,000, and the Durango's hit $47,000.
Alfa Romeo's ATP edged up 1% to $45,731. Chrysler's ATP climbed 5% to $40,573, due to significantly higher ATP on the Pacifica minivan with its available hybrid version, which was up 6% to $41,784. Fiat's average rose to $26,464, buoyed by the increase in the 124 Spider ATP to $32,318.
Tags