Data Point
Cox Automotive Analysis: Ford's Q1 2020 U.S. Market Performance
Tuesday April 28, 2020
Article Highlights
Ford sales drop; Lincoln sales climb.
Ford incentives were dropping pre-COVID-19's 0% promotions.
Ford ATPs still rise.
Ford Motor Co. reports its first-quarter 2020 earnings Tuesday, April 28, after the stock market closes. The automaker's financial performance will be no surprise. Ford signaled weeks ago that it likely would lose $2 billion in the quarter due to the COVID-19 pandemic.
Here are some data points from Cox Automotive on Ford's first-quarter performance in the U.S. market where the company draws a vast majority of its profits.
Q1 sales and market share
Ford sold 514,526 vehicles in the first quarter, down 11% from the same quarter the year earlier. The Ford brand, down 12%, accounted for the decline. Lincoln was one of the few brands in the entire auto industry to report higher sales; they were up 2%.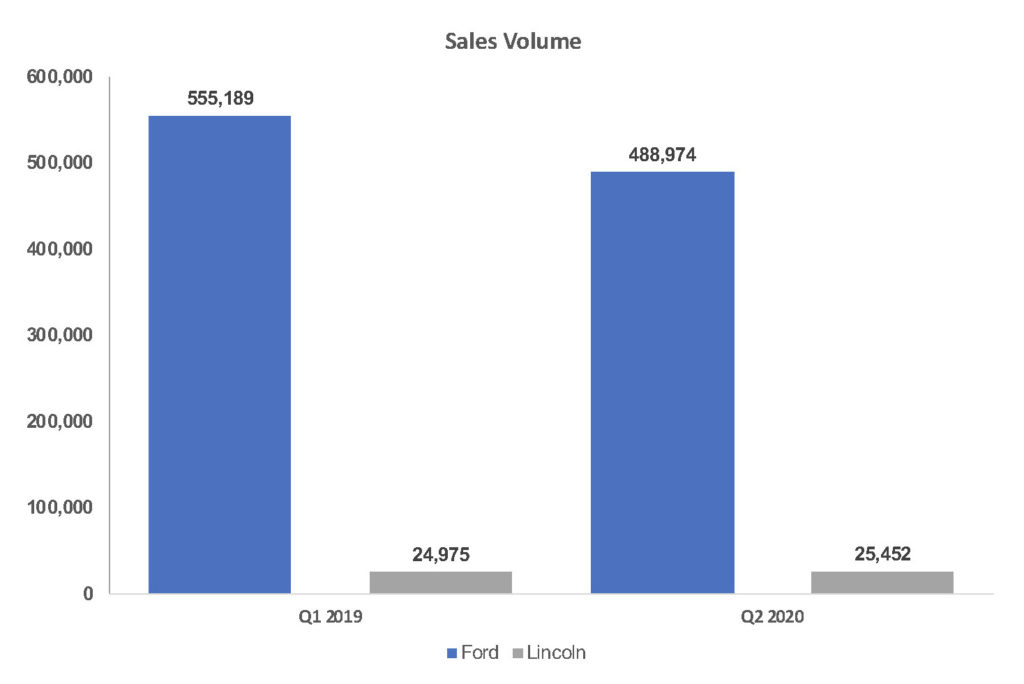 The Ford brand is selling down a number of models, including the Fiesta subcompact and Flex utility. Ford has totally sold out of the discontinued Focus.
The Ford F-Series, which is scheduled for a redesign later this year, posted a 13% sales drop. Ford's SUVs also recorded declines. The recently redesigned Escape was down 21% for its lowest volume of any first quarter in at least five years. Ford Expedition sales slipped 9% off 2019's first-quarter high. The new Ford Explorer, which has been a production challenge, dropped 9% as well. Ford Edge slipped 4%.
Ford brand's bright spots were commercial vans, expected to continue to be hot sellers in the post COVID-19 world of home deliveries. Sales of the full-size E-Series vans soared 122% to more than 20,000 units sold. Sales of the full-size Transit van rose 16%; the smaller Transit Connect van was down 15%.
The Ford Mustang, likely due to the imminent arrival of spring, saw a sales increase.
At Lincoln, the new Aviator SUV drove the brand's sales higher. The Continental sedan also saw a sales hike. All other Lincolns posted lower sales.
Market share for Ford in total and each brand eked out tiny increases.
Q1 incentives and transaction prices
Ford's first-quarter incentives fall into two chapters – before and after COVID-19.
In total, Ford Motor Co. incentives averaged $4,011 per vehicle, down less than 1% from the year earlier, according to Kelley Blue Book calculations. Ford brand incentives averaged $3,862 per vehicle, down 1%. Lincoln incentives averaged $6,856 per vehicle, down 2%.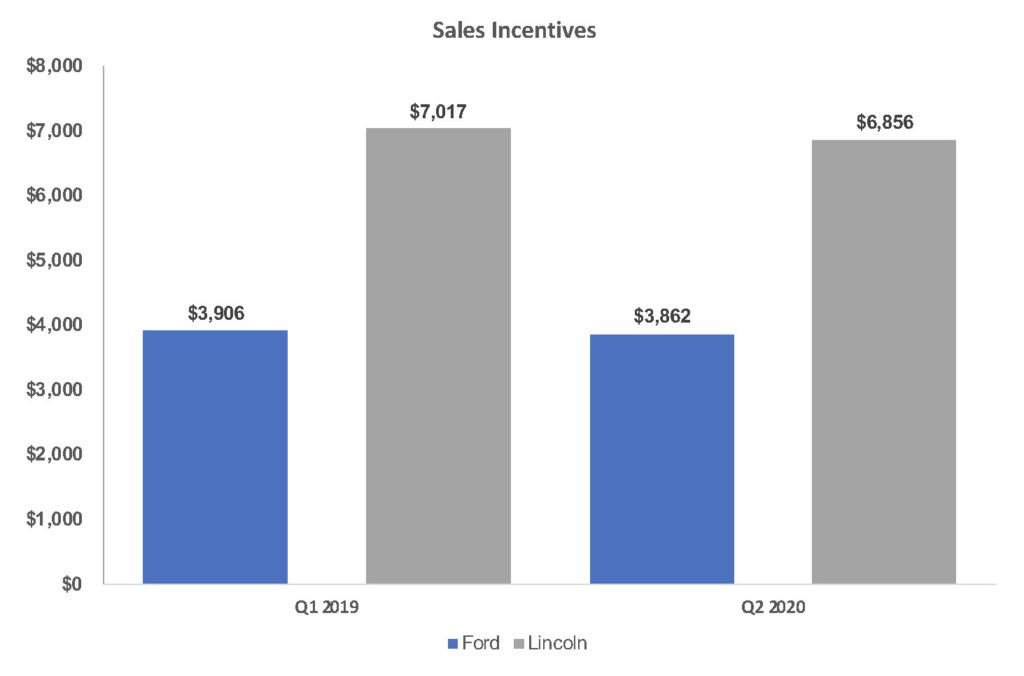 However, after March 11 when the World Health Organization declared COVID-19 officially a global pandemic, governments began shutting down businesses, including dealerships, and factories.
Ford and its domestic competitors immediately launched aggressive incentives of 0% financing for terms up to 84 months to push sales that were possible in some states. The incentives have been extremely popular, driving shopping traffic. Cox Automotive data shows the share of those no interest, long-term loans represent more than 19% of all sales so far in April, up from 2.4% in February and 6.6% in March.
Despite the drive to sell, dealers haven't been so desperate that they have slashed prices. Ford increased average transaction prices in the quarter, up 4% to $44,063, according to Kelley Blue Book.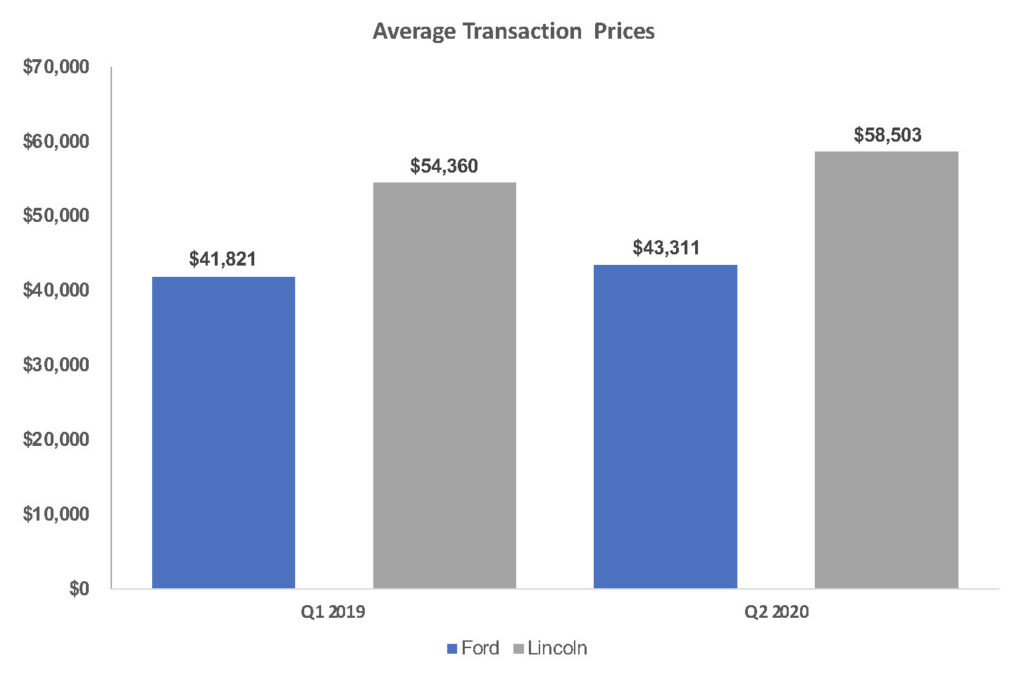 Ford brand's ATPs climbed nearly 4% to $43,311, driven by the higher prices on the New Explorer and new Escape as well as the Mustang. The ATP for the Ford F-Series remained flat at $51,585.
Lincoln's ATP rose a hefty 8% to$ 58,503, according to Kelley Blue Book, driven by the Aviator with its average price of $67,863. The Aviator now has the second highest ATP in the Lincoln line behind the nearly $90,000 Navigator. The Corsair's ATP rose 10% over the MKC it replaced.