Data Point
Cox Automotive Analysis: Ford's Q1 2021 U.S. Market Performance
Tuesday April 27, 2021
Article Highlights
Ford sales edged 1% higher; Lincoln dipped 1%. Ford lost market share.
Ford deeply cut incentives on Ford models, boosted those in Lincolns.
Ford's average transaction price reached a new quarterly high.
Ford Motor Co. will report its first-quarter 2021 earnings Wednesday, April 28, after the stock market closes. Wall Street analysts expect Ford's results to benefit from rising vehicle sales in North America and China as well as its richer mix of SUVs and pickup trucks, pushing prices higher.
Analysts will keep a close eye on the impact of the global computer chip shortage on Ford's results in the quarter and beyond. Ford has been particularly hard hit of late with production cuts due to the shortage, including at its F-150 and Explorer plants. Ford has said the chip crisis could cost the automaker up to $2.5 billion in profits for the full year.
Here are key sales and incentive metrics from Cox Automotive on Ford's first-quarter performance in the U.S. market where the company draws a vast majority of its profits. The numbers suggest that, in its home market at least, relatively weak overall sales performance – and a drop in market share – was offset by lower incentives and healthy demand for its most profitable vehicles. When Ford decided to exit the sedan market a few years ago, it expected lower overall sales volume and market share but higher profits per vehicle sold. By that measure, Ford in Q1 was very much on track.
Q1 sales and market share
Ford sold 517,711 Ford and Lincoln brand vehicles in the first quarter, up nearly 1% from the pandemic-ravaged first quarter of 2020. Still, Ford underperformed as the industry was up 11% in the quarter. Compared with the more normal first quarter of 2019, Ford's total sales were down 13%.
Sales Volume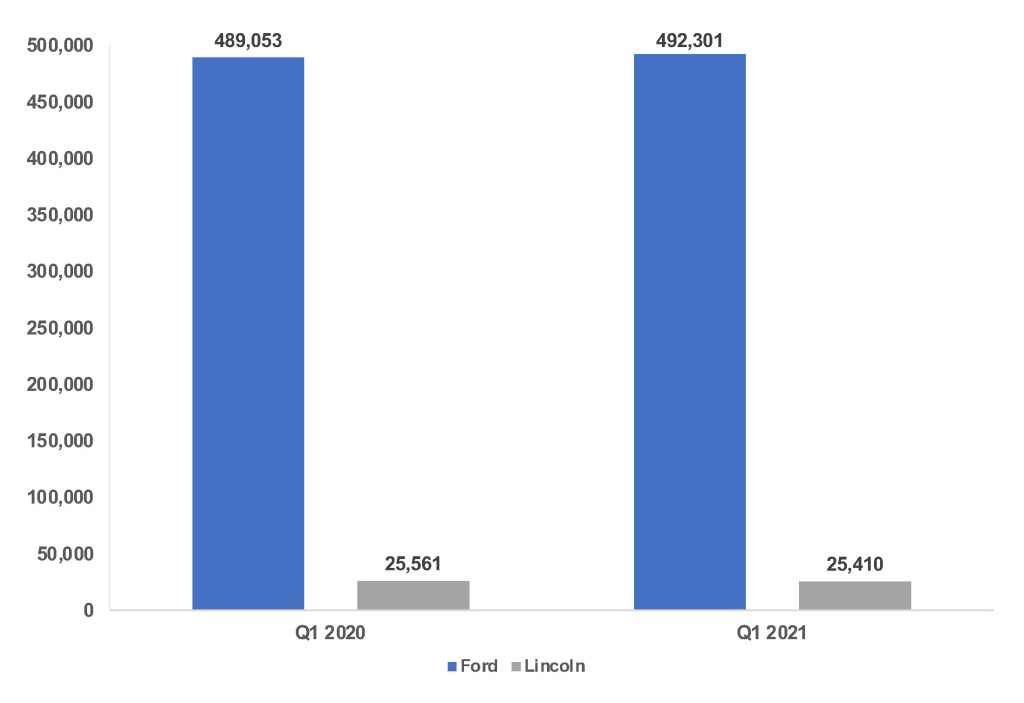 That put Ford's total market share at 13.3%, down 1.4 percentage points. It was Ford's lowest market share and the only time it has fallen below 14% in the first quarter over the past seven years. Ford's market share peaked in the first quarter of 2016 at 15.7%.
Ford brand sales totaled 492,301 in the first quarter of 2021, up nearly 1% from the year-ago quarter but down 14% from the first quarter of 2019. Non-luxury vehicle sales for the industry rose 11%, so Ford underperformed the market. Ford brand market share stood at 12.6% in the quarter, down 1.3 percentage points, its lowest first-quarter share in the past seven years and the first time it was below 13%.
The cash-cow Ford F-Series posted sales up 9% from a year ago but remained well below 2019. The small Ford Ranger hit nearly 25,000 units of sales, up 15% from a year ago.
Ford's second-volume model, the Explorer, gained 16% sales at more than 65,000 units sold, the most in any first quarter in seven years. The next volume player, the Escape, saw sales plummet 15% to under 41,000 units. The Escape, at its peak, sold more than 76,000 units in the first quarter of 2017. Undoubtedly, the new and popular Bronco Sport is eating into Escape sales, as was expected. Ford sold 23,356 Broncos in the first quarter. The other hot new model in the Ford line, the all-electric Mustang Mach-E, had sales of 6,614 units.
The rest of Ford's line was a mixed bag. The profit-rich Expedition posted a 13% sales hike with its highest first-quarter volume in seven years. The Edge was down 25% for its lowest sales in seven years. The Transit cargo van was down 25%, but the E-Series van was up 5%, and the smaller Transit Connect was up 1%.
Ford is completely sold out of the discontinued Taurus, Focus, Flex, Fiesta and C-Max. It is nearly out of the Fusion, which had sales of under 8,000 units, down 70%. Similarly, at Lincoln, the now defunct MKS and MKT are sold out. The discontinued Continental and MKZ are almost sold down.
Lincoln brand sales totaled 25,410 in the first quarter of 2021, down nearly 1% from a year ago and down nearly 2% from the first quarter of 2019. Lincoln vastly underperformed the luxury market, which had sales up 17% far outpacing the overall market.
Every model, excluding the Continental and MKZ that are in sell-down, posted higher sales: Aviator, up 7%; Corsair, up 26%; Nautilus, up 2%; and the profit-heavy Navigator was up 26% to its highest level of sales in any first quarter in seven years.
Q1 incentives and transaction prices
Due to strong demand and low inventories hampered by the computer chip shortage, Ford was able to significantly cut incentives. They were down 13% to an average of $3,407 per vehicle, the lowest first-quarter level since 2017, according to Cox Automotive calculations.
The cuts were made to Ford brand vehicles. The average Ford brand incentive was down 15% to an average of $3,216 per vehicle, the lowest since the first quarter of 2016. To better compete in the hot luxury market, Lincoln boosted incentives by 4% to an average of $7,119 per vehicle, its highest level in the past seven years of first quarters.
Sales Incentives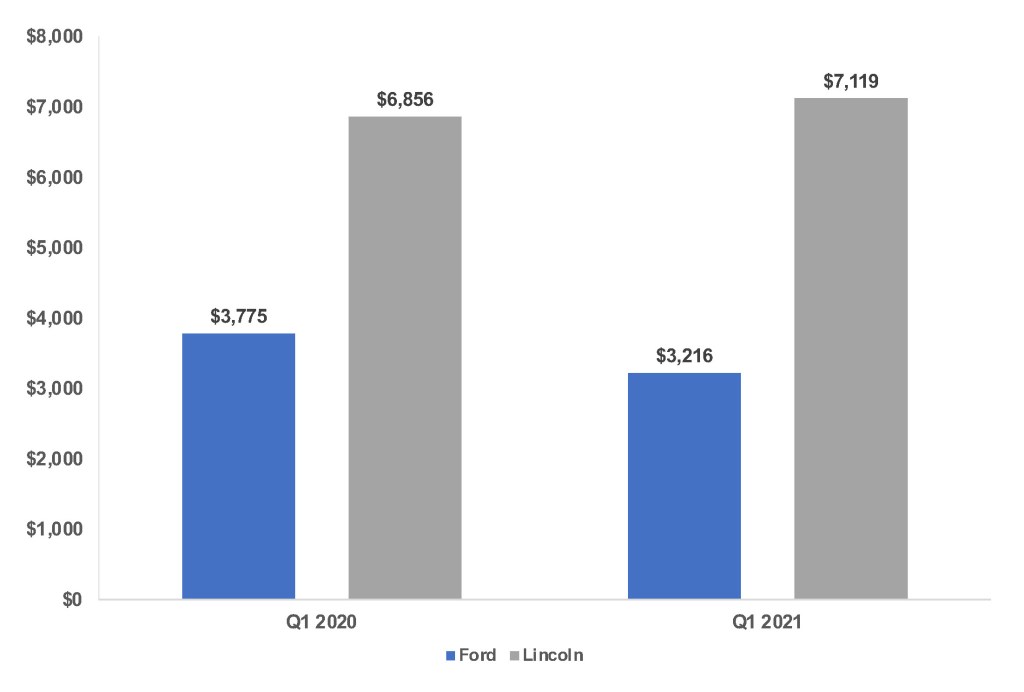 Ford's overall average transaction price (ATP) climbed 8% to $47,969, the highest in any first quarter, according to Cox Automotive calculations. The Ford brand's average also set a new high of $47,305, up 8%. The Lincoln brand hit a new ATP milestone of more than $60,000.
Average Transaction Price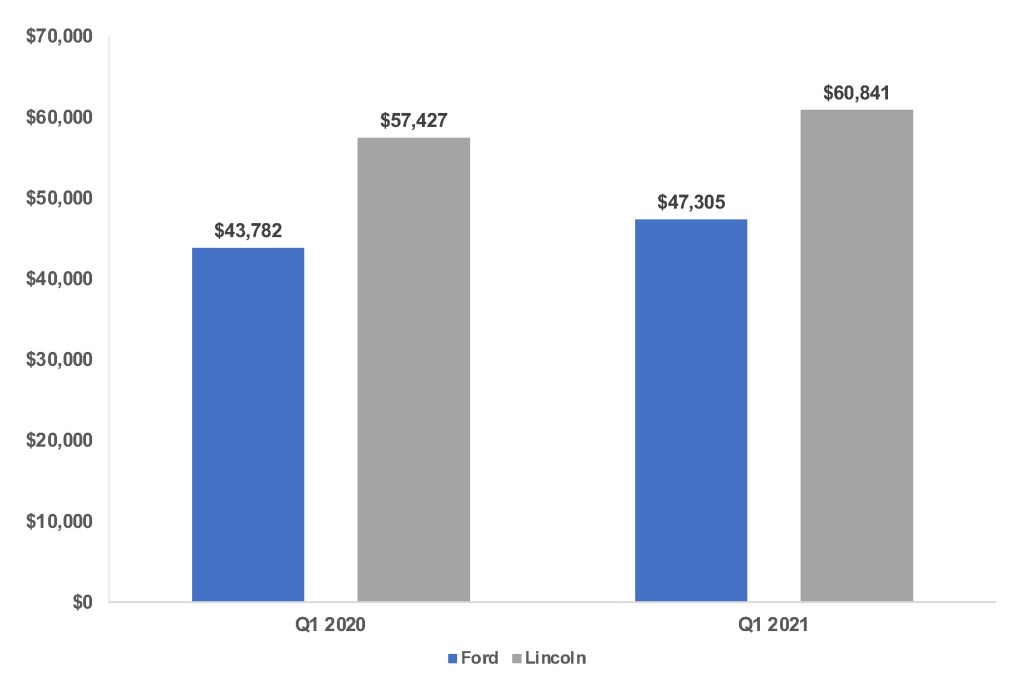 The ATP on Ford's F-Series rose nearly 7% to $55,887. Likely because of high demand and limited supply of delivery vans, Ford's E-Series van saw its ATP jump by 14%, surpassing the $70,000 mark for the first time. The Transit van ATP was up 7% to a new record of more than $43,000.
The ATP for the new Ford Mustang Mach-E was $55,316. The new Bronco Sport had an ATP of $32,766, a couple thousand dollars better than the Ford Escape, upon which it is based and as Ford marketers intended.
Overall, ATPs for all but two Ford brand models were up. The subcompact EcoSport, which has been deeply discounted to spur sales, had its ATP slip. The Explorer's ATP dipped 3%, but that was against a record ATP a year ago, and it still was its second-highest ATP in the past seven years.
Lincoln's ATP climbed 6%, surpassing the $60,000 mark for the first time. Every model but the discontinued MKZ, which is being sold down, had a higher ATP compared with a year ago. The Aviator was up 2% to nearly hit the $70,000 mark. The Corsair's ATP rose 5% to nearly $60,000. The ATP on the Navigator edged up 2%, enough to push it past $90,000.
Tags