Data Point
Cox Automotive Analysis: Ford's Q1 2022 U.S. Market Performance
Wednesday April 27, 2022
Article Highlights
Ford's Q1 2022 sales fell 17%, roughly in line with the industry.
Ford slashed Q1 2022 incentives by 46% to an average of $1,840 per vehicle.
Ford's average transaction prices rose 3% to $49,528.
A day after celebrating the launch of the all-electric F-150 Lightning, the most important new product from Ford in a lifetime according to Chairman Bill Ford, the company is scheduled to post first-quarter 2022 financial results. The numbers will be released after the stock market closes on Wednesday, April 27. Supply-chain disruptions slowed Ford's vehicle production last quarter, but higher prices and lower incentives likely helped offset lower sales.
Here are some data points from Cox Automotive on Ford's first-quarter market performance in the U.S., where the company derives most of its profits.
SALES AND MARKET SHARE
Ford's U.S. sales totaled 429,174 vehicles, down 17% from a year ago and far off the quarter's highest level in 2017 of 613,545 units. Ford was nearly in line with the industry, which had total sales down 16% for the quarter. Its market share stood at 13% at the end of the quarter, nearly equal to a year ago but significantly below the 15.2% in the first quarter of 2017.
U.S. Sales Volume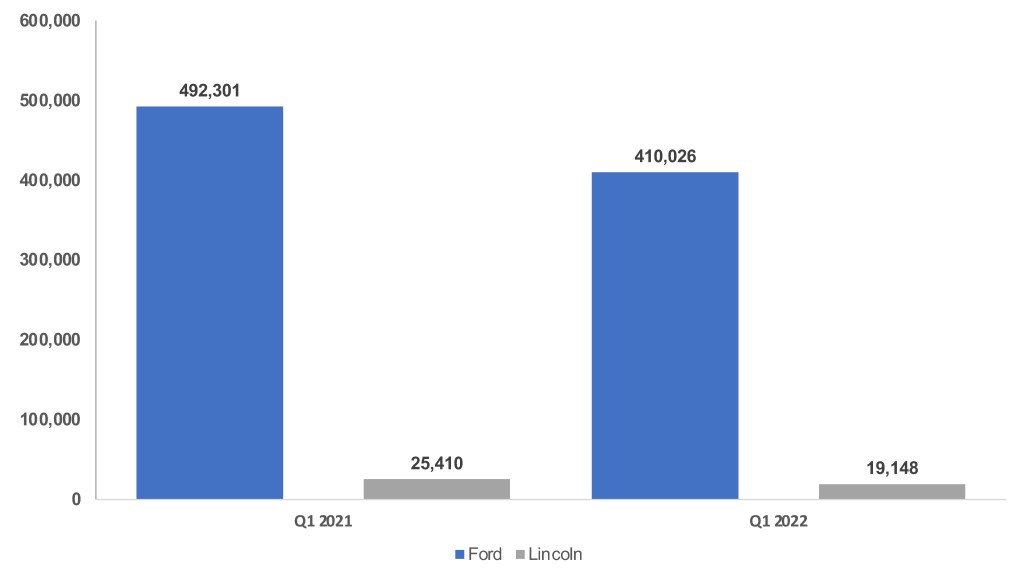 Ford brand sales totaled 410,026, down 18%. That put the brand's market share at 12.4%, down .2 percentage points. Only four models had sales gains. Bronco Sport sales soared 25%, and Edge rose 19%. The GT sports car and electric Mustang Mach-E sales both edged higher. Ford sold 6,734 Mach-Es in the quarter. The new Maverick pickup truck had sales of more than 19,000 units. Notably, Ford's volume-selling F-Series had a 31% decline in sales.
Lincoln sales plummeted 25% to 19,148 units for a .6% market share, about in line with where it has been for the past six years. All Lincoln models had lower sales than a year ago. The Corsair and Nautilus had the smallest sales declines.
INCENTIVES AND PRICES
Ford drastically reduced incentives. In total, Ford slashed incentives by 46% to an average of $1,840 per vehicle, according to Cox Automotive calculations. Ford brand incentives were reduced by 45% to an average of $1,759 per vehicle. Lincoln incentives were cut 50% to an average of $3,572 per vehicle.
U.S. Sales Incentives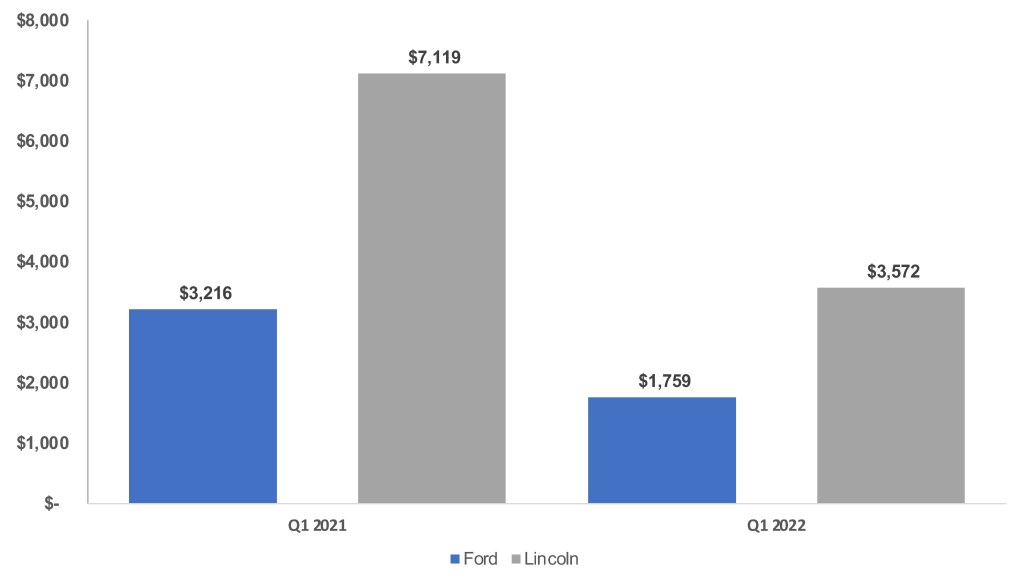 AVERAGE TRANSACTION PRICES
Ford's overall average transaction price (ATP) rose 3% to $49,528, according to Cox Automotive calculations.
The F-Series had a 9% increase in ATP at $62,267. Ford's highest-priced model, excluding the GT, was the Expedition at $69,363. With an ATP of $29,162, the Maverick was its lowest-priced model again, excluding the EcoSport that is being discontinued. New models fetched hefty prices, including the Mustang Mach-E at $59,256 and the Bronco at $52,449.
The Navigator is Lincoln brand's priciest model at $97,645.
---
Michelle Krebs is executive analyst at Cox Automotive.
Tags