Data Point
Cox Automotive Analysis: Ford's Q2 2022 U.S. Market Performance
Tuesday July 26, 2022
Article Highlights
Ford's Q2 2022 sales were up 2%, buoyed by the popular Ford Bronco and electric Mustang Mach-E.
Ford slashed Q2 2022 incentives by 54% to an average of $1,201 per vehicle.
Ford's average transaction price rose 10% to $51,995.
Ford outperformed the U.S. market in sales for the second quarter. How that translates into quarterly earnings will be revealed with the automaker posts financial results after the stock market closes on Wednesday, July 27.
Ford's U.S. vehicle sales surged in June to close the quarter on a positive note when the industry was down, mainly because its inventories vastly improved from the year before when the automaker was parking F-150 pickup trucks until chips arrived for installation. Strong demand allowed Ford to more than halve its average vehicle incentive spending, while average transaction prices got a boost.
Still, Ford's quarter was marred by numerous large recalls and its worst sales in China since the first quarter of 2020.
Here are some data points from Cox Automotive on Ford's second-quarter market performance in the U.S., where the company derives most of its profits.
SALES AND MARKET SHARE
In the U.S., Ford Motor Company's sales totaled 480,558 vehicles, up 2% from a year ago when the automaker was significantly impacted by the chip shortage, largely the result of a fire at a supplier in Japan that forced production cuts. Despite the improved performance, Ford's sales remain far off its highest level in 2017, when it sold 680,852 vehicles in the second quarter.
Ford Motor Company U.S. Sales Performance for Q2 2022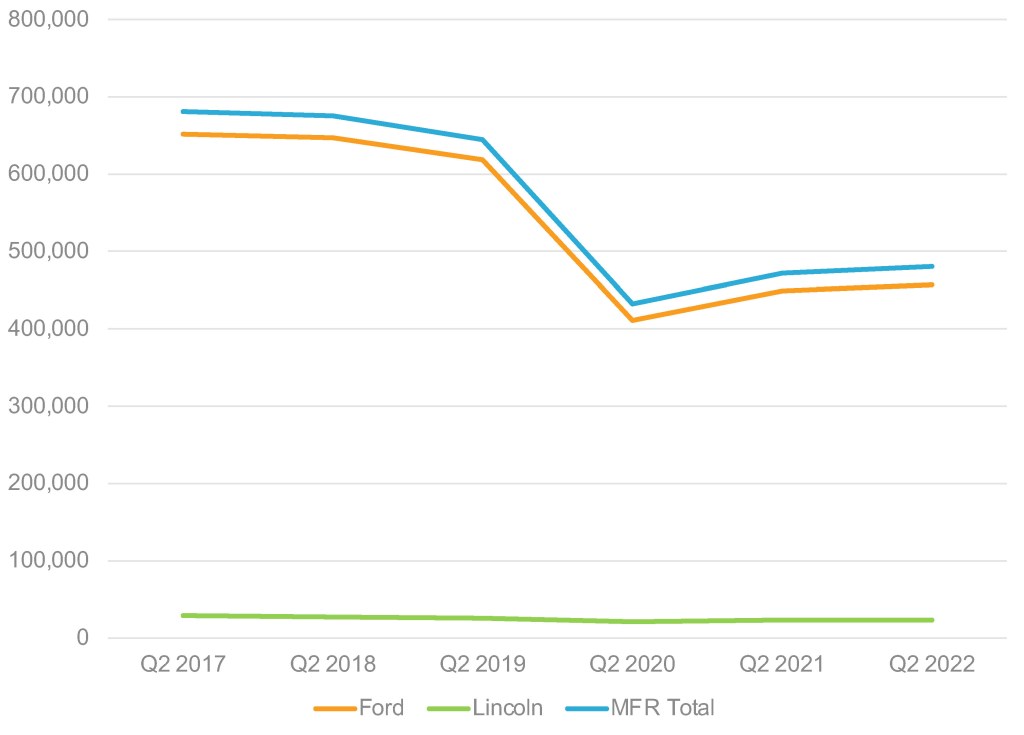 Nevertheless, Ford beat the industry in the U.S., which had total sales down more than 20% for the quarter. Ford's overall market share stood at 13.7% at the end of the quarter, up nearly 3 percentage points from the year before but still below the 15.4% in the first quarter of 2017.
Ford brand sales totaled 456,813, up 2%. That put the brand's market share at 13.7%, up almost 3 percentage points. Five models had sales gains. Bronco sales soared by 3,803%. Edge sales rose 46%. Explorer was up 14%. Ford sold 10,941 Mustang Mach-Es in the quarter, a 72% increase versus a year ago. The new Maverick pickup truck had sales of more than 19,000 units. The Transit cargo van saw a 1.5% increase. Sales of Ford's No. 1 selling F-Series were roughly flat.
Lincoln sales were up 1% to 23,745 units for a 0.7% market share, about in line with where it has been for the past six years. Three models saw sales increases for the quarter, including the Aviator (4%), the Corsair (11%) and the Nautilus (12%).
INCENTIVES AND PRICES
Ford drastically reduced incentives. In total, the company slashed incentives by 54% to an average of $1,201 per vehicle, according to Cox Automotive calculations. Ford brand incentives were reduced by 55% to an average of $1,109 per vehicle. Lincoln incentives were cut 47% to an average of $2,972 per vehicle.
FORD MOTOR COMPANY U.S. INCENTIVE SPENDING FOR Q2 2022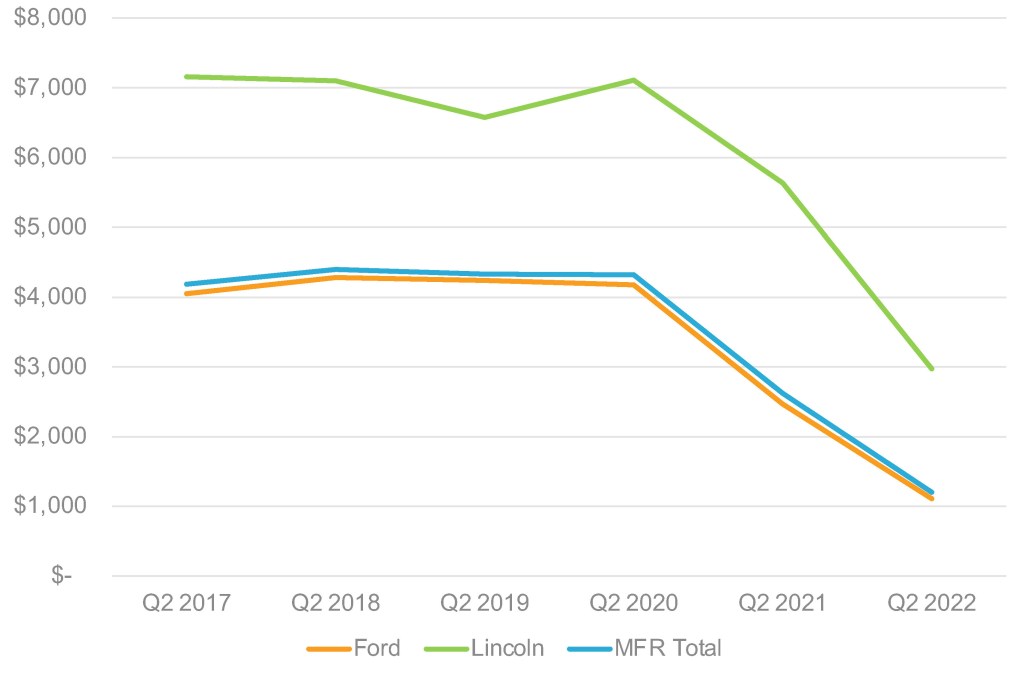 Ford's overall average transaction price (ATP) rose nearly 10% to $51,995, according to Cox Automotive calculations.
The F-Series had a 10% increase in ATP at $62,990. Ford's highest-priced model, excluding the GT, was the Expedition at $73,574. With an ATP of $29,369, the Maverick was its lowest-priced model again, excluding the EcoSport that is being discontinued. Newer models fetched hefty prices, including the Mustang Mach-E at $60,149 and the Bronco at $52,154.
The Navigator was Lincoln brand's priciest model in Q2 at $101,646.
---
Rebecca Rydzewski is research manager of economic and industry insights at Cox Automotive.
Tags