Data Point
Cox Automotive Analysis: Ford's Q3 2022 U.S. Market Performance
Tuesday October 25, 2022
Article Highlights
Ford closed Q3 2022 with sales up 16% year over year.
Ford slashed incentives by 63% to a per-vehicle average of $929.
Ford's average transaction price edged 4% higher to $54,008
Ford signaled in September that higher-than-expected costs would dampen its third-quarter profits due to parts shortages and inflation.
Ahead of its Wednesday, October 26, earnings announcement, Ford forecasted adjusted earnings before income and taxes of $1.4 billion to $1.7 billion for Q3. Ford said parts costs would be $1 billion higher than expected because of inflation and parts shortages. Those shortages caused up to 45,000 vehicles, mostly high-margin SUVs and trucks, to remain parked awaiting a variety of parts, from computer chips to even the Blue Oval badges.
In terms of sales, Ford had a weak September but still closed the third quarter with positive sales in the U.S., higher transaction prices and significantly lower incentive spending.
The U.S. is Ford's most important market. Here are some data points from Cox Automotive on its U.S. Q3 market performance.
Improved Inventory, Hot New Models Salvage Third Quarter Sales
Ford reported a disappointing September, with sales down 9% from the year earlier. Still, Ford closed the third quarter on an up note, thanks to much improved inventory and hot new models.
Ford Motor Company U.S. Sales Performance for Q3 2022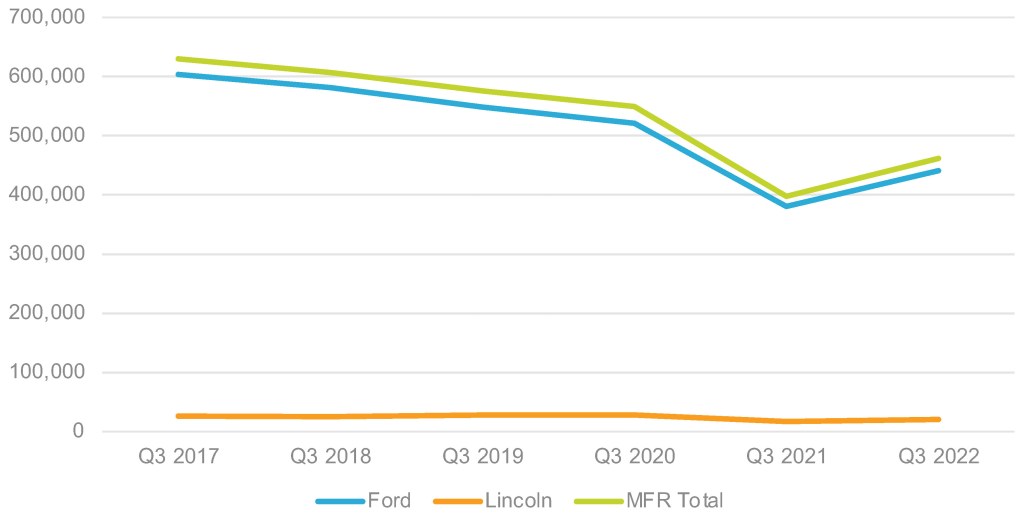 Ford's Q3 sales in the U.S. totaled 461,424 vehicles, up 16% from the same quarter a year ago. Like other automakers, Ford's sales are a far cry from what they were in the past. In Q3 2017, Ford sold 629,990 vehicles.
Ford brand sales rose 16% to 441,397 vehicles, while the overall industry was flat. Ford's newest models posted the biggest gains.
The Bronco SUV had sales of 31,545 vehicles, up 236% from the 9,403 sold a year ago when it was in launch mode.
The small Maverick pickup truck that comes standard with a hybrid powertrain hit 13,049 vehicles, up from only 506 a year ago when it was new to the market.
The electric Mustang Mach-E had a 77% sales gain to 10,414 vehicles.
The Transit Connect, which will be discontinued after the 2023 model year, had sales up to more than 6,000 units.
Other Ford stalwarts saw gains as well: Explorer, up 27%; Bronco Sport, up 4%, Ford Edge, up 4%. However, Ford's most significant vehicle line for sales volume and profits, the F-Series, had a 3% decline to 167,962 units.
Lincoln brand sales climbed nearly 18% to 20,027 vehicles. The volume-leading Corsair had a sales gain of 78% to 6,239 units. The Aviator was up 59% to 5,746 units. Nautilus sales fell 27% to under 5,000 units.
Ford's total Q3 sales outpaced the industry in the U.S. by a wide margin. As a result, Ford's market share rose 1.87 percentage points to 14%, matching where it was for most third quarters since 2017, according to Cox Automotive calculations. Ford brand's share was up 1.79 percentage points to 12.9%. Lincoln's share was .6%, about where it has been for the past six years for the quarter.
Total Incentive Slashed by 63% in Q3
Ford slashed incentive spending again in Q3. Total incentives were down 63% to an average of $929 per vehicle, according to Cox Automotive calculations. Pre-2021 incentives for the quarter ranged from about $4,400 to $4,800 per vehicle. Industry-wide, the average incentive in Q3 was $1,079.
FORD MOTOR COMPANY U.S. INCENTIVE SPENDING FOR Q3 2022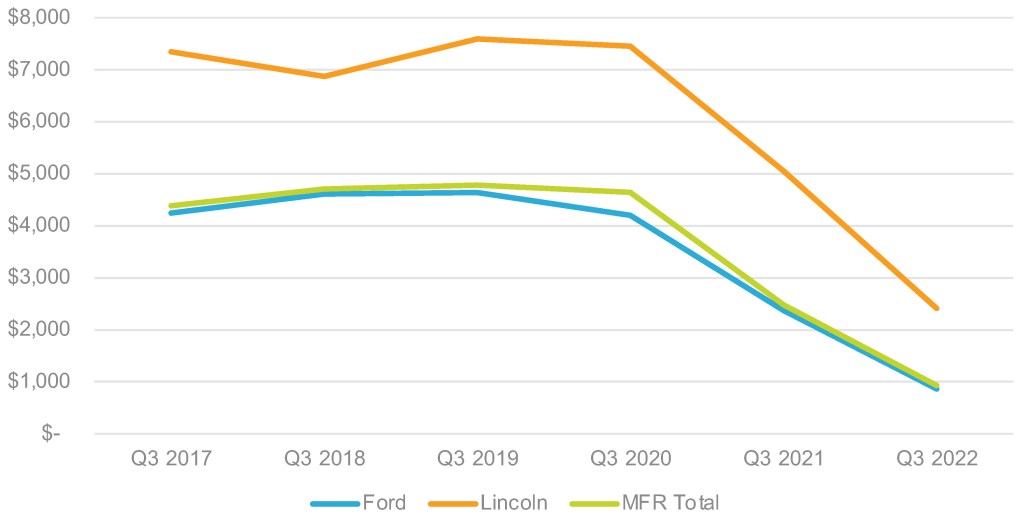 Ford brand incentives had the most significant decrease, down 64% to an average of $862 per vehicle. Before 2021, Ford brand incentives were above $4,200 per vehicle. Lower incentive spending can have a significant positive effect on the bottom line, as Brian Finkelmeyer, senior director of new-vehicle solutions at Cox Automotive, noted in a post late last month.
Lincoln incentives were cut by 52% to an average of $2,412 per vehicle. In pre-pandemic days, Lincoln incentives ran roughly between $6,800 to $7,600 per vehicle.
Ford's Average Transaction Price Exceeds $54,000
Ford's average transaction price (ATP) edged 4% higher to $54,008, according to Cox Automotive calculations. By comparison, Ford's ATP was about $40,000 in Q3 2017.
Ford brand's ATP climbed 4% to $53,512, above the industry average ATP of $48,094 in September, according to Kelley Blue Book. Every Ford brand model had a higher ATP this year than last except one – Maverick, Ford's least expensive model. Its ATP dipped 1% from a year ago to $29,560, likely because the launch last year emphasized high-end trim levels.
On the opposite end, Ford's highest-priced model was the Expedition, with an ATP of $74,477, up 9% from a year ago. The Transit, now with an optional EV powertrain, had the biggest increase in ATP, up 14% to $50,767. Ford has raised the MSRP of the electric Mustang Mach E a couple of times in recent months. As a result, its ATP rose 8% to $59,085. The Bronco ATP also rose 8% to $53,866. The F-Series was up 7% at $63,866.
Lincoln's ATP rose 3% to $64,951. That compares with about $46,000 in Q3 2017. Despite lower sales, the Nautilus had the biggest gain in ATP, up 5% to $56,786. The Corsair, Lincoln's entry-level model, edged 2% higher to $47,436. The Navigator SUV was Lincoln's highest-priced model, with an ATP of $101,218, up 7% from a year ago.
---
Michelle Krebs is executive analyst at Cox Automotive.
Tags