Data Point
Cox Automotive Analysis: Ford's Q4 2021 U.S. Market Performance
Tuesday February 1, 2022
Article Highlights
Ford outperformed the overall market in Q4 sales, pushing its market share higher.
Ford slashed incentives by 45% to an average of $2,404 per vehicle.
Ford's ATP surged past the $50,000 mark.
Ford reports fourth-quarter and full-year 2021 financial results after the stock market closes on Thursday, Feb. 3. Analysts speculate that Ford may surprise again with better-than-expected results.
Every unit of Ford, from Ford Credit to international operations to North America, likely registered improvement to close out 2021. Ford, in fact, raised its guidance for the full year to earnings of $10.5 billion to $11.5 billion.
In the U.S., Ford outperformed the overall market in sales in the fourth quarter, thanks to some improvement in supply after being battered earlier in the year by the global computer chip crisis. Ford also cut costs by slashing incentives by 45% and saw significantly higher average transaction prices (ATP) as consumers paid top dollar when inventories were tight. The combination should result in higher revenues and solid profits despite lower sales volume.
Here are the key data points from Cox Automotive on Ford's fourth-quarter performance in the U.S. market, which accounts for the bulk of Ford's revenue and profits.
Sales and Market Share
Ford Motor Company sold 504,138 vehicles in the fourth quarter. That was down 6% from the fourth quarter of 2020. Ford greatly outperformed the overall market in the quarter, which helped it gain market share. Ford grabbed a 15.3% share, up 2.4 percentage points from the year-earlier quarter.
The Ford division had only a 5% decline in sales to 483,171 vehicles sold, putting its market share at 14.6%, up 2.5 percentage points, according to Cox Automotive calculations. Lincoln sales plunged 32% to 20,967 vehicles sold. Its market share was .6 percent, keeping it in its usual range.
Sales Volume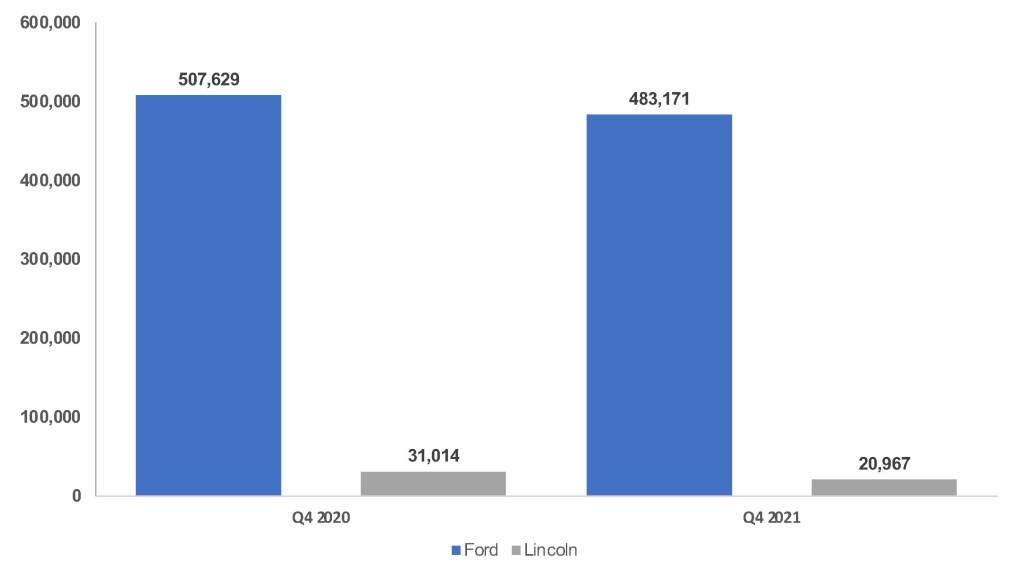 Hot new Ford models helped the brand. Some 73,000 units of sales in the fourth quarter came from those new models. The new Bronco posted sales of 25,000. The Bronco Sport sold nearly 27,000 units. The electric Mustang Mach-E had sales of 8,285 in the quarter. The just-launched Maverick pickup truck sold just shy of 13,000 units.
Ford's big sellers were down but not huge amounts. The volume-leading Ford F-Series had a 4% dip in sales to 191,173 units. The second best-seller, the Ford Explorer, was off 10% to just under 60,000 units. Third in volume, the Escape had a 28% drop to just under 34,000 units, but its sales undoubtedly are being nibbled into by the Bronco and Bronco Sport.
Ford's sell-down of many discontinued models appears nearly complete with only about 100 Ford Fusions sold. The EcoSport sold 6,165 units, more than 50% fewer than in Q4 2020.
Lincoln division was another story. Despite a strong luxury market, Lincoln struggled. Sales of its volume-leading Nautilus dipped only 6% but the rest of Lincoln's models were down 25% or more.
Incentives
Ford saved costs by slashing incentives by 45% in the fourth quarter. The overall incentive offered by the automaker was an average of $2,404 per vehicle, according to Cox Automotive calculations.
Ford brand cut incentives by 44% to an average of $2,326 per vehicle. That compares to $4,152 a year ago. Lincoln whacked incentives by 46% to an average of $4,189 per vehicle. The average per-vehicle incentive last year was $7,734.
Sales Incentives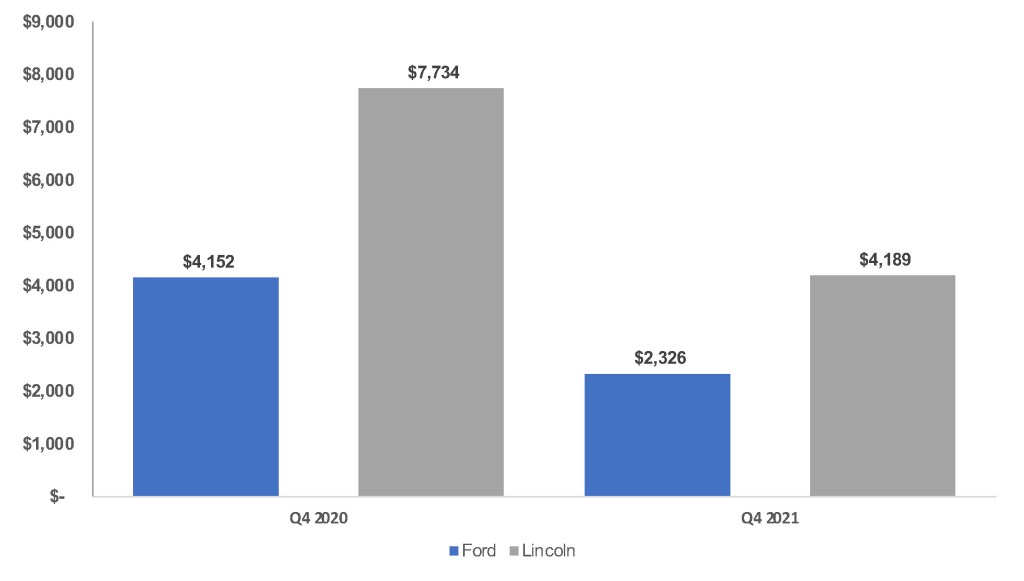 Average Transaction prices
Ford Motor Co.'s average transaction price (ATP) surpassed the $50,000-mark in the fourth quarter, according to Cox Automotive calculations. It rose 8% from the year-earlier quarter to $50,946. Every Ford model but one saw an ATP gain.
Ford brand's ATP rose 9% to $50,405. The hot new models not only helped on the volume side but also on the price – and thus revenue – side of the ledger. The hot new Mustang Mach-E had an ATP of $57,810. The new Bronco had an ATP of $52,672. The Bronco Sport had a hefty rise in its ATP, up 8% to $34,427. While both have taken a bite out of Ford Escape sales, their higher prices have left room to grow for Escape's price, with its ATP up 8% to $32,760.
Average Transaction Prices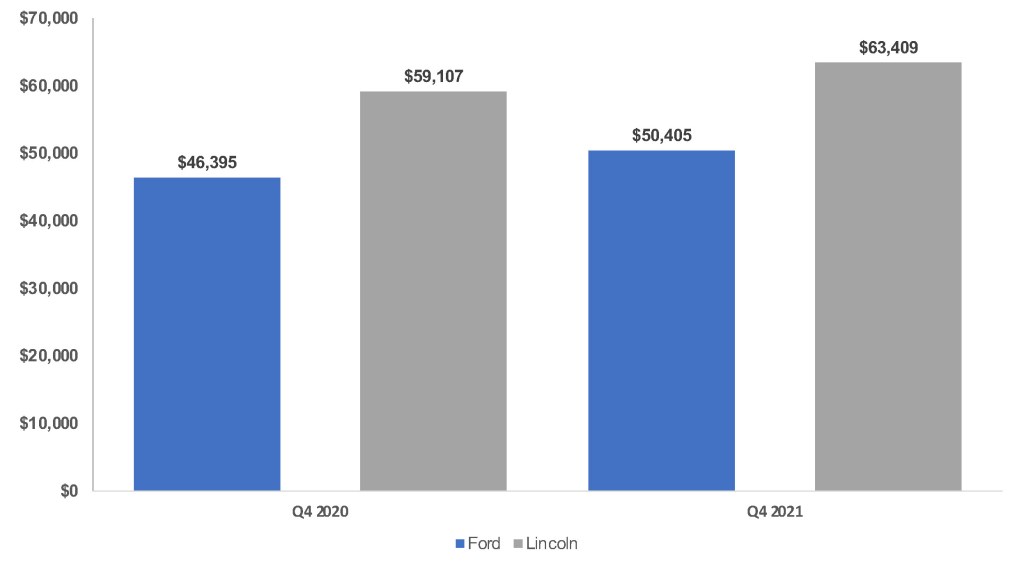 Similarly on the truck side, the F-Series had a hefty 9% gain in its ATP, which was $60,059, up from just under $55,000 a year earlier. That allowed the mid-size Ranger to move up the ladder in price. Its ATP saw the biggest increase among Ford models, up 12% to $39,763. The new Maverick, which starts at about $20,000, had an ATP of $29,410.
Excluding the discontinued Fusion and EcoSport, which have ATPs in the mid-$20,000s, the Maverick is now Ford's least expensive model and its only vehicle with an ATP under $30,000. Aside from the GT sports car, the Expedition is Ford's most expensive model with an ATP of nearly $70,000.
Ford has been focusing on the commercial side of the business where ATPs also were high. The Transit Connect and Transit vans had some of the biggest percentage increases in ATPs. The smaller Transit Connect was up 17% to $31,382. The Transit was up 10% at $47,240. The aged E-Series van saw its ATP drop a bit, but it still is nearly $60,000.
Lincoln's ATP was up 7% to $63,409. Every model gained 5% to 6% in ATP over the previous year. The being discontinued Continental sedan saw a 20% jump in its ATP to more than $71,000, likely because it is becoming rare. The Navigator remains Lincoln's most expensive model with an ATP that climbed to more than $95,000.
---
Michelle Krebs is executive analyst at Cox Automotive.
Tags