Data Point
Cox Automotive Analysis: GM's Q1 2022 U.S. Market Performance
Tuesday April 26, 2022
Article Highlights
GM Q1 2022 sales fell 20%; Toyota beat GM again.
GM Q1 2022 incentives slashed by nearly 60% to under $2,000 per vehicle.
GM average transaction prices climbed 14% to nearly $51,000.
General Motors posts first-quarter 2022 financial results after the stock market closes on Tuesday, April 26. The quarter was challenging, marked by supply-chain disruptions, production cuts, and low inventories. On the positive side, GM in the U.S. slashed costly incentives and boosted sales of many of its profit-rich trucks and SUVs.
Here are some data points from Cox Automotive on GM's first-quarter market performance in the U.S., where the company derives most of its profits.
Sales and Market Share
GM's U.S. sales totaled 509,108 vehicles in the first quarter, down 20% from last year and well off the quarter's high-water mark of 715,794 vehicles in Q1 2018.
U.S. SALES VOLUME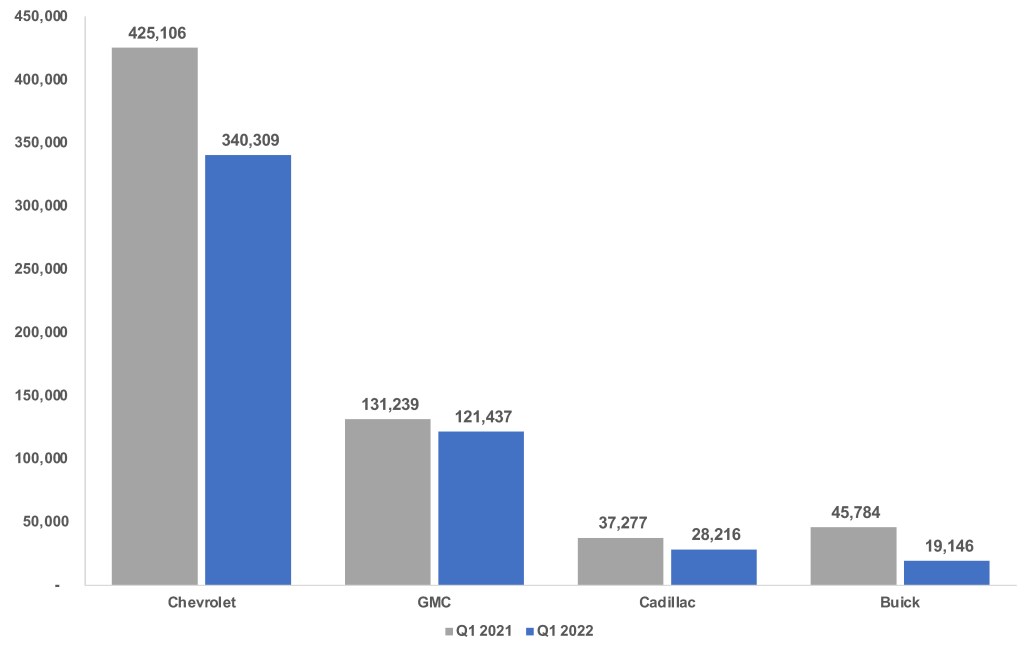 Total industry sales for the first quarter fell 16%. Since GM underperformed the market, it put its market share at 15.5%, down nearly a whole percentage point from the first quarter of 2021 and its first time in five years being below 16% for the quarter.
GM's four brands all posted lower sales.
Buick had the steepest decline. Sales fell 58% to 19,146 units, cutting its market share in half to .6%. Buick's sales picture for the quarter was dismal. The lowest decline was the Enclave, down 34%. Buick will discontinue the Encore after the 2022 model year.
Sales of GM's highest-volume brand Chevrolet fell 20% to 340,309 units. The brand lost a half-percentage point of market share, down to 10.3%. In Chevrolet's wide product portfolio, only three models posted sales increases. Suburban sales rose 12% to 12,424 units, Tahoe was up 4% to 23,979, and Corvette sales, despite production fits and starts, soared 33% to 8,811 vehicles. The high-volume Silverado pickup had only a 5% sales decline to 118,796 units.
Cadillac sales dropped 24% to 28,216, putting its market share at .9%, about the same as the past five years. The Cadillacs that had sales increases were the Escalade, up 3% to 6,424 vehicles, and the Escalade ESV, up 13% to 4,081 units.
GMC sales slipped only 8% to 121,437 vehicles, pushing its market share to 3.7%, its highest level for the quarter in at least five years. Three of GMC's eight models had increases. Terrain sales soared 47% to nearly 25,000 units, Yukon XL sales climbed 40% to 9,173 units, and regular Yukon sales edged 2% higher to 12,123 units. GMC's volume-leading Sierra had sales down 10% to just under 57,000 units. GMC sold 99 Hummer EVs.
Incentives
Strong demand and tight inventories led GM to slash incentives significantly. In total, GM incentives were slashed 59% to an average of $1,966 per vehicle, according to Cox Automotive calculations.
U.S. INCENTIVE SPEND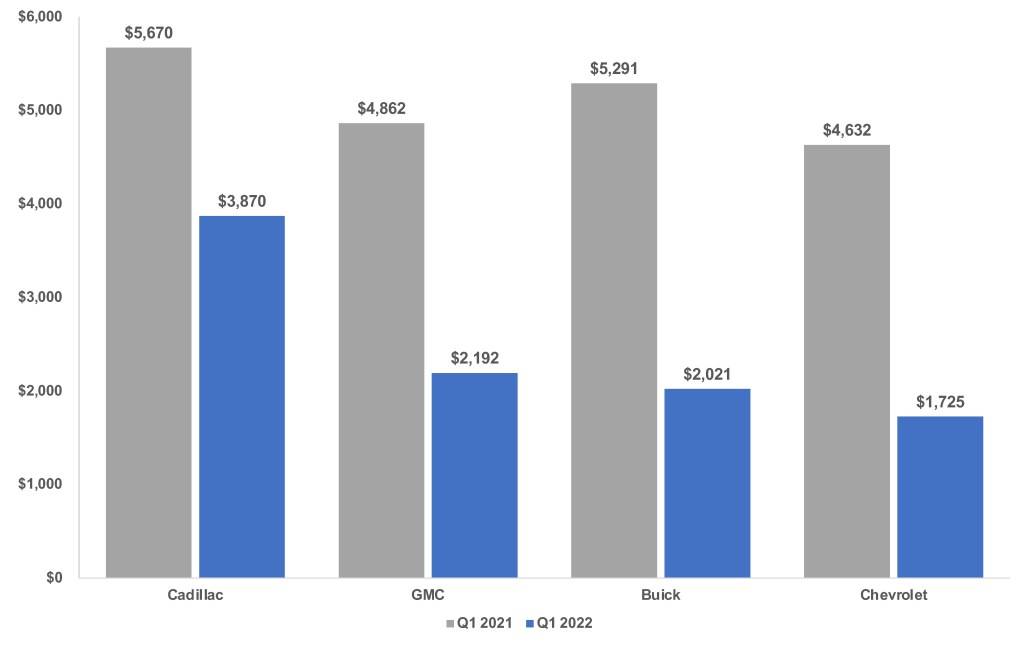 Both Buick and Chevrolet slashed incentives by more than 60%. Chevrolet incentives averaged $1,725 in the quarter. Buick's average was $2,021. GMC's $2,192 was down 55%. Cadillac had the highest incentives at $3,870 and the smallest cut, down about a third.
Average Transaction Prices
GM's overall average transaction price (ATP) rose 14% to $50,854, according to Cox Automotive calculations.
The best sales performers for the quarter were also GM's best profit generators, with big boosts in average transaction prices. The Cadillac Escalade and Escalade ESV were GM's highest-priced models at $108,316 and $110,832, respectively.
Similarly, the Chevrolet Suburban and Chevrolet Tahoe had higher ATPs at $70,681 and $67,563, respectively. The Chevrolet Trax is the lowest priced GM vehicle at $25,433. The Corvette was the king of price for the brand at $84,924. At GMC, the Yukon and Yukon XL had higher ATPs of $75,680 and $78,718, respectively. Chevrolet and GMC cargo vans posted the highest percentage gains in price due to the strong delivery van business. Pickup trucks made good gains, with the GMC Sierra's ATP rising to $64,578 and the Chevrolet Silverado to $54,377.
---
Michelle Krebs is executive analyst for Cox Automotive.
Tags