Data Point
Cox Automotive Analysis: General Motors' Q1 2023 U.S. Market Performance
Monday April 24, 2023
Article Highlights
GM retained its U.S. sales crown with an 18% sales increase. Market share edged up to 16.7%.
GM incentives dipped 3% to an average of $1,908 per vehicle but rose from Q4 2022
GM's average transaction price edged higher to $51,431, its highest for the quarter but with growth slowing.
Lately, General Motors has made a habit of beating analysts' forecasts, and it may well happen again when the Detroit automaker reports 2023 first-quarter earnings before the stock market opens Tuesday, April 25.
Analysts expect GM earnings to be lower than the year-ago quarter even with higher revenues, but they admit an upside surprise is possible. Many plus and minus factors must be considered.
On the plus side, the chip shortage appears to be largely over for GM. Production kept running and inventory kept building. That helped GM far outpace the industry in the U.S. in sales. It retained its sales leadership position. But GM wound up with too much full-size pickup truck supply, so it temporarily idled two plants that produce them in the quarter.
Incentive spending dipped from a year ago, but due to possibly slowing demand and increased supply, GM incentives were up from the final quarter of 2022. Also mixed, GM's Average Transaction Priced edged higher, but price growth is clearly slowing.
During the quarter, GM announced a buyout program for salaried employees, which 5,000 people accepted. That may result in a significant charge for the quarter – as much as $1.5 billion – but is intended to improve GM's competitive position for costs in the future. China sales for GM plummeted by 25%, and the company is ramping up production of EV models that can be slow and costly. Both will weigh heavily on the bottom line.
Here are some data points from Cox Automotive on GM's Q1 market performance in the U.S., the automaker's most important market.
GM'S Q1 Sales Outperformed the U.S. Industry
In Q1, GM sold 599,187 vehicles in the U.S., up nearly 18% from the year-ago first quarter. GM remains well off its pre-pandemic sales levels, with Q1 2018 marking the high point of more than 700,000 sales for the quarter.
GM U.S. Sales Performance for Q1 2023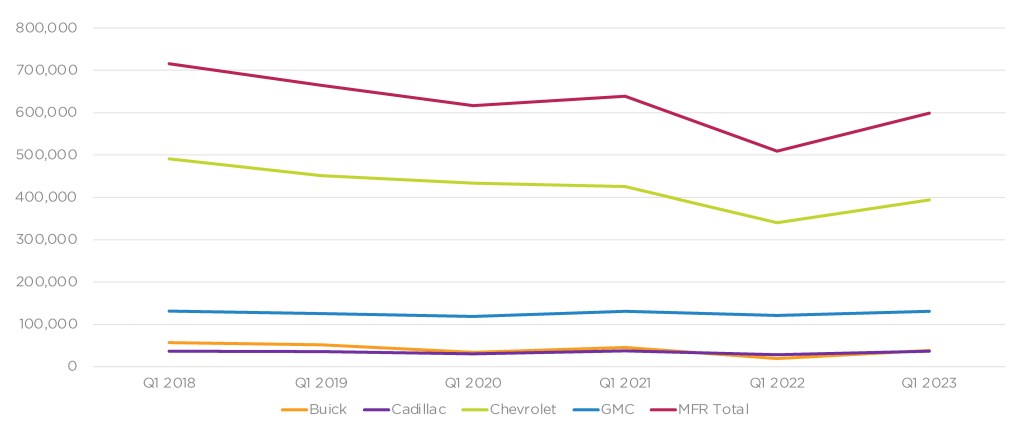 The high-volume Chevrolet brand had a nearly 16% sales increase to 394,120 vehicles. That remains well below pre-pandemic levels and 100,000 units less than in Q1 2018. Chevrolet SUVs made huge gains in the quarter, with the Trailblazer posting a 225% increase in sales. The Tahoe and Traverse had double-digit hikes. The all-important Silverado pickup posted a 4% gain in sales. On the other hand, the Equinox, the volume leader for Chevrolet SUVs, had a dip in sales. The electric Bolt models are back in production, posting a huge sales increase to just under 20,000 units. That helped GM become the No. 2 seller of EVs in the quarter, behind Tesla. The electric Silverado will go on the market soon.
Buick had the largest percentage increase among GM's brands, nearly doubling, albeit on a low base after a dismal 2022. Sales rose to 38,138 units, still one of the lowest levels for the brand in the past six years of first quarters. All Buick models had sales hikes of double and even triple digits. Buick's volume-leading Envision, imported from China, posted an increase of 242% to 14,077 units. The Encore GX was up triple digits as well.
Cadillac sales rose nearly 29% to 36,321 units, essentially returning the luxury brand to pre-pandemic volumes. Only sales of Escalade models dipped in the quarter, but that was from extremely high sales levels a year ago. All other models saw big double-digit gains. The Cadillac XT5 was the brand's volume leader in the quarter, followed by the XT4. Cadillac sold 968 Lyriq EVs, which was not on sale until after Q1 2022.
GMC sales rose nearly 8% to 130,608 SUVs and trucks. The brand has not endured the roller-coaster of sales like other GM brands. Sierra pickup sales rose almost 19%. Acadia SUV sales were up 71%. Yukon XL sales were roughly flat, and Terrain and Yukon sales were down. GMC sold only 2 Hummer EVs in the quarter, half of what it did a year ago. Hummer production is expected to increase in the months ahead.
GM Market Share Edges Higher to 16.7%
With GM outperforming the U.S. market, which posted an 8% increase, GM's market share increased by 1.5 percentage points to 16.7%. While an improvement from a year-ago, it's still below typical pre-pandemic levels.
Chevrolet had a market share of 11%, up .8 of a percentage point from the first quarter of the past two years. GMC was roughly steady from last year at 3.7% market share, its highest level in years. Buick saw a one-half percentage point increase to 1.1% share. Cadillac eked out a 0.2 percentage point gain to a full 1% market share, its highest in at least the past six years for the quarter.
GM's Incentive Spending of $1,908 per Vehicle Was Down From Last Year but up From Last Quarter
GM incentives in Q1 were lower by 3% from a year ago, after deep cuts throughout l2022. GM spent an average of $1,908 per vehicle in the first quarter, according to Cox Automotive calculations. While that is the lowest level in years for the first quarter, it is up from the last quarter of 2022, when it was only $1,337 per vehicle.
GM U.S. Incentive Spending for Q1 2023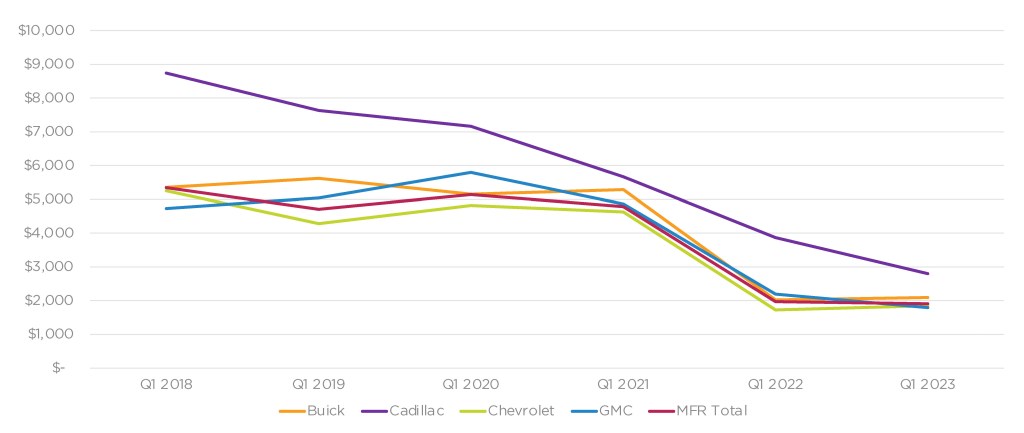 Cadillac slashed incentives by nearly 28% year-over-year to an average of $2,800 per vehicle, the lowest in years. In Q1 2018, Cadillac spent an average of $8,741 per vehicle on incentives.
GMC hacked incentives by 18% to an average of $1,793 per vehicle, the lowest for GM brands. Before the chip shortage, GMC spent from $5,000 to nearly $6,000 per vehicle on incentives.
Chevrolet spent an average of $1,846 per vehicle, up 7% from a year ago, but well off the highs of $4,000 to more than $5,000 in previous years.
Lastly, Buick raised incentives by nearly 4% to an average of $2,096 per vehicle, which likely helped sales. That is still far lower than the $5,000 plus per vehicle of years past.
GM's ATP Edged Slightly Higher From a Year Ago But Dipped From the Last Quarter
GM's average transaction price (ATP) edged to $51,431, 1.1% higher compared to the same quarter a year ago, according to Cox Automotive calculations. In a sign that overall price growth is slowing or even retreating a bit, GM's Q1 ATP is down from $52,849 in the last quarter of 2022.
GM U.S. Average Transaction Price for Q1 2023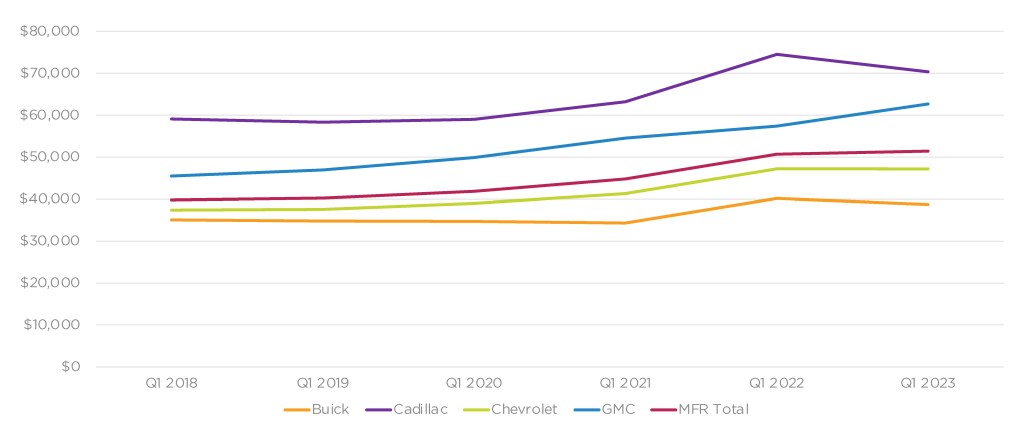 GMC pulled GM's overall ATP up with its 9% gain to $62,678, far ahead of years past. The ATP for the high-volume Sierra broke $70,000, up 8% from a year ago. The Yukon and Yukon XL SUVs were up 10% to over $80,000. The Terrain had a 7% increase in ATP, which at $36,700 is the brand's most affordable offering.
Chevrolet's ATP was just ahead a year ago at $47,190. The Suburban had a 6% gain putting it past $75,000. The Bolt had a 30% increase for a $30,974 ATP. The Bolt EUV had an ATP of just over $35,000. Chevrolet cut the price of the Bolt models last fall but raised them in 2023. The rest of Chevrolet's models were a mix of small increases and decreases.
Cadillac's ATP dropped by nearly 6% to $70,363, despite rises in the Escalade models' ATPs, which now surpassed $115,000. The XT5, XT6 and XT4 saw tiny decreases in ATP. The CT4 and CT5 had increases. The ATP for the new Lyriq EV in Q1 was $65,778.
Buick's ATP also dropped – by nearly 4% to $38,718, the lowest for any GM brand. The Envision had a slight decline in ATP. Other Buick models held mostly steady.
---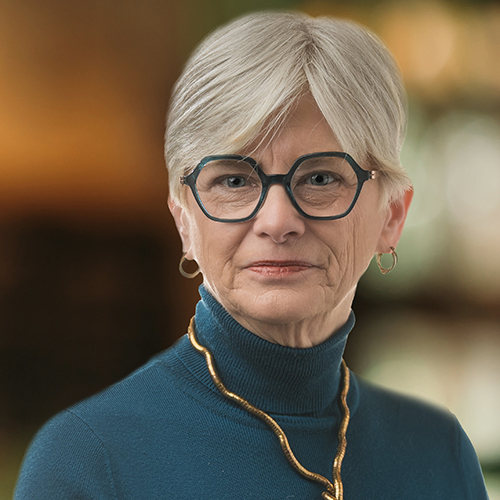 Michelle Krebs
Executive Analyst
Michelle Krebs is an automotive analyst and award-winning writer with over 35 years of experience covering the global auto industry. She has spent the last eight years providing analysis and insights on the auto industry using a trove of consumer and industry data from Cox Automotive and its brands including Autotrader and Kelley Blue Book.
Tags