Data Point
Cox Automotive Analysis: GM's Q2 2020 U.S. Market Performance
Tuesday July 28, 2020
Article Highlights
GM's U.S. sales fell 34%; market share dips to 16.85%
GM's Q2 incentive spend rose by nearly 17%; an average of $5,817/vehicle
GM's Q2 ATP rose 1% to $42,795
General Motors reports second-quarter 2020 financial results on Wednesday, July 29. Like most other automakers, GM is expected to post a loss due to the coronavirus pandemic that forced the shutdown of plants and significantly lowered sales.
Here are data points from Cox Automotive on GM's second-quarter market performance in the U.S., where the company derives the bulk of its profits.
Sales and market share
GM's U.S. sales fell 34% in Q2 to 488,876 vehicles. That put GM's U.S. market share at 16.85%, down just slightly from 16.97% in the year-ago quarter.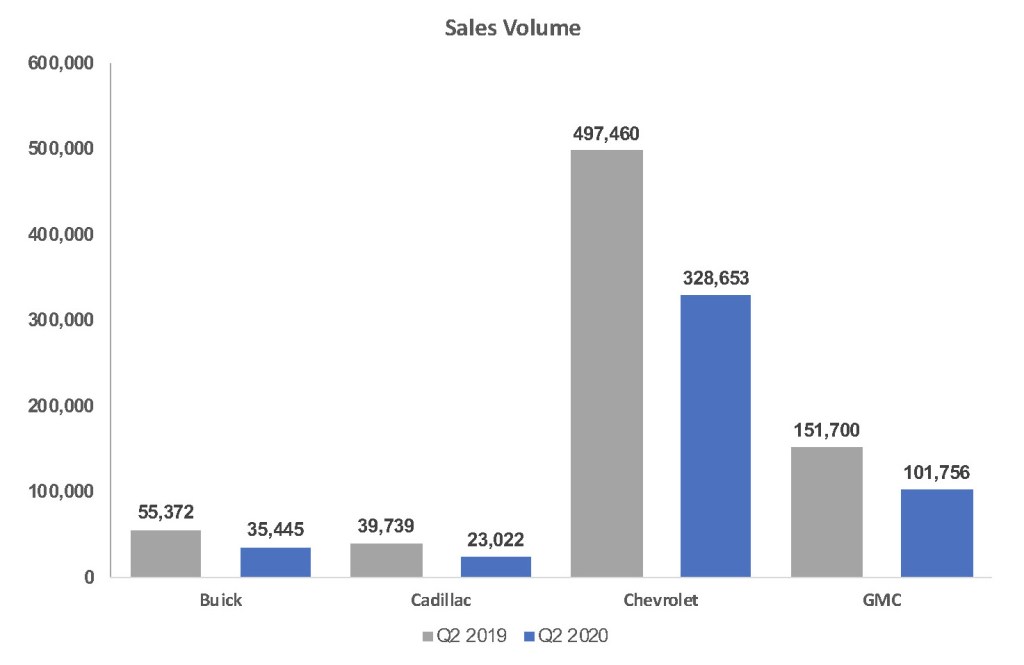 Chevrolet sales dropped 34% to 328,653 vehicles for a market share 11.33%, almost even with a year ago. The only Chevrolet models to post higher sales were the Blazer, introduced in 2019, up 68% and the Trax, up 3%. Sales of all other Chevrolet models were down significant double digits. GM recently announced it was canceling production of yet-another car, the subcompact Sonic, as it did last year to the Cruze and the Volt.
Sales of the full-size Chevrolet Silverado pickup were down only 15% and the midsize Colorado pickup was down 37%. However, Chevrolet – and GMC – could have sold more trucks if they had more vehicles to sell. GM's truck inventory has been extremely low through the pandemic.
GMC sales were down 33% to 101,756 vehicles, but the brand continued to gain market share as it has over the past five years, hitting 3.51%, up from 3.46% a year ago. Sales of all model, except for the full-size Sierra pickup truck, were down double digits. Sierra sales dipped only 5%; the midsize Canyon pickup fell 56%.
GMC had among the lowest days' supply of inventory of any brand. Importantly, GMC will be launching all-new versions of its popular full-size sport-utilities, the Yukon and Yukon XL. (Chevy's full-size SUVs, the Tahoe and Suburban, are also all-new this fall.)
Buick sales declined 36% to 34,445 vehicles for a market share of 1.22% from 1.26% a year ago. Buick is in the midst of discontinuing all car models. The second quarter registered zero sales for Cascada, Verano and LaCrosse and only 822 sales for Regal.
On the SUV side, sales of the Buick Enclave fell 51%, the Envision was off 14% and the Encore down 59%. The new Encore X – a longer version of the regular Encore – appears to be off to a good start with 9,526 sold, not far off the 10,033 sales of the regular Encore.
Cadillac, also in the midst of a transformation, posted a sales decline of 42% in Q2. Cadillac market share in the U.S. is less than 1%. Like Buick, it is selling off its old car lines, including the ATS, CTS and XTS, while introducing new ones like the CT4, CT5 and CT6. On the SUV side, the relatively new XT5 and XT4 were down 44% and 56%, respectively. The new XT6 had 4,131 sales compared with its year-ago launch of a mere 74. Cadillac also is in launch phase for its new full-size SUVs the Escalade and Escalade ESV.
Incentives
GM's Q2 incentive spend rose by nearly 17% to an average of $5,817 per vehicle, the highest level for any second quarter in at least five years, according to an analysis by the Kelley Blue Book team. GM incentives included its very effective zero percent, 84-month financing on its popular pickup trucks.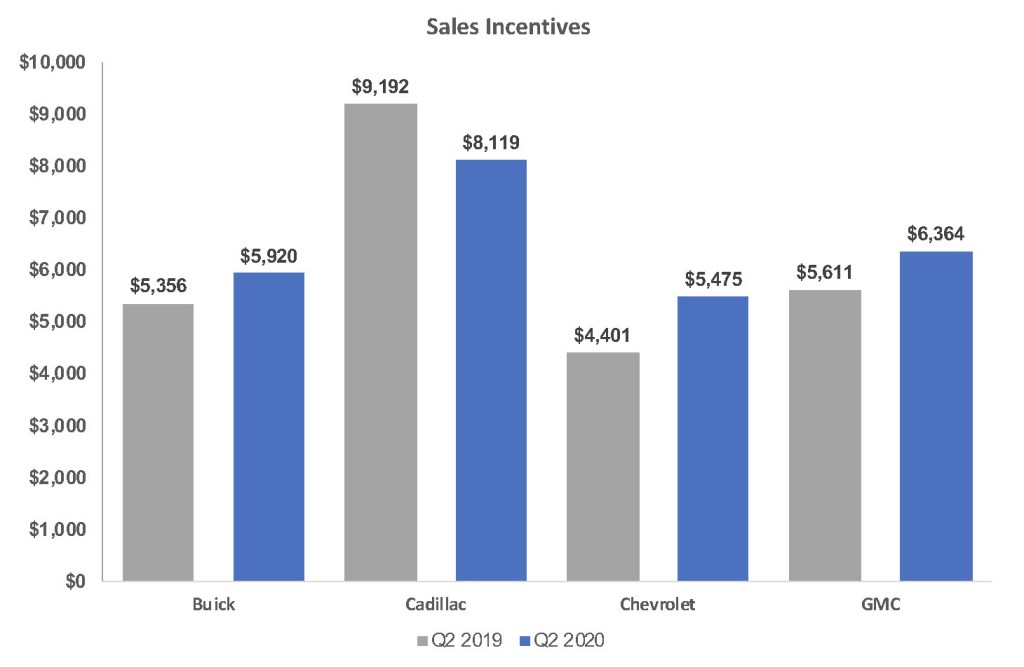 Cadillac was the only brand to cut incentive spending. It spent 12% less than a year ago but had a still-high average of $8,119 per vehicle. GMC and Chevrolet, due to trucks, raised incentive spending. Chevrolet beefed up its spending by 24% to an average of $5,475, the highest of any second quarter in at least five years for the brand. GMC's spend rose 13% to an average of $6,364 per vehicle, its highest in five years.
Average Transaction Prices
GM's Q2 average transaction prices (ATP) rose 1% to $42,795, according to Kelley Blue Book calculations.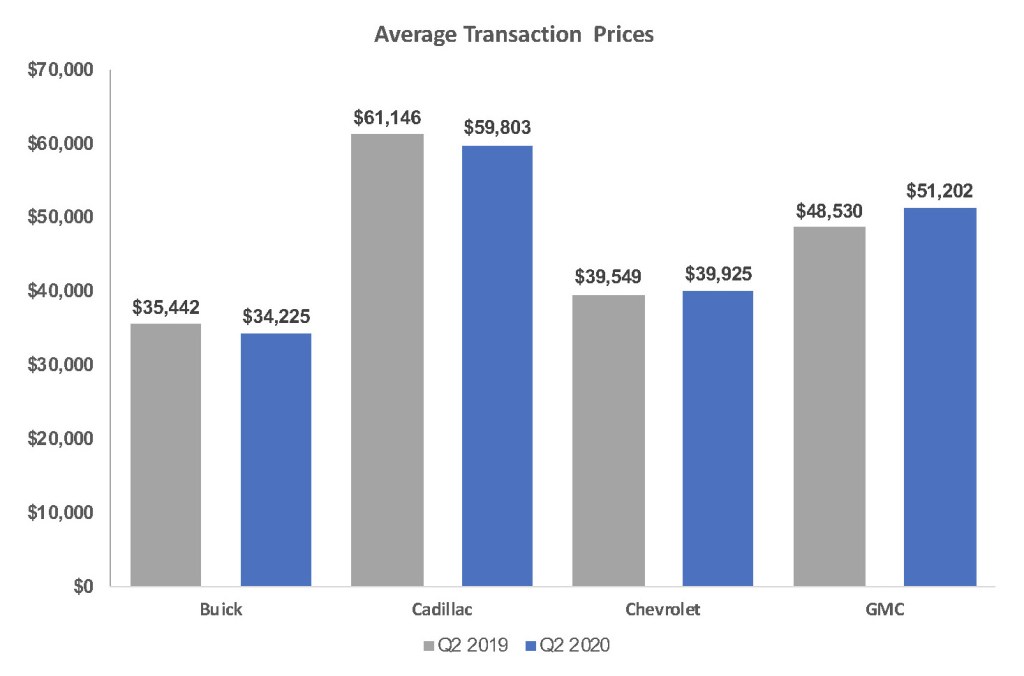 GMC had the biggest hike in ATP at $51,202, up nearly 6% from a year ago. Chevrolet eked out a 1% increase to $29,925, even though the high-volume Silverado's ATP dipped 3% to $46,862. Cadillac had the highest ATP among GM brands at $59,803, though it dropped 2% from a year ago, while Buick had the biggest drop of 3% to $34,225.