Data Point
Cox Automotive Analysis: GM's Q2 2022 U.S. Market Performance
Tuesday July 26, 2022
Article Highlights
GM's sales fell 15% in the quarter, but GM regained its sales crown from Toyota.
GM slashed incentives by 61% to under $2,000 per vehicle.
GM's average transaction price climbed 5% to nearly $51,000.
General Motors is expected to report a year-over-year decline in earnings, despite higher revenues, when it reports financial results for the second quarter on Tuesday, July 26, before the stock market opens. But then again, GM has beaten analysts' forecasts for the past four quarters.
Indeed, the quarter was challenging as GM continued to battle supply chain issues. GM reported at the end of June that it had manufactured 95,000 vehicles without certain components, notably computer chips, and they were parked awaiting the arrival of the parts for installation, hopefully by the end of the year.
In its most important market, GM's U.S. sales were down 15%, yet it outperformed the overall market and won back its sales crown from Toyota. Toyota outsold GM in CY2021 and in the first quarter of 2022. Robust demand allowed GM to cut incentives by 61% while its average transaction price edged higher.
Here are some data points from Cox Automotive on GM's second-quarter market performance in the U.S., where the company derives most of its profits.
Sales and Market Share
GM's U.S. sales totaled 578,639 vehicles in the second quarter, down 15% from last year and well off the quarter's high-water mark of 757,620 vehicles in the second quarter of 2018.
GM U.S. Sales Performance for Q2 2022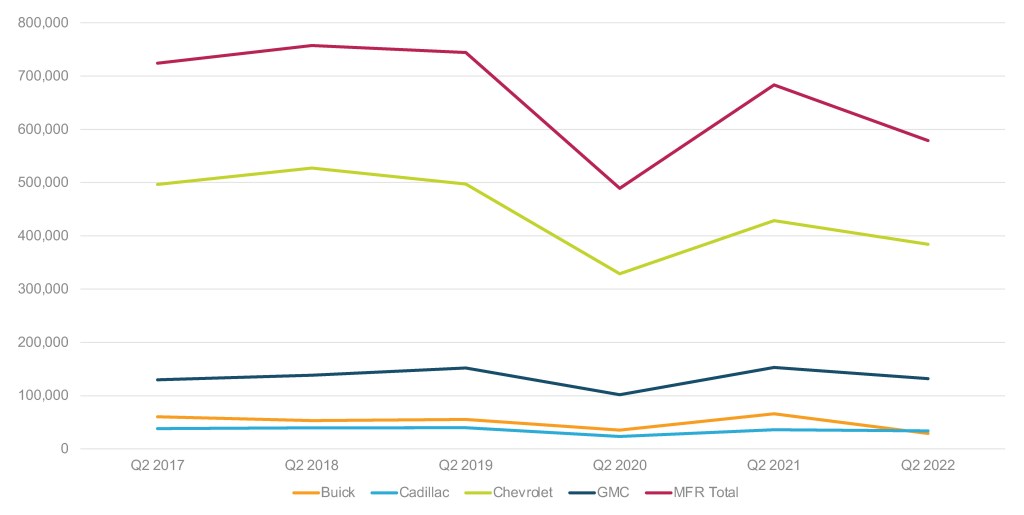 Total industry sales for the first quarter fell 21%. Since GM outperformed the market, its market share rose a full percentage point from the year-ago quarter to 16.4%, returning to levels seen in 2017-2020.
GM's four brands all posted lower sales.
Buick had the steepest decline. Sales fell 56% to 28,929 units, cutting its market share nearly in half to 0.8%. Buick's sales picture for the quarter was dismal. The lowest decline was the Enclave, down 48%. Buick will discontinue the Encore after the 2022 model year.
Sales of GM's highest-volume brand Chevrolet fell 10% to 383,820 units. The brand gained 1.2 percentage points of market share, up to 10.9%. In Chevrolet's wide product portfolio, seven models posted sales increases. Bolt EUV sales rose 980% to 4,384 units, Camaro was up 63% to 4,545, and Corvette sales, despite production fits and starts, were up 8% to 8,630 vehicles. The Equinox SUV was up 9% to 60,642 units, and the Malibu sedan was up nearly sevenfold for the quarter, selling 32,487 units versus last year's 4,899 units. The smallest increase was the Express delivery van, up 1%. The high-volume Silverado pickup had a 13% sales decline to 140,720 units.
Cadillac sales dropped 7% to 33,703, putting its market share at 1%, the highest in the past six years. Models with increases included the CT4, up 14% to 2,617 vehicles, the CT5, up 70% to 4,171 units, and the XT4, up 116% to 5,432 units. Popular models such as the Escalade saw a 20% decline in sales, and the XT5 was down 37%.
GMC sales slipped 14% to 132,055 vehicles, pushing its market share to 3.8%, still its highest level for the quarter in the last six years. Three of GMC's eight models had increases. Terrain sales soared 37% to nearly 23,000 units, Savana sales climbed 25% to 6,803 units, and Canyon sales were 40% higher to 7,501 units. GMC's volume-leading Sierra had sales down 17% to around 62,000 units. GMC sold 272 Hummer EVs in the quarter.
Incentives
Strong demand and tight inventories led GM to cut incentives significantly. In total, GM incentives were slashed 61% to an average of $1,705 per vehicle, according to Cox Automotive calculations – the first time incentives were below $2,000 in recent history.
GM U.S. Incentive Spending for Q2 2022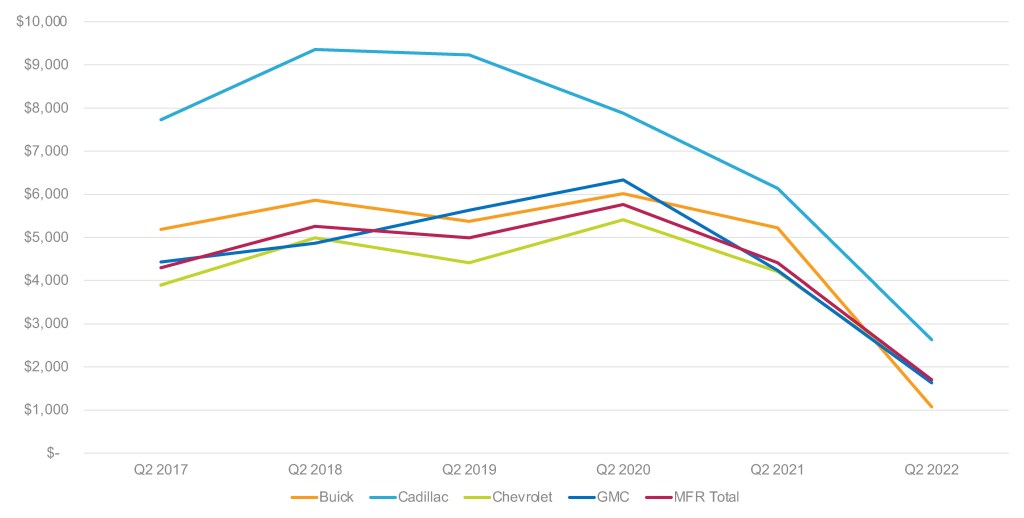 Buick, Chevrolet and GMC's incentives were cut by more than 60%. Chevrolet incentives averaged $1,696 in the quarter. Buick's average was $1,077. GMC spent $1,633 per vehicle. Cadillac had the highest incentives at $2,634 and the smallest cut, down 57%.
Average Transaction Prices
GM's overall average transaction price (ATP) rose 5% to $50,261, according to Cox Automotive calculations.
The best sales performers for the quarter were also GM's best profit generators, with big boosts in average transaction prices. The Cadillac Escalade and Escalade ESV were GM's highest-priced models at $109,148 and $111,872, respectively.
Similarly, the Chevrolet Suburban and Chevrolet Tahoe had higher ATPs at $71,775 and $67,703, respectively. The Corvette was the king of price for the Chevrolet brand at $84,851. The Malibu and Camaro both had ATP growth of 10%. At GMC, the Yukon and Yukon XL had higher ATPs of $74,952 and $78,103, respectively. Pickup truck ATPs were up, with the GMC Sierra's ATP increasing to $67,575 and the Chevrolet Silverado to $57,448.
Chevrolet had four models under $30,000 – the Malibu at $29,175, the Spark at $17,836, the Trailblazer at $28,076 and the Trax at $25,481.
---
Rebecca Rydzewski is research manager of economic and industry insights at Cox Automotive.
Tags