Data Point
Cox Automotive Analysis: GM's Q3 2021 U.S. Market Performance
Tuesday October 26, 2021
Article Highlights
GM quarterly sales plunge by a third, underperforming the market.
GM slashed incentives by 46% to an average of $2,994 per vehicle.
GM ATPs rose 16%; Cadillac's ATP soared by 39%.
General Motors reports third-quarter 2021 financial results on the morning of Wednesday, October 27. The results will reflect GM's production and inventory challenges due to the global computer chip shortage that cut into sales.
In the U.S., which accounts for the bulk of GM's revenue and profits, sales plunged by a third during the third quarter. GM underperformed the market, allowing Toyota to surpass it in sales for the second consecutive quarter, the first time that has ever happened.
GM made it through the early part of the year relatively unscathed, keeping its all-important pickup truck and SUV factories running by allocating computer chips to those more popular and more profitable models instead of installing them into less popular, less profitable and more abundant models, mostly cars.
By the third quarter, however, the chip shortage caught up to GM. It was forced to drastically cut the production of trucks and SUVs as well as that of cars. GM warned it would likely lose 200,000 vehicles from its third-quarter production schedule. In addition, GM was forced to stop production of its only EV, the Chevrolet Bolt and Bolt EUV, due to a recall of all that it had produced due to a potential fire risk.
Still, the automaker reaffirmed its 2021 profit outlook and predicted a more stable year in 2022 for chip supply. Its battery suppliers, LG Chem and LG Electronics, are picking up $1.2 billion of the $1.8 billion of the cost of the Bolt recall and battery replacement.
Here are key data points from Cox Automotive on GM's third-quarter performance in the U.S. market, where the company derives the bulk of its profits.
Sales and Market Share
GM sales plunged by 33% in the quarter compared with a year ago to 443,117 units, far underperforming the overall market that was down 13% in the quarter. Toyota outsold GM in U.S. sales for the second consecutive quarter. Toyota and Lexus sales rose in the quarter, totaling 566,005 vehicles. Toyota brand alone outsold GM in total with sales of 484,912 vehicles.
SALES VOLUME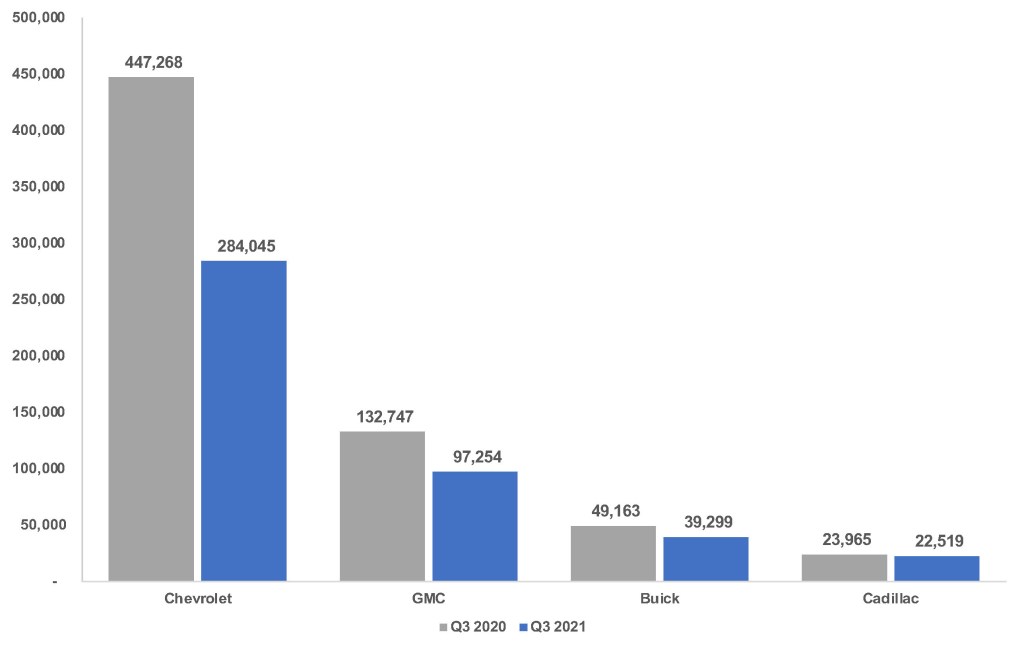 GM's volume-leading Chevrolet brand had the biggest decline. Sales were down 37% to 284,045 units, a far cry from the nearly 543,000 of six years ago. Not only did the Toyota brand outsell Chevrolet, so did Honda.
Chevrolet prioritized the production of its higher-priced, higher-profit models, which paid off in higher sales. Sales of the Corvette were up 60%, Suburban up 28% and Tahoe up 5%. Sales of the popular Trailblazer SUV soared 147%. However, sales of the Silverado pickup truck fell 17% to 120,056 units, allowing Ram 1500 to beat Silverado again. The Silverado sales dip was the smallest decline. All other models had sales declines well into the double digits.
The story was similar at GMC, where sales fell by 33% to under 100,000 units. Sales of the lucrative Yukon and Yukon XL were up 7% and 65%, respectively. Sales of the Sierra pickup truck dropped 22%, though GMC executives insist the truck will set a sales record for the year. Canyon pickup sales were off 15%. Other GMC models declined more dramatically.
Ditto for Cadillac, which had a 32% decline in sales to 22,519 units. The richly profitable Escalade and Escalade ESV saw triple-digit sales hikes. The rest of the Cadillac line had hefty sales declines.
Buick had the smallest decline, down 20% to just under 40,000 units. The subcompact Encore GX had a 3% sales gain, which came mostly out of the hide of the regular Encore, with sales down 64%. The Envision was down 23%. The Enclave was off 4%.
Incentives
GM, like other automakers, slashed incentives. Overall, GM cut incentives by 46% to an average of $2,994 per vehicle, according to Cox Automotive calculations.
INCENTIVE SPEND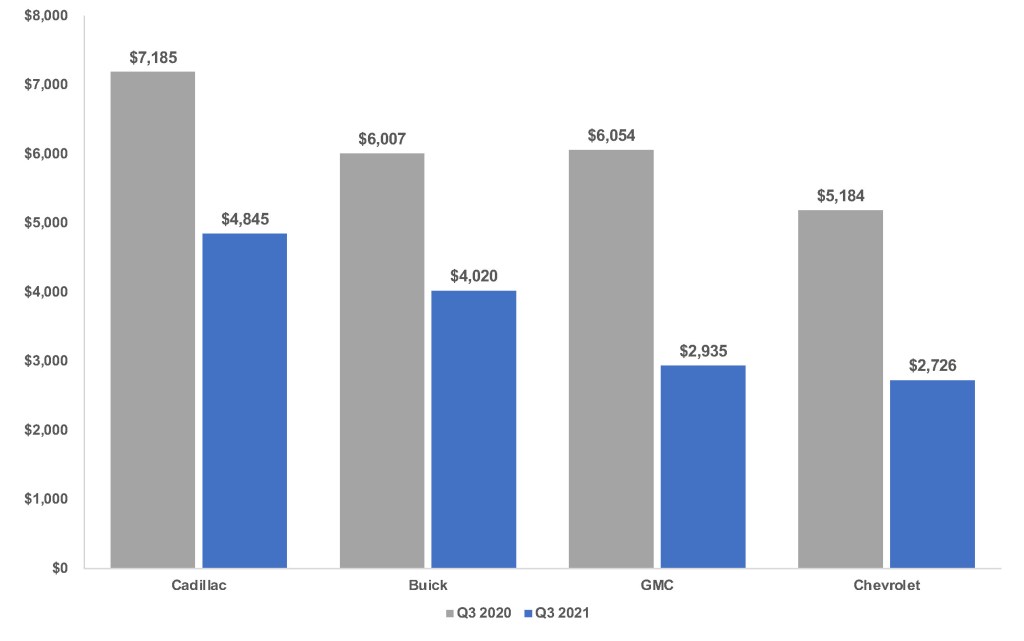 Chevrolet and Cadillac cut incentives each to an average of $2,726 per Chevrolet vehicle and an average of $4,845 for Cadillacs. GMC slashed incentives to an average of $2,935 per vehicle. Buick trimmed to an average of $4,020 per vehicle.
Average Transaction Prices
Also, like other automakers, GM experienced a boost in average transaction prices (ATP). GM's overall ATP rose 16%, surpassing $50,000 for the first time – $50,392, according to Cox Automotive calculations.
Average Transaction Prices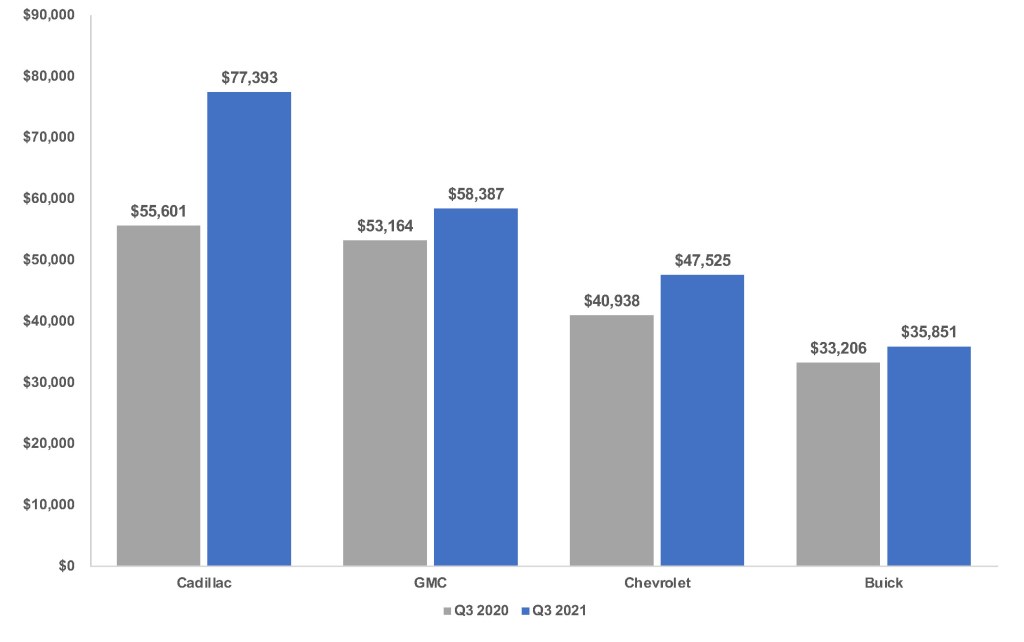 Cadillac had the biggest hike in ATP, up a whopping 39% to $77,393 on the strength of Escalade. The ATP for the Escalade and Escalade ESV climbed 20% and 19% respectively, to $103,342 and $106,250. The CT4 and CT5 also had double-digit gains. Other models were up single digits.
Chevrolet's ATP climbed 16% to $47,525. The brand's most expensive model, the Corvette, had an 8% hike to $83,526. The biggest percentage increase was 18% for the Express, on the strength of a hot delivery van market, to $46,130. The Camaro had a hefty hike of 14%, pushing it past the $40,000 mark. Suburban's ATP edged 2% higher to $67,502; Tahoe dipped 2% to $63,105. Silverado was up 6%, pushing it past $50,000.
GMC got a 10% boost in ATP to $77,534. The Yukon and Yukon XL were GMC's priciest models. The Yukon ATP rose 1% to $73,723; the Yukon XL climbed 6% to $77,534. The Savanna cargo van, in a segment in high demand due to the surge in e-commerce, soared 17% to $43,828. The volume-leading Sierra gained 2% to $62,108.
Buick's ATP climbed 8% to $35,841 on the strength of the Enclave, which surpassed $50,000, and the Envision, which is nearly $40,000.
Tags