Data Point
Cox Automotive Analysis: General Motors' Q3 2022 U.S. Market Performance
Monday October 24, 2022
Article Highlights
GM posts a hefty 25% increase in sales to 551,976. Market share edged back up to 16.2%.
GM slashed incentives by 55% to an average of $1,353 per vehicle.
GM's average transaction price climbs to $51,911.
General Motors had a lot of good news in the third quarter. Sales shot up while the industry was flat. GM is back on top for U.S. sales, winning its long-held crown back from Toyota, which snatched it in 2021. Transaction prices kept climbing while GM continued to slash incentive spending.
While GM will report higher year-over-year vehicle sales and higher revenues in the U.S., analysts see weaker performance from GM Financial and GM's autonomous vehicle unit Cruise, in addition to significantly higher commodity costs.
Whether the good news is enough to offset the bad will become evident when GM posts financial results before the stock market opens on Oct. 25.
The U.S. is GM's most important market. Here are some data points from Cox Automotive on its U.S. Q3 market performance.
GM's Q3 Sales Up 25% Year Over Year but Lag Previous Years
GM reported Q3 sales of 551,976, up a hefty 25% increase compared with the year before but still the second-lowest sales for the quarter in at least six years. In 2017, GM's sales totaled 780,835 vehicles.
GM U.S. Sales Performance for Q3 2022
Three of GM's four divisions posted double-digit increases in sales; the fourth – Buick – reported a double-digit decline.
GM's volume brand Chevrolet had a 30% sales increase to 369,269 vehicles. A year ago, at the chip shortage's peak, GM stopped producing several models to conserve chips for SUVs and trucks. Now back in full swing of production, many of those models posted eye-popping double, triple and even four-digit sales increases.
The Malibu is back in production, posting a four-digit increase with 21,630 vehicles sold. Traverse posted a triple-digit increase, up 136% to 24,388 vehicles. Other double-digit increases were posted by Blazer, Camaro, Equinox, Spark, Suburban
Chevrolet's best-selling, highly profitable Silverado slipped 5% to 114,963 trucks sold. But as full-size truck shoppers considered smaller, more fuel-efficient trucks during these times of high gas prices, Colorado sales nearly doubled to 24,405 units.
Back in production after a hiatus due to a recall and battery replacement, the Bolt EV had a double-digit sales increase to 3,350 units. The Bolt EUV had a triple-digit rise of 11,179 vehicles sold. EV sales across the industry have been the biggest sales gainers all year, up 67% for Q3.
GM's luxury brand Cadillac posted the largest sales increase – up 50% on sales of 33,672 vehicles. Cadillac had some models that were up triple digits from a year ago when the chip shortage was most devastating. Escalade – combining the standard issue version and the larger ESV – continued as Cadillac's biggest seller at just under 10,000 units in total. The XT5 was the next highest seller at 7,260 vehicles, up 32%. Cadillac XT4, CT4 and CT5 rose triple digits. Cadillac sold 36 electric Lyriq crossovers in the quarter.
GMC sales rose 24% to 120,512 vehicles. The high-volume Sierra was the only model for the brand with lower sales in Q3 than a year ago, down 5% at just over 50,000. Terrain had an 81% increase to nearly 18,000 sold. The Yukon and Yukon XL each had double-digit increases, with combined sales of more than 21,000 units. GMC sold 411 Hummer EVs in the quarter.
Buick sales fell 27% to 28,523 vehicles. Encore GX sales plummeted 41% to 9,825 vehicles. The regular Encore dropped 13% to under 3,500. The Envision, imported from China where the government has forced Covid lockdowns, fell 35% to 7,307 vehicles. Only the Enclave had an increase, up 4% to 7,904 vehicles, Buick's second biggest seller.
GM's total sales outpaced the industry by a wide margin, with its sales up 25% and the industry flat for the quarter. As a result, GM's market share rose 3.2 percentage points to 16.2%, according to Cox Automotive calculations. Most of the gain came from Chevrolet, which had a 2.5 percentage point increase in share to 10.8%. GMC had .7% gain to 3.5%. Cadillac finished the quarter with 1% market share, up .3 percentage points. Buick slipped by the same amount for a .8% market share.
Incentive Spending Drastically Reduced in Q3
GM drastically reduced incentives again in Q3. Total incentives were down 55% to an average of $1,353 per vehicle, according to Cox Automotive calculations. Pre-2021 incentives for the quarter ranged from about $4,700 to $5,500 per vehicle. Industry-wide, the average incentive in Q3 was $1,079.
GM U.S. Incentive Spending for Q2 2022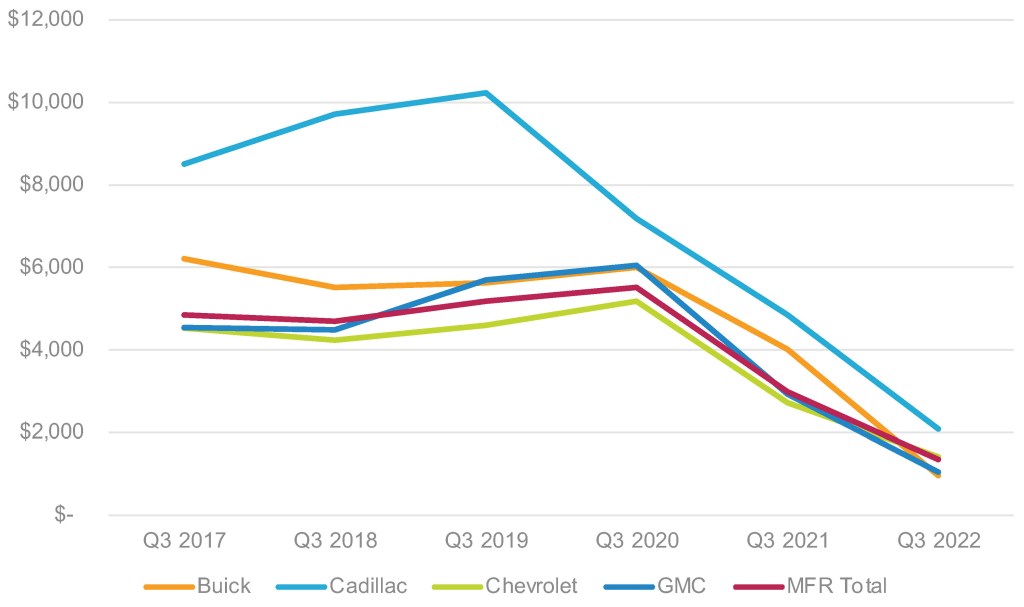 Buick incentives dropped the most – down 76% – and were the lowest among GM brands at an average of just $964 per vehicle. Before 2021, Buick's incentives ranged from about $4,000 to $6,200 per vehicle.
GMC had the next biggest drop, down 64%, and the second lowest at $1,048 per vehicle. Before Q3 2021, GMC's incentives ranged from $3,000 to $6,000 per vehicle.
Chevrolet's incentive spend dropped 48% to an average of $1,416 per vehicle when they were $4,500 to $5,100.
Cadillac incentives were slashed by 57% to an average of $2,086 per vehicle, a far cry from the $10,000-plus the brand was paying in Q3 2019.
Average Transaction Prices Edge Higher
GM's average transaction price (ATP) edged 3% higher to $51,911, according to Cox Automotive calculations. By comparison, GM's ATP was $40,053 in Q3 2017.
Chevrolet's ATP of $48,782 is roughly in line with the industry's overall ATP. The Corvette generates the highest ATP for the brand of more than $87,000. The Suburban follows at $73,048, up 8% from a year ago, and Tahoe, up 11%, to $70,032. Despite lower sales, the volume Silverado pickup truck had the biggest hike in ATP, up 14% to $60,445. Chevrolet reduced the price of the Bolt, but the Bolt EUV had an ATP of more than $40,000. The Spark has the lowest ATP of all Chevrolet models at $17,971.
At Cadillac, the Escalade models not only generate the highest sales volume but also the highest ATPs. The Escalade ESV had a Q3 ATP of $111,046, up 5% from a year ago; the regular Escalade had an ATP of $108,167, up 5%. The CT4 had the biggest rise, up 12% to $53,804. The XT4 is the least expensive Cadillac with an ATP of $45,737. The newly launched electric Lyriq had an ATP of $60,041.
As with Cadillac, GMC's large utilities deliver the highest sales and highest ATPs. The Yukon XL had a Q3 ATP of $78,939. The regular Yukon's ATP was $75,954. The volume-leading Sierra pickup truck had the biggest ATP increase, up 13% to almost $69,878. Other GMC models had small increases in ATP.
At Buick, the Enclave was the only model with higher year-over-year sales, a 6% rise, and the brand's highest ATP at $53,564. Buick's lowest ATP was on the Encore at $27,376.
---
Michelle Krebs is executive analyst at Cox Automotive.
Tags