Data Point
Cox Automotive Analysis: General Motors' Q4 2022 U.S. Market Performance
Monday January 30, 2023
Article Highlights
GM regained the U.S. sales crown from Toyota in 2022, aided by a hefty 42% sales hike in Q4, improving market share to 17.2%.
GM slashed incentives by 30% to an average of $1,337 per vehicle, the lowest in years.
GM's average transaction price of $52,849 slipped from 2021 but remains high by historical standards.
General Motors closed 2022 on a high note, which could mean an upside surprise when the automaker reports earnings for the fourth quarter and full-year 2022 on Tuesday, Jan. 31.
Financial analysts forecast that GM will report a 22% improvement in quarterly earnings from the fourth quarter of 2021 on revenue climbing to $42 billion. Analysts note that for three of the last four quarters, GM's earnings topped analysts' estimates. Based on better-than-expected results, GM raised its guidance for full-year financial results in November to earnings of up to $14.5 billion for the year.
GM's strength comes from the U.S., where it recaptured its long-held sales crown in 2022, which Toyota had nabbed in 2021. Due to the much-improved chip and parts supply, GM boosted sales by a hefty 42% in the fourth quarter. GM's above-industry-performance in the quarter helped it regain market share lost in 2021. GM's average transaction price of $52,849 slipped slightly from the 2021 fourth quarter but remained high compared to pre-COVID years. In addition to strong pricing, GM slashed incentives by 30% to an average of $1,337 per vehicle, the lowest in years, which should help its bottom line.
The U.S. is GM's most important market. Here are some data points from Cox Automotive on its Q4 market performance.
GM Won Back Sales Crown from Toyota, Helped by a 42% Sales Gain in Q4
GM sold 618,692 vehicles in the 2022 fourth quarter, a significant 42% gain over the previous year when GM suffered from substantial inventory shortages due to the global chip shortage.
GM U.S. Sales Performance for Q4 2022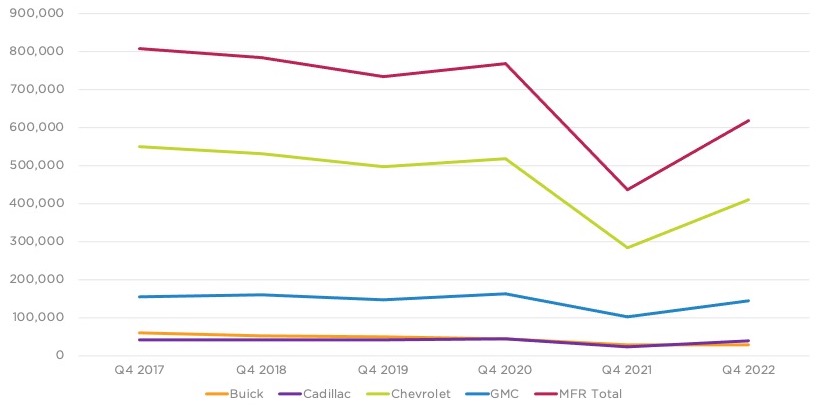 Luxury brand Cadillac had the biggest sales gain of GM's four major brands, selling 39,135 vehicles for a 75% increase. Every Cadillac model posted a sales increase. The volume-leading XT5 as well as the XT4 and CT5 all had triple-digit sales increases. The standard Escalade had a 4% rise. All other models had double-digit increases. Cadillac sold 86 Lyriq EVs, which went on sale in 2022. The vehicle went on sale in late summer and has experienced a slower-than expected production increase.
GM's volume division Chevrolet had the next highest percentage increase, with 408,991 vehicles sold for a 44% gain. The brand's volume leader and a major profit generator, the Silverado full-size pickup truck, had a 23% sales increase to nearly 139,000 units.
The electric Bolt and Bolt EUV had the biggest percentage gains since a year ago when they were not being sold during their recall for battery replacements. Chevrolet also sweetened the Bolt models with $6,000 price cuts in the fourth quarter. Equinox and Malibu had triple-digit sales increases. Traverse, Trailblazer and Suburban had double-digit gains. Blazer, Camaro and Colorado were the only Chevrolet models posting sales drops from the previous fourth quarter.
GMC was right behind Chevrolet with a 42% sales hike to 143,645 vehicles sold. Terrain and Acadia had triple-digit increases. The Sierra pickup had a 25% gain. The Yukon and Yukon XL were down single digits. GMC sold 72 Hummer EVs in the quarter, as production of the new EV is slow to ramp up.
Buick was the only GM brand with a sales decline. Buick sold only 26,921 vehicles in the quarter for a 7% drop. By comparison, in the fourth quarter of 2017, Buick sold nearly 60,000 vehicles. Of the four models Buick sells, only the Encore compact crossover, which is set to be discontinued, had a sales gain. It was a big increase, up 209%, but still was Buick's smallest volume model at less than 2,500 units sold. Buick's other SUVs, with larger volumes, had double-digit decreases.
GM Regained Some Market Share Lost in 2021
With a 42% gain in sales, GM vastly outperformed the total U.S. market, which was up 9%, allowing GM to regain some of the market share it lost through 2021. GM share bounced from 13.2% in Q4 2021 to 17.2% in the final quarter of 2022. The 2021 fourth quarter was an anomaly due to the chip shortage, as GM share over the past six years has been between 16% and 18.5%.
Chevrolet enjoyed the biggest share gain, rising to 11.3% from 8.6%. A 2.7 percentage point hike in share in the U.S. industry is considered significant. Except for 2021, Chevrolet's market share had been in the 11.6% to 12.6% range over the past six years.
GMC gained almost a full point of market share, closing the quarter at 4.0%, up from 3.1%, and its highest in at least six years.
Cadillac eked out a .4% sales gain to 1.1%, its highest share for the quarter in at least six years. Cadillac's share typically is around 1%, except for Q4 2021 when it fell to .7%.
Buick lost share, down to a scant .7%. Buick's six-year high was 1.4% in Q4 2017.
GM's Average Transaction Price Slips Slightly to $52,849
GM's overall average transaction price slipped by 2% to $52,849 in the fourth quarter compared with the year-earlier quarter, according to Cox Automotive calculations. Still, GM's ATP was the second-highest ever for the quarter.
GM U.S. Average Transaction Prices for Q4 2022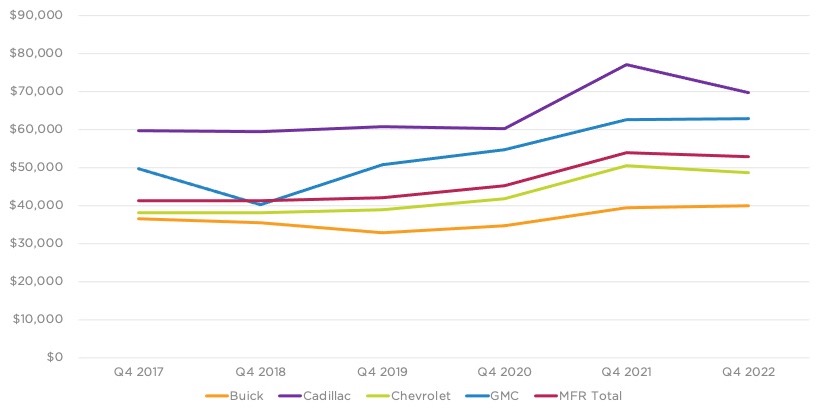 ATPs for Buick and GMC were roughly flat. Cadillac and Chevrolet ATPs were down but still high by historical standards.
Buick ATP was $39,295. The Enclave's ATP rose 4% to $53,481, Buick's most expensive model. Its least expensive, the Encore, had an ATP of $27,996, also up 4%.
GMC eked out a slight gain to $62,7290. The rise was due to a 14% hike in the ATP for the Sierra full-size pickup truck at $72,006. GMC's most expensive models, the Yukon and Yukon XL, also had gains, with ATPs now up to $77,935 and $79,972, respectively. GMC's least expensive model – the only one under $40,000 – was Terrain, with an ATP of $36,852, up 9% from a year ago.
Cadillac had the biggest fall in ATP, $69,721. That was down 10% from an outsized $77,098 in the same quarter of 2021. In the year before the chip shortage and pandemic, Cadillac's ATP held at about $60,000. The recent increase was due to higher ATPs for Cadillac's most expensive models, the Escalade at $111,622 and Escalade ESV at $112,301, both up 4% from a year ago. The ATP for the Lyriq EV was $65,506. ATPs for other Cadillac models were roughly flat.
Chevrolet's ATP dipped 3% to $48,660, also compared to an exceptionally high $50,354 from the year before but still significantly more than the $38,000 to $42,000 range of the years before the pandemic. The Silverado had among the highest ATP increases at $59,187, up 9%. The rest of the line had a mix of ATPs that had gains and losses.
GM Slashed Incentives to the Lowest Level in Years
GM again drastically reduced incentives in Q4 2022. GM spent an average of $1,337 per vehicle in incentives during the fourth quarter, according to Cox Automotive calculations. That was down 30% from the year before and down slightly from $1,353 in Q3 2022.
GM U.S. Incentive Spending for Q4 2022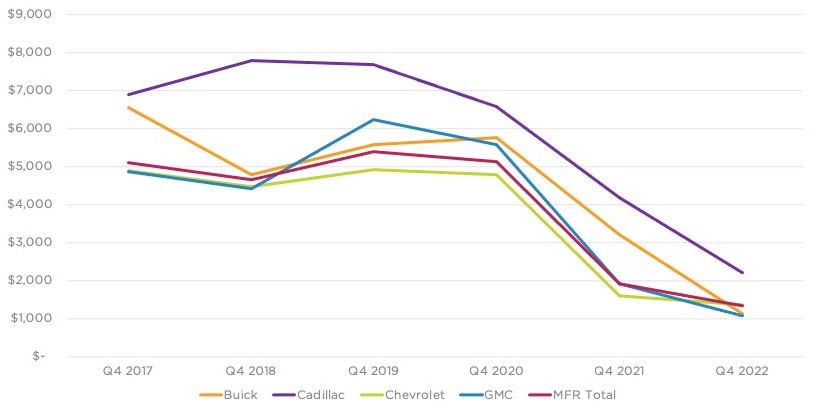 Buick slashed incentives the most, down 65% to an average of $1,128 per vehicle. In the past six years of fourth quarters, Buick had average incentives above $3,200 per vehicle. In the fourth quarter of 2017, its average incentive was $6,543 per vehicle.
Cadillac also chopped incentives, by 47% to an average of $2,202 per vehicle. Cadillac's average incentive spend had been above $4,000 per vehicle in the fourth quarter in the years before the chip shortage.
GMC cut incentives by 44% to an average of $1,073, its lowest in the past six years when they have ranged from $4,400 to $6,200 per vehicle.
Chevrolet whittled its incentives further, by 16% to an average of $1,369 per vehicle. Its incentives in the pre-chip shortage era ranged from $4,000 to $4,800 per vehicle.
---
Michelle Krebs is executive analyst at Cox Automotive.
Tags