Data Point
Cox Automotive Analysis: Honda's Quarterly U.S. Market Performance
Thursday May 12, 2022
Article Highlights
Honda's quarterly sales fall 23% from a year ago for an 8.1% market share.
Honda slashed incentives by 51% to an average of $1,159 per vehicle.
Honda's average transaction price rose 16% to $36,824.
Honda posts financial results for the January-to-March quarter on May 13, the automaker's final quarter of its fiscal year. In the U.S., its sales were down in the quarter as both Honda and Acura continue to have supply chain problems leading to low inventory.
March saw U.S. sales decline for Acura for the seventh straight month and for Honda for the eighth straight month. At the same time, Honda halved its incentive spending and boosted its average transaction price (ATP) in the quarter.
Here are some data points from Cox Automotive on Honda's quarterly market performance in the U.S.
Sales and Market Share
Honda's U.S. sales totaled 266,418 in the quarter, down 23% from a year ago and over 100,000 below the 360,000-plus level in the same quarters of 2017 and 2018. Honda underperformed the industry, which had total sales down 16% for the quarter. Honda's total market share dropped to 8.1%, down 0.8 percentage points. In the same quarters in 2017 and 2019, Honda owned over 9% of the market.
U.S. Sales Volume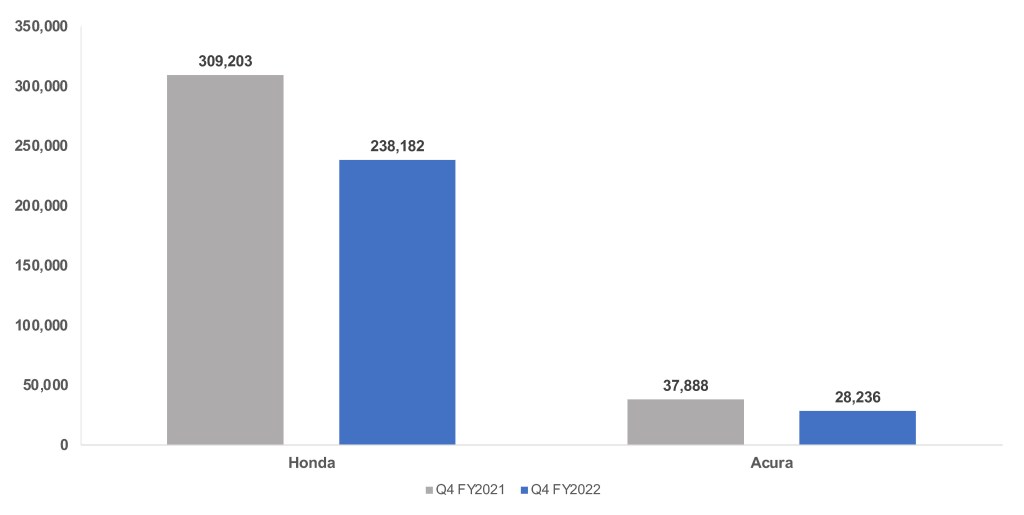 Honda brand sales totaled 238,182 vehicles, down 23%. That pushed its market share down 0.7 percentage points to 7.2%. Honda had only one model on the plus side of sales. Sales of the HR-V, which is redesigned this year, more than doubled to 42,168 units. Other model sales didn't fare as well. Accord sales were down 10%, Civic sales were down 31%, and CR-V sales were down 38% as examples of sales declines.
U.S. Model Sales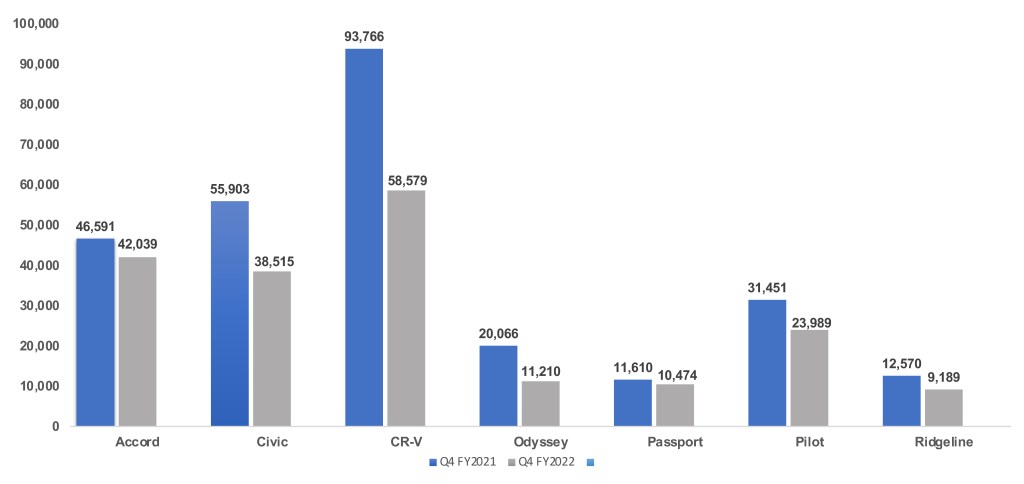 Acura sales dropped by 25% to 28,236 units. Its market share fell to 0.9%. Acura had two models, the ILX and NSX, that had higher sales. ILX sales were up 26% to 3,761 units. Acura announced it would discontinue the NSX supercar after model year 2022, and sales were up 170% to 46 units.
Incentives
Honda drastically slashed incentives. In total, Honda cut incentives by 51% to an average of $1,159 per vehicle, according to Cox Automotive calculations. It was the first time in the past four years for the quarter that incentives averaged below $2,000 per vehicle.
U.S. Sales Incentives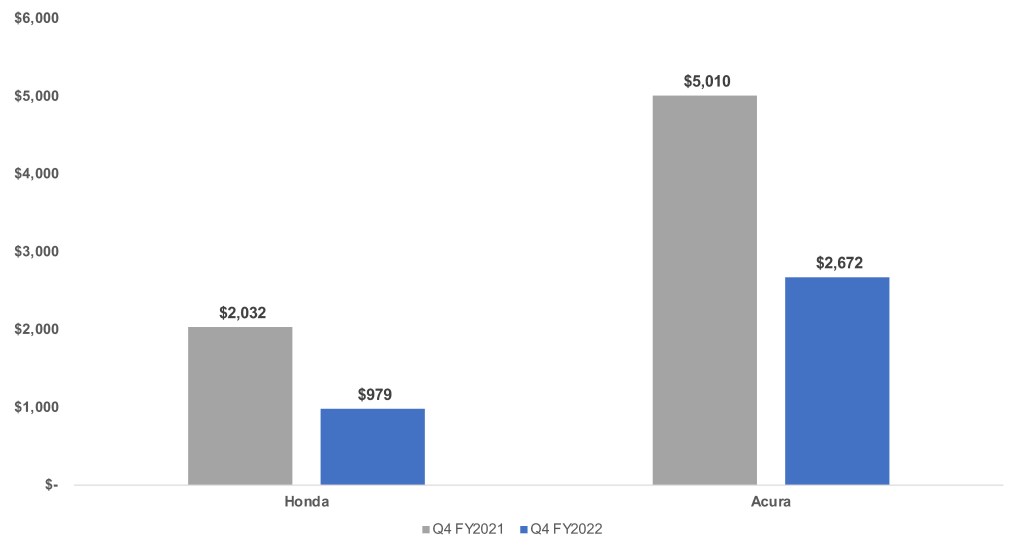 Honda brand incentives were slashed by 52% to an average of $979 per vehicle, the first time in the quarter it fell below $1,000 per vehicle.
Acura incentives were reduced by 47% to an average of $2,672 per vehicle, though the past two years, Acura incentives averaged more than $5,000 per vehicle.
Average Transaction Prices
Honda's overall average transaction price rose 16% to $36,824. Popular models such as the Accord and Civic rose 19% and 22% respectively. The Acura NSX supercar, the last year it will be made, saw a 20% increase to $175,170.
---
Rebecca Rydzewski is a research manager for economic and industry insights for Cox Automotive.
Tags