Data Point
Cox Automotive Analysis: Honda's Quarterly U.S. Market Performance
Tuesday August 9, 2022
Honda has been warning investors that the global computer chip shortage and rising raw material costs would hurt profits. Just how much will become clearer when the Japanese automaker posts financial results on Wednesday, August 10, for the April-to-June quarter, the automaker's first quarter of its fiscal year that started April 1.
Honda said in May that its annual earnings would fall by 7% instead of rising as analysts predicted. Last week, the company said it was slashing production in Japan by up to 30% due to persistent supply chain and logistical issues. It cut production in April and May but returned to a more normal schedule in June. The automaker has not revealed production schedules for its North American plants for this quarter.
Supply chain disruptions clearly impacted U.S. sales, which plummeted by 51% in the quarter. The automaker had among the lowest supply of vehicles in the industry. High gas prices triggered increased demand for Honda's hybrids and fuel-efficient models, but the inventory for those was among the lowest of the low.
On the plus side, Honda slashed incentives by 62% to under $1,000 per vehicle for the first time in years and increased its average transaction price (ATP) by 16% to $37,691. Popular models in short supply had the most significant increases.
Here are some data points from Cox Automotive on Honda's quarterly market performance in the U.S.
SALES AND MARKET SHARE
American Honda's U.S. sales totaled 239,789, down 51% from a year ago and over 250,000 below the 480,000 plus of the first quarter of 2021. Honda's total market share dropped to 6.8%, down 4.2 percentage points. In 2017 and 2019, Honda owned more than 9% of the market.
Honda U.S. SALES PERFORMANCE FOR Q1 FISCAL YEAR 2023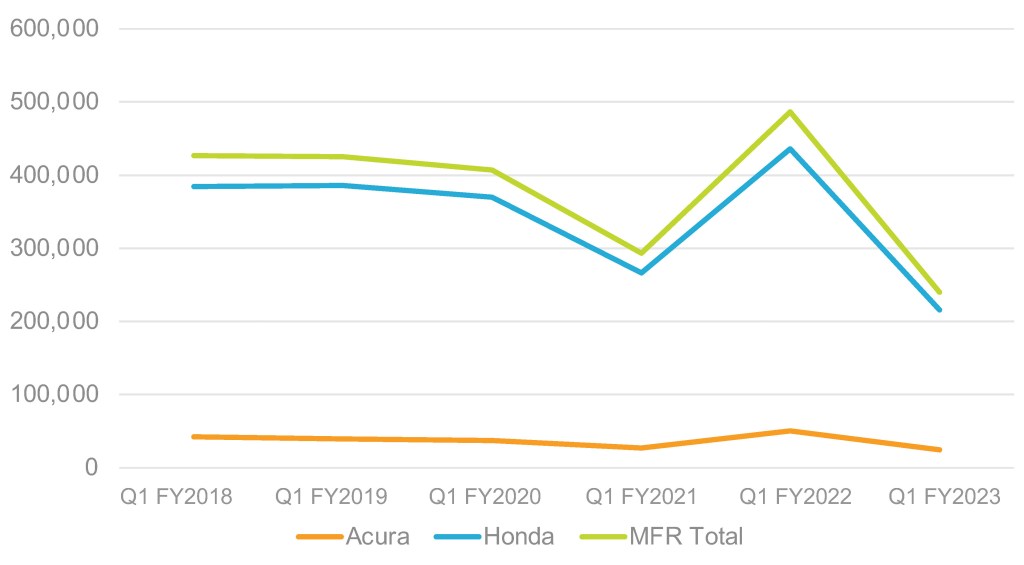 Honda brand sales totaled 215,165 vehicles, down 51%. That pushed its market share down 3.7 percentage points to 6.1%. All Honda models were down by double digits in sales for the quarter – Odyssey 65%, Pilot 50%, Accord 44%, CR-V 51%, and Civic down 67%.
Acura sales dropped by 51% as well to 24,624 units. Its market share fell to 0.7%. Acura had one model, the low-volume NSX sports car, that had higher sales in its last year in the market. NSX sales were up 79% for the quarter. All other models saw double-digit declines, with the biggest being the RDX decreasing by 60%.
INCENTIVES AND PRICES
Honda drastically slashed incentives. In total, Honda cut incentives by 62% across its two brands to an average of $828 per vehicle, according to Cox Automotive calculations. It was the first time in the past six years for the quarter that incentives averaged below $1,000 per vehicle.
Honda U.S. INCENTIVE SPENDING FOR Q1 FISCAL YEAR 2023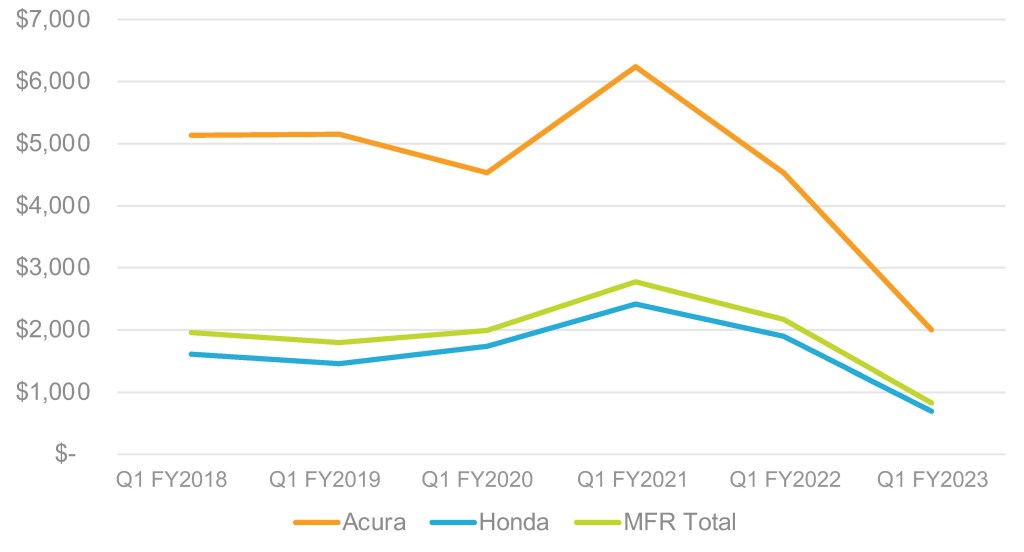 Honda brand incentives were slashed by 63.5% to an average of $693 per vehicle, which was the first time it fell below $1,000 per vehicle in the quarter. Acura incentives were reduced by 56% to an average of $2,001 per vehicle, though the past five years, Acura incentives averaged more than $4,000 per vehicle.
AVERAGE TRANSACTION PRICES
Honda's overall ATP rose 16% to $36,125. Popular models such as the Accord and Civic rose 15% and 18%, respectively. Honda's fuel cell vehicle, Clarity, saw a 71% increase in ATP to $53,900, most likely driven by demand for electric vehicles and low supply. Acura models all showed increases, with the biggest being the NSX, which saw ATP rising 34% for the quarter.
---
Rebecca Rydzewski is a research manager for economic and industry insights for Cox Automotive.
Tags