Data Point
Cox Automotive Analysis: Honda Motor Company's Quarterly U.S. Market Performance
Tuesday August 8, 2023
Article Highlights
Honda's quarterly sales rose 45% for an 8.4% market share.
Honda increased incentives by 67% to an average of $1,393 per vehicle.
Honda's average transaction price rose 2% to $38,765.
American Honda Motor, plagued with supply chain issues for most of 2022, is on the rebound with increased production and vehicle inventory on dealer lots leading to a significant leap in U.S. sales for the first quarter of its 2024 fiscal year.
Honda raised incentives by 67% to $1,393 per vehicle, the first bump since 2021. It also increased its average transaction price (ATP) by 2% to $38,765.
Here are some data points from Cox Automotive on Honda's U.S. market performance in the latest quarter.
Sales and Market Share Up from Year-Ago Levels
American Honda's U.S. sales totaled 347,025 in the quarter, up 45% from the same quarter a year ago. Though Honda's total market share was up 1.6% to 8.4%, it remains below pre-pandemic numbers.
Honda U.S. SALES PERFORMANCE FOR Q1 FISCAL YEAR 2024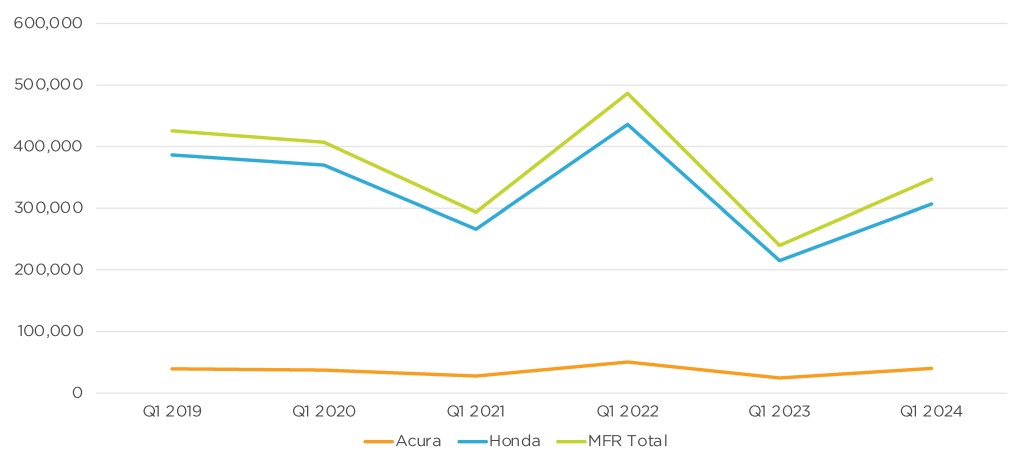 Honda brand sales totaled 306,848 vehicles, up 43%, beating the industry sales increase of 17% for the quarter. Honda brand's market share increased incrementally to 7.4% in the most recent quarter from 6.1% in the 2022 quarter, a 1.3 percentage point increase. Most of Honda's models jumped in quarterly sales – Accord 49%, Civic 52%, CR-V 66%, Odyssey 106%, Pilot 39% and Ridgeline 37%.
Acura's U.S. sales soared by 63% to 40,177 units, beating the market. Its market share increased to 0.98%, a 0.28 percentage point gain.
Acura had four models to post sales gains – the TLX, the volume-leading MDX SUV, the new Integra and the RDX. Acura's core model, the popular MDX, was up 67%, selling 16,741 units. Acura sold 8,808 units of the newly resurrected Integra, a 489% gain year over year. TLX sales were up 40% to 5,762 units, while the RDX was up 39%.
Honda Raised Incentives for First Time Since 2021
Always among the lowest for incentive spending, Honda Motor boosted incentives in the latest quarter. In total, Honda raised incentives by 67% to an average of $1,383 per vehicle, according to Cox Automotive calculations. Incentives averaged only $828 in 2022.
Honda U.S. INCENTIVE SPENDING FOR Q1 FISCAL YEAR 2024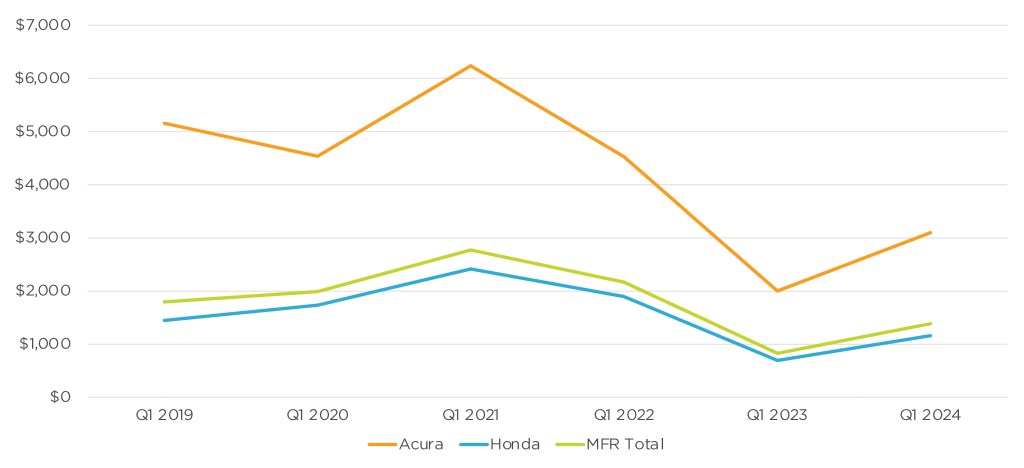 Honda brand incentives were also up 67% to an average of $1,158 per vehicle. This was the first time since 2021 that incentives were above $1,000 per vehicle in a first quarter. Acura incentives increased by 55% to an average of $3,098 per vehicle after hitting a record high of $6,240 per vehicle in 2020 during the pandemic.
Honda's Average Transaction Price Hits All-Time High
The Honda brand's overall ATP rose 3% to $37,087 compared to the same quarter in 2022, according to Cox Automotive calculations. Popular models such as the Civic and CR-V rose 1% and 3%, respectively. The newly redesigned HR-V was up 3% to $28,736, and the Pilot was up 7% to $49,689.
Honda U.S. AVERAGE TRANSACTION PRICE FOR Q1 FISCAL YEAR 2024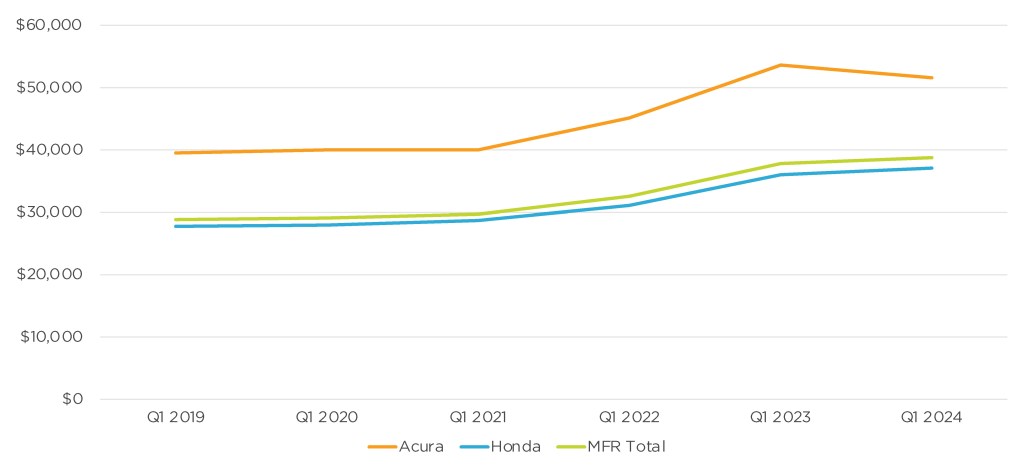 The TLX was the only Acura model that had an ATP increase, up 6% to $51,905. The rest of the Acura lineup saw price decreases between 2% and 5%.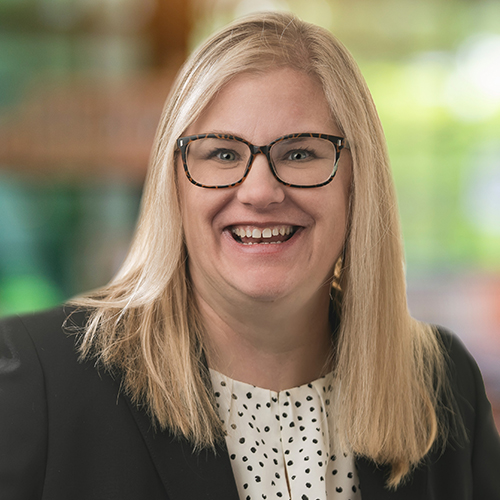 Rebecca Rydzewski
Research Manager of Economic and Industry Insights
Rebecca Rydzewski is an automotive analyst with over 20 years of experience in the automotive industry. She provides industry and data analysis using consumer and industry data from Cox Automotive and its brands including Autotrader and Kelley Blue Book. Rydzewski joined Cox Automotive in March 2022.
Tags