Data Point
Cox Automotive Analysis: Honda Quarterly U.S. Market Performance
Thursday November 4, 2021
Article Highlights
Honda sales down but less than the overall market to gain market share.
Honda, always a low spender, slashed incentives by 20%.
Honda's ATP climbs 10% to $34,572.
Honda reports quarterly financial results on Friday, November 5. The July-to-September period marks the second quarter of Honda's fiscal year that ends March 31, 2022.
In the U.S., Honda struggled with production cuts and low inventories throughout the quarter due to the global computer chip crisis. The Honda brand ranked at the bottom among automakers for inventory. Only Toyota had less. Its volume-leading models – the Honda CR-V and Honda Accord – were near the bottom for supply among best-selling models.
Still, Honda outperformed the overall market in sales, pushing market share to the highest levels for the quarter that the company and its brands have ever experienced. Always a low spender on incentives, the automaker slashed them even more in the quarter. At the same time, average transaction prices climbed.
Here are key data points from Cox Automotive on American Honda's quarterly performance in the U.S., where the company derives a significant share of its profits.
Sales and market share
American Honda, which includes the Honda and Acura brands, posted sales of 345,914 in the quarter, down 11% from the year-ago quarter. Honda brand sales fell 12% to 307,359 vehicles. Still, the Honda brand surpassed GM's Chevrolet brand in sales, a first. Acura slipped 3% to 38,555.
Sales Volume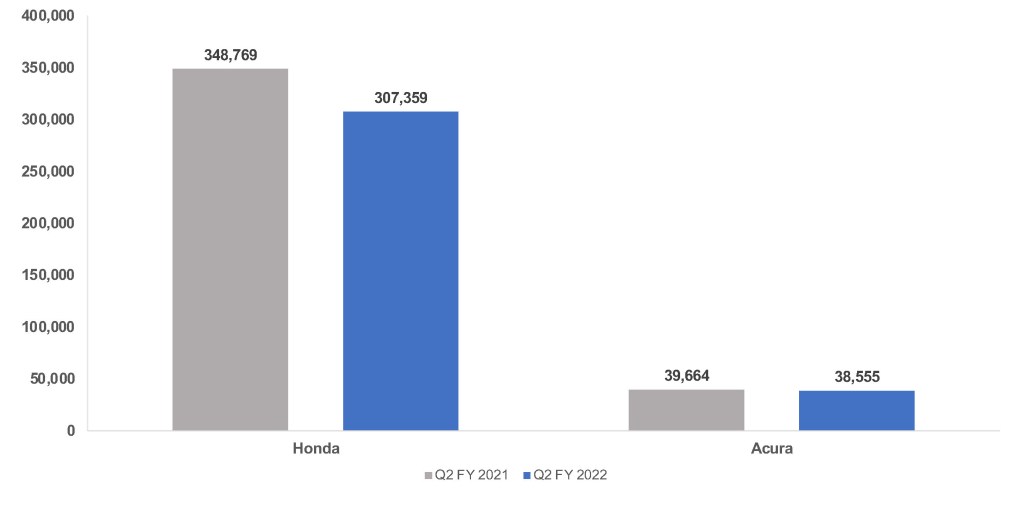 In total and for each brand, sales were the lowest for the quarter in at least six years. However, all outperformed the overall market, which was down 13% in the quarter while luxury sales fell 5%. That meant that American Honda and each of its brands increased market share to the highest levels for the quarter in at least six years. The total company captured 10.2% share, up from 9.9% and the first time it exceeded the 10% mark for the quarter. Honda brand grabbed 9.1% share, up from 8.9%. Acura took 1.1% share, up .9% and its first time exceeding 1% albeit barely.
Honda brand's three models that account for the bulk of its sales had double-digit sales declines on extremely low inventory. CR-V dropped 22% to 76,941. The freshly redesigned Civic slipped 13% to 63,619 units sold. Accord dropped 23% to 43,281 vehicles. In addition, Ridgeline pickup sales declined 25% to a mere 6,502 units. Throughout the quarter, these models had the lowest inventories of all Honda models.
On the positive side, Honda HR-V sales soared by 48%, Passport sales rose 32%, and Pilot sales climbed 8%.
At Acura, its volume-leading MDX, which was launched in February as a 2022 model in redesigned form, saw a 24% drop to just over 11,000 units due to tight inventories. As a counterbalance, the RDX, which is the brand's second in volume, had a 16% sales increase to 16,546 units. The TLX had a 32% gain.
Incentives
American Honda always is among the lowest spenders on incentives, and it spent even less during the quarter as it was inventory constrained. In total, the automaker spent an average of $2,023 per vehicle, down 20% and the lowest since the same quarter in 2018, according to Cox Automotive calculations.
Sales Incentives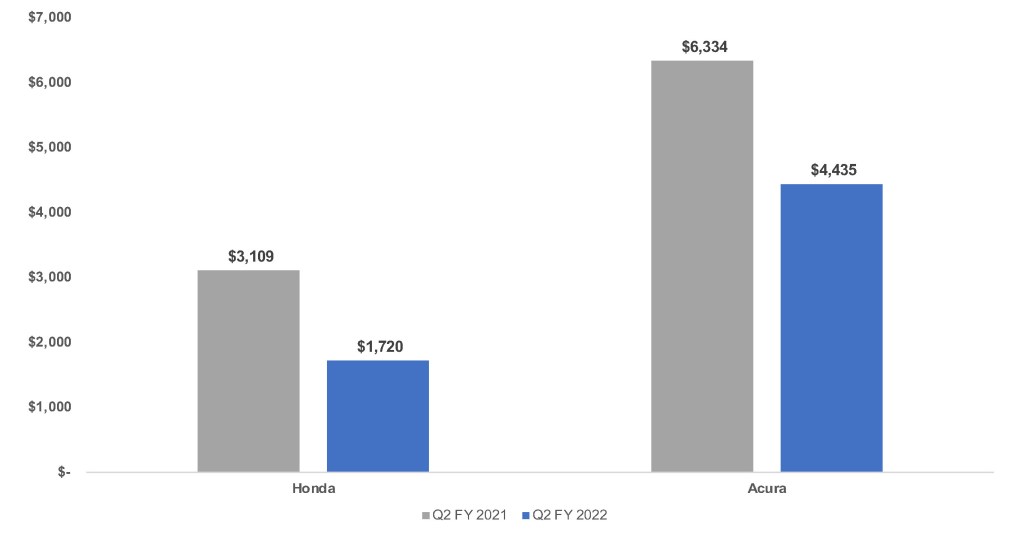 Honda brand spent an average of $2,720 per vehicle. Acura spent $4,435, a big decline from the previous year when Acura spent an unusually high amount, an average of $6,334 per vehicle.
Average Transaction Price
American Honda's average transaction price (ATP) climbed 10% to $34,572, according to Cox Automotive calculations. Honda's rose 9% to $32,980. Acura increased 13% to $47,258.
Average Transaction Prices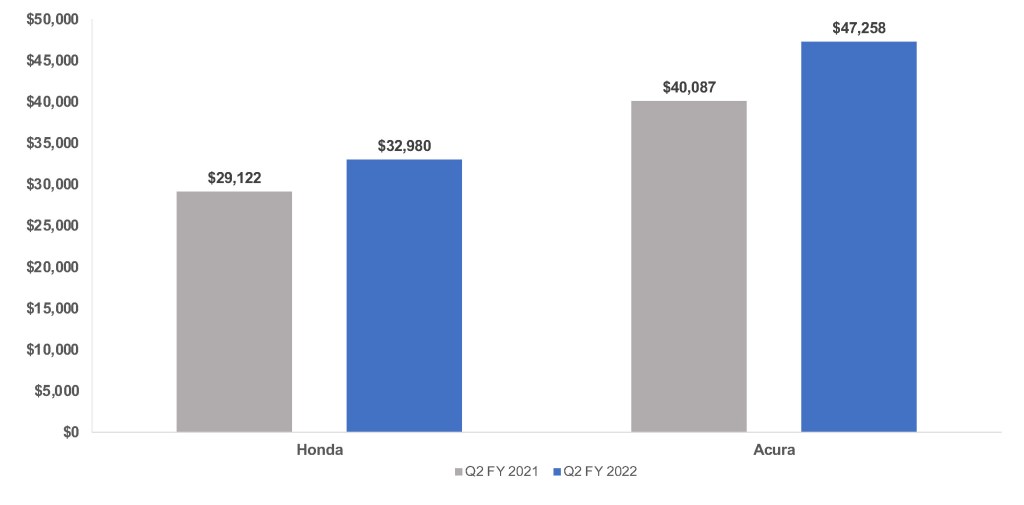 Except for the Clarity, which is being discontinued, Honda models saw gains. More importantly, the brand's three most expensive models saw the biggest increases. Pilot, Ridgeline and Odyssey were up 9%, pushing ATPs for all models beyond $40,000. Accord had an even bigger gain of 13%, pushing ATPs to nearly $32,000.
Acura models, except for the RLX that is being eliminated, saw gains. Its most expensive model, the NSX sports car, which is also being discontinued, climbed 2% to nearly $152,000. The redesigned MDX got a 14% bump to $57,347. The RDX gained 5% putting it close to $45,000.
Tags