Data Point
Cox Automotive Analysis: Honda's Quarterly U.S. Market Performance
Tuesday August 3, 2021
Article Highlights
American Honda sales and share hit new highs for the quarter.
American Honda incentives retreat from pandemic 2020 highs.
American Honda average transaction prices set records.
Honda Motor Co. in Japan reports its financial results for the April-to-June quarter Wednesday, Aug. 4. The quarter is Honda's first in its fiscal year that ends March 31, 2022.
In the U.S., American Honda, which includes the Honda and Acura brands, far outperformed the industry in sales, setting new highs and gaining market share. While other automakers ditched traditional cars, Honda stuck with them, and it is paying off in higher sales on stronger prices. Adding utility vehicles for both brands also paid dividends in higher sales and prices. At the same time, the automaker was able to retreat from pandemic high incentive spending.
Here are key data points from Cox Automotive on American Honda's quarterly performance in the U.S., one of its most important markets.
Sales and Market Share
American Honda sales increased 66%, hitting 486,419 vehicles, its highest ever for the quarter and about 50,000 units from its previous high of the comparable 2016 quarter. The automaker far outpaced the overall industry that had sales up 50%. That led to a gain in market share to 11%, up 1.1 percentage points from a year ago to its highest share.
Both Honda and Acura brands helped make the new sales record happen.
Sales Volume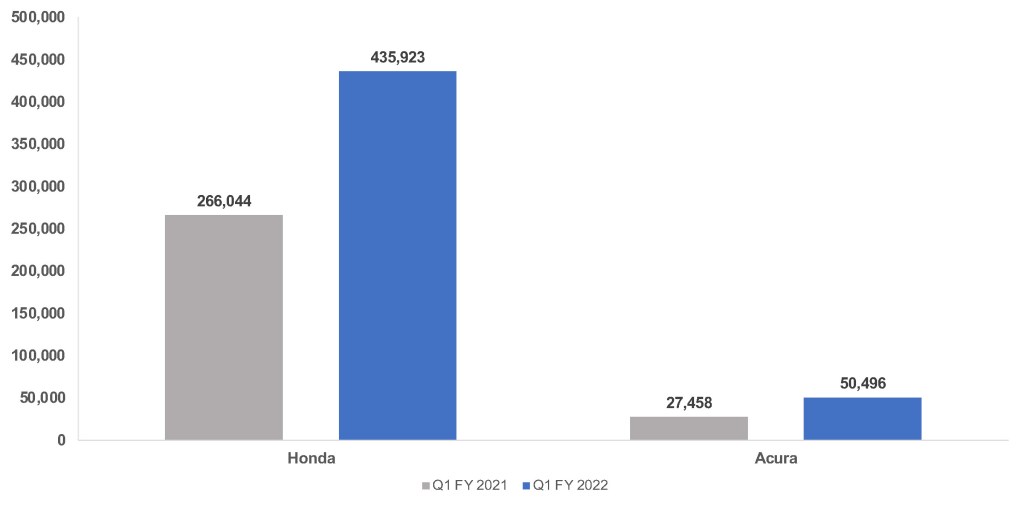 Honda brand had sales up 64% to 435,000 units, the first time it surpassed the 400,000-unit market for the comparable quarter and a nearly 44,000-unit gain over the previous high in the 2016 quarter. That put Honda brand's share at 9.9%, up from 9.0% in the year-ago quarter and its highest share for the quarter.
Honda relies largely on three models for its business, and all had a stellar quarter. The highest-volume model, the CR-V crossover, had a 76% gain in sales to 119,433 units, the first time it surpassed the 100,000-unit mark by a wide margin. Civic sales soared 52% to 97,053 units, a high-water mark for the compact car that was introduced in a redesigned form in the quarter. Accord sedan sales climbed 64% to 68,116 units, shy of pre-2019 sales.
The HR-V had the biggest sales hike – up 142% to 42,266. HR-V sales in the quarter were roughly double what they had been leading up to the pandemic. Sales of the Passport SUV and Ridgeline pickup truck rose by more than 80% each, both hitting new sales highs. The Pilot was up 46%. Odyssey minivan sales were up 41%, the highest since 2018. The only model with lower sales was the Fit, which has been discontinued and is being sold down.
Acura sales soared by 84% to 50,496 vehicles sold, it highest ever and its first time surpassing the 50,000 mark in the quarter. Acura's share hit 1.1%, up from .9% a year ago and its highest for the quarter.
The volume leading MDX utility vehicle, which was introduced earlier this year in redesigned form, more than doubled its sales to just shy of 20,000 units, its highest. The RDX utility vehicle had a 29% sales gain to just short of 17,000 units, a near-record level.
Incentives
American Honda traditionally spends little on incentives. It lowered spending even more in the quarter from last year's high. Compared with a year ago, American Honda's incentives fell 23% to an average of $2,170, which is still somewhat higher than pre-pandemic levels.
Sales Incentives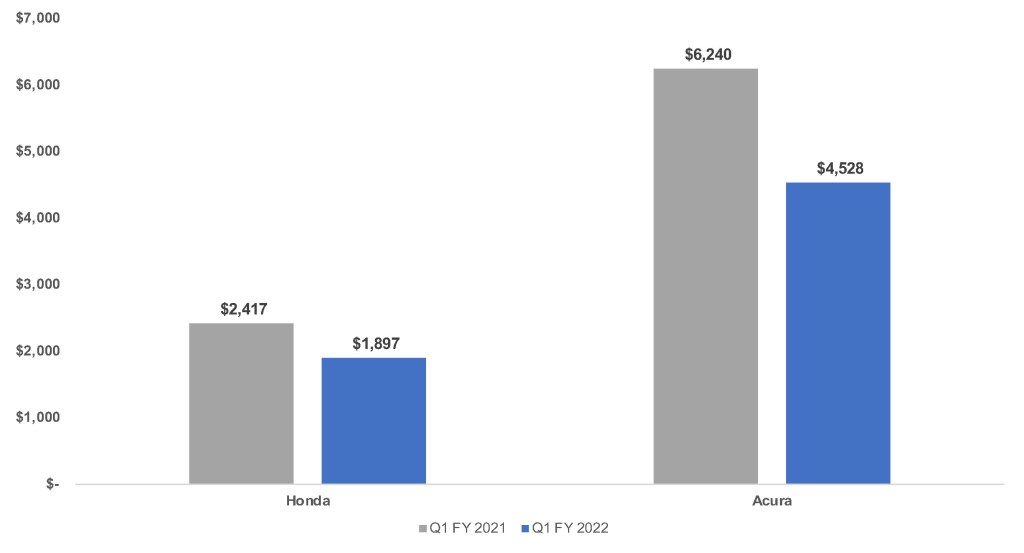 Honda brand lowered incentives by 23% to an average of $1,897 per vehicle. Acura incentives fell 27% to an average of $4,528, compared to an extremely high $6,000-plus in 2020. The brands are back in the general range of spending before 2020.
Average Transaction Prices
Tight supply and high demand, including for traditional cars, led to much higher average transaction prices (ATP). In total, American Honda's ATP rose 10% to $32,570, the first time it surpassed the $30,000 mark for the quarter.
Average Transaction Prices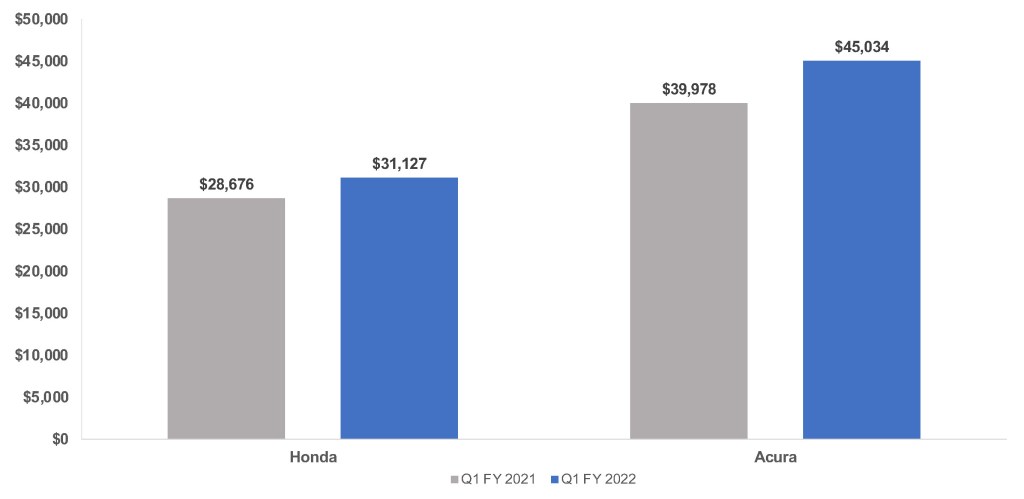 Honda brand's ATP rose 9% to $31,127, also a first time passing the $30,000 milestone. Accord was up 13% and CR-V up 8%, pushing both beyond $30,000 for the first time. Civic's ATP rose 7% past $24,000 for a record. The Ridgeline, Pilot and Odyssey each had 9% gains in price, both surpassing the $40,000 mark for the first time.
Acura's ATP rose 13%, hitting $45,000 for the first time. The MDX's ATP rose 14% pushing it over the $50,000 line. The RDX had a 5% gain to $43,287, its highest ever.
Tags