Data Point
Cox Automotive Analysis: Hyundai Motor's Q1 2023 U.S. Market Performance
Tuesday April 25, 2023
Article Highlights
Hyundai Motor brands posted the best-ever Q1 sales in the U.S. market, pushing market share up.
Incentives were trimmed by 21% to an average of $811 per vehicle in the U.S.
The average transaction price for Hyundai Motor in the U.S. held steady at $36,115.
Hyundai Motor Company, which includes the Hyundai, Kia and Genesis brands, had a stellar first quarter in the U.S., with sales growth far outpacing the industry, despite low inventories, particularly for Kia. The automaker slashed incentives to historic lows, while average transaction prices held steady compared with a year ago.
The U.S., where Hyundai Motor sells all three brands and Hyundai and Kia operate plants, is one of the most important markets for the automaker. Here are data points from Cox Automotive on the South Korean company's U.S. Q1 market performance.
Hyundai Motor Brands Have Best-Ever First Quarter for Sales
Hyundai Motor reported sales of 382,354 units in this year's first quarter, up nearly 19% from the year-earlier quarter. It was the automaker's best-ever first quarter for sales. All three brands had their best-ever first quarter.
Hyundai Motor Company U.S. Sales Performance for Q1 2023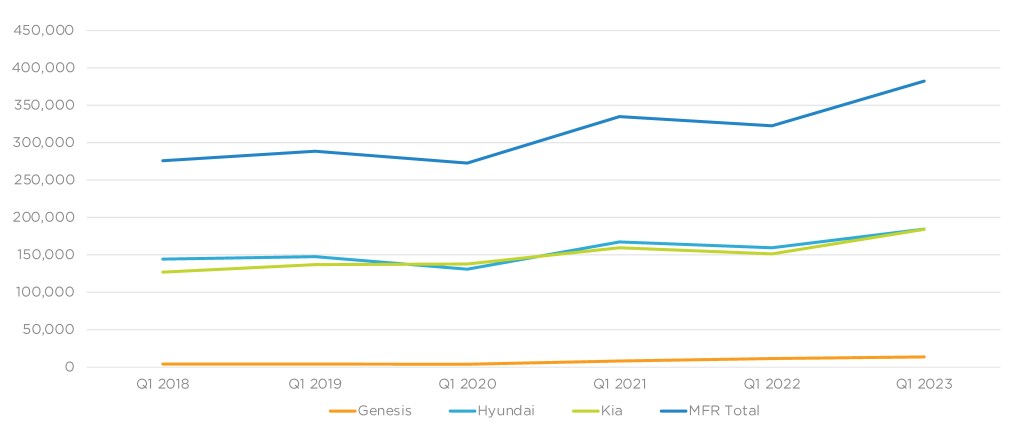 The Hyundai brand had sales of 184,449 vehicles, up nearly 16% from the year-ago quarter. Elantra sales surged by 47% to 32,473 vehicles. Tucson, Hyundai's bestseller, was up 16% to 46,170 units. Santa Fe, Kona and Santa Cruz had hefty double-digit sales increases. Palisade was down 7%. Hyundai sold 5,736 Ioniq 5, the brand's electric SUV.
The Kia brand nearly matched Hyundai, selling 184,136 vehicles in Q1, up almost 22%. Sportage sales almost doubled to 31,684 units. Forte was up a hefty 30% to more than 30,000 units. Telluride had a 23% hike. Sorento was up 13%. Sales of the K5 sedan were down nearly 20%. Kia sold 3,392 EV6 electric cars.
Genesis had sales of 13,769 vehicles, up almost 18%. The GV70, the brand's biggest seller, and GV80 were up more than 20%.
Hyundai Motor Brand Market Share Approaches 11%
Hyundai Motor far outpaced the industry in sales, up 8%, with each brand posting a market share gain. That increased the market share for the three brands by a full percentage point to 10.7%, according to Cox Automotive calculations.
For the first time, the Hyundai and Kia brands surpassed 5% market share in the first quarter. Hyundai brand market share hit 5.15%, up from 4.54% in the first quarter of 2022. Kia's market share rose to 5.14% from 4.79%.
Genesis kicked in 0.38% of market share, its highest ever for the first quarter, up from 0.35% a year ago.
Hyundai Motor Cuts Incentives by 21% To an Average of $811 per Vehicle
Hyundai Motor slashed overall incentive spending by 21% to an average of $811 per vehicle, according to Cox Automotive calculations. It marked the first time the company's average incentive was below $1,000. Six years ago, incentive spending amounted to more than $3,000 per vehicle.
Hyundai Motor Company U.S. Incentive Spending for Q1 2023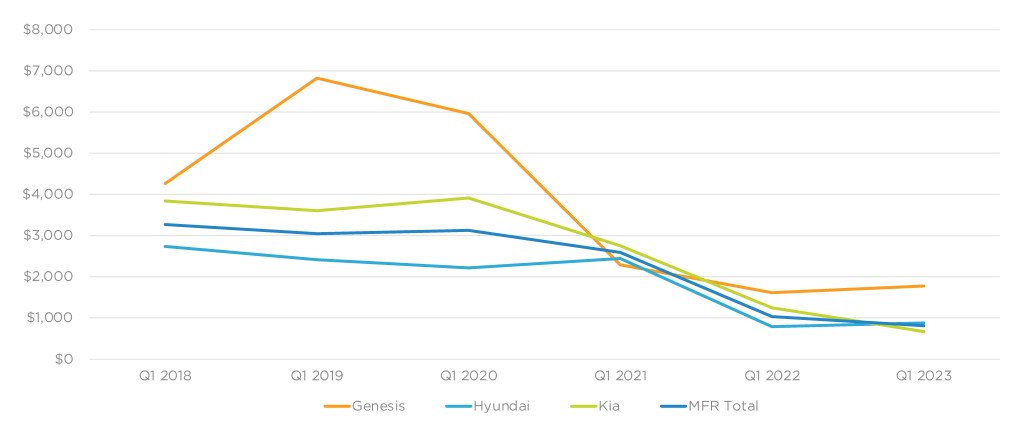 Kia, which has among the lowest inventories in the industry, slashed incentives by 46% to a remarkably low $671 per vehicle, on average. Before the pandemic, Kia was spending more than $3,000 per vehicle, and in some quarters, its incentive spending approached $4,000 per vehicle.
The Hyundai brand increased incentive spending by 11% to an average of $878 per vehicle. Despite the increase, the average incentive is still historically low. In past years, Hyundai spent more than $2,000 per vehicle on incentives.
Genesis also boosted incentives by 10% to an average of $1,778 per vehicle. While higher than a year ago, Genesis is spending far less than in the past. Its incentives reached a quarterly high of almost $7,000 per vehicle in Q1 2019.
Hyundai Motor Average Transaction Prices Hold Steady at $36,115
Hyundai Motor's average transaction price (ATP) held roughly steady in the first quarter compared with a year ago at $36,115, according to Cox Automotive's calculations. ATPs for the Hyundai and Kia brands were roughly flat, while Genesis got a boost.
Hyundai Motor Company U.S. Average Transaction Price for Q1 2023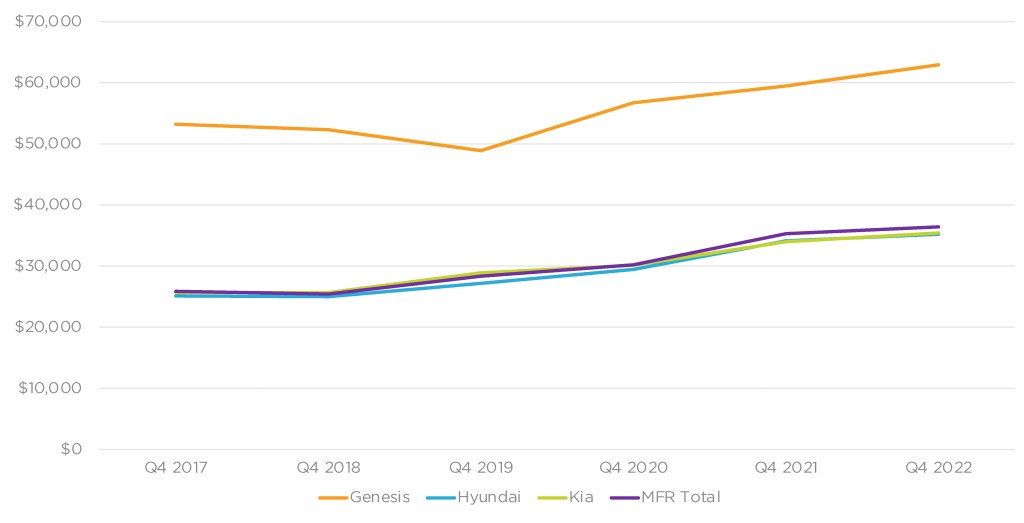 The Hyundai brand's ATP was mostly flat at $35,407. ATPs by model rose only slightly or were flat. The Santa Fe truck was up 4% to $39,829. Elantra was up 3% to $26,855. The electric Ioniq 5 had a 7% hike in ATP to $55,158, surpassing Palisade's ATP of just over $50,000.
The Kia brand slipped a bit to $34,854. The Sportage SUV had a hefty 11% boost in ATP to $35,643. Telluride was up 3% to $49,938. Other models held steady. The electric EV6 edged lower to $57,593, still Kia's highest-priced model.
Genesis' ATP rose almost 8% to an all-time high for the quarter of $62,472. The ATP for the GV80 was up 5% to $73,901, making it the brand's priciest model. The G80 got a 10% boost to close to $65,000. The G70 is the brand's lowest-priced model at just under $50,000 and was up 6% compared to Q1 2022.
---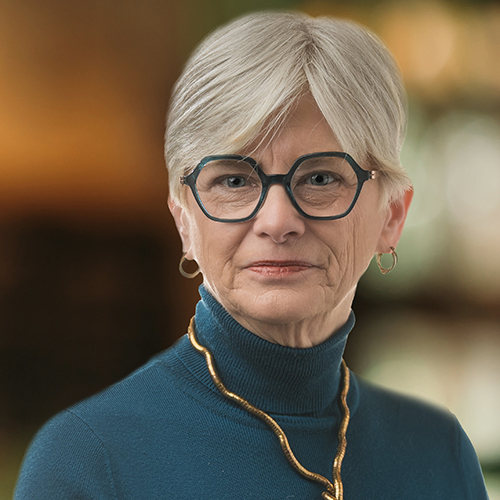 Michelle Krebs
Executive Analyst
Michelle Krebs is an automotive analyst and award-winning writer with over 35 years of experience covering the global auto industry. She has spent the last eight years providing analysis and insights on the auto industry using a trove of consumer and industry data from Cox Automotive and its brands including Autotrader and Kelley Blue Book.
Tags