Data Point
Cox Automotive Analysis: Hyundai Motor's Q3 2022 U.S. Market Performance
Friday October 21, 2022
Article Highlights
Hyundai, Kia and Genesis reported Q3 sales up 4% to 384,451.
Hyundai and Kia slash incentives to less than $500 per vehicle.
Hyundai Motor average transaction price grows by 9% to $36,408.
South Korean automaker Hyundai Motor Company, which includes the Hyundai, Kia and Genesis brands, signaled that when its third-quarter financial results are announced on Monday, October 24, they will reflect provisions equivalent to $2 billion for a major recall.
The company said the provisions relate to the recalls of Hyundai and Kia vehicles equipped with Theta GDI engines with a potential defect that raises the risk of crashes. The two brands recalled nearly 1.7 million vehicles in 2015 and 2017 to address Theta GDI engine issues, amounting to one of their biggest recalls in the U.S. At the time, the two brands offered unprecedented lifetime engine warranties as part of the effort to burnish their reputations from the recall.
In a statement released ahead of its financial results, Hyundai Motor said that the provisions were needed because of recent changes, such as longer lifecycles for used vehicles, lower scrap rates caused by a chip shortage, and an underestimation of engine improvements.
Analysts say those costs amount to more than half of Hyundai's estimated Q3 net profit and 77% of Kia's profit. The weakness of the Korean won against the U.S. dollar, which also leads to additional costs, likely impacted Hyundai Motor's Q3 earnings as well.
The U.S., where Hyundai and Kia operate plants, is one of the most important markets for Hyundai Motor. Here are data points from Cox Automotive on the Korean company's U.S. Q3 market performance.
Hyundai Motor's Q3 Sales Outperform Market
Hyundai Motor reported sales of 384,451 Hyundai, Kia and Genesis vehicles in the third quarter, according to Cox Automotive calculations. That was 3.8% ahead of the year-ago quarter, outperforming the overall market that was about even compared to a year ago. Sales were the automaker's second-highest for the third quarter in at least six years.
Hyundai Motor Company U.S. Sales Performance for Q3 2022
Despite one of the lowest inventory levels in the U.S., Kia eked past the Hyundai brand in sales for the first time in at least six years for the quarter. Kia sales rose 4% to 184,808 vehicles. Hyundai brand sales rose 3% to 184,431 vehicles, still its highest for the quarter in at least six years. Genesis has been among the biggest gainers in terms of percentage growth so far this year, though the spurt seems to be slowing of late with sales up only 1% in the third quarter.
At Kia, Sportage, its highest volume model, had a 47% increase in sales to 37,383 units. Sorento followed with 25,555 and had the biggest gain, up 83%. The popular Telluride, which has been in particularly short supply, was about even with the year-ago quarter at 25,403 units. Kia's other volume models, Forte and K5, were down – Forte was off 2% at 30,253 units while K5 dropped 18% to 18,251 vehicles.
At Hyundai, Tucson had a nearly 28% gain to 41,554 units. The biggest gainer, percentage-wise, was the small Santa Cruz pickup truck, up 187% to 8,600 units. In fact, the truck market was the only segment, besides EVs, with a sales gain.
Elantra had a hefty 16% increase in sales to 37,020. Santa Fe was up 6% to 28,234 SUVs. Palisade was down 5% but still had sales of more than 20,000. The new electric Ioniq 5 kicked in 4,800 sales, riding the wave of EV sales, which were up 67% for the industry in total as the biggest segment gainer for the quarter and the year so far. Kona, which comes with a variety of powertrain options, was down 35% to just under 13,00 units.
Genesis sales for the quarter were up 1% to 15,212, the highest number of vehicles for the past six third quarters. Genesis' volume leader, the GV80, had a sales decline of 7% to just over 5,000 units. The biggest gainer was the G70, up 9% to just over 3,000 units. The GV70 was up 6% to just shy of 5,000 units. The G80 plummeted by 38% to just 1,001 units.
Slightly outpacing the overall market, Hyundai Motor eked out a 0.4 percentage point market share gain to 11.3%, its highest for any third quarter in at least six years. The automaker has steadily gained share year after year. In Q3, Hyundai and Kia were up 0.2 percentage points both at 5.4% market share; Genesis was flat at 0.4%.
Incentive Spending Among Lowest in the Industry
Hyundai Motor slashed third-quarter incentive spending by 76% to an average of $448 per vehicle, among the lowest in the industry, according to Cox Automotive calculations, and well below the industry average of $1,079 per vehicle. In contrast, the automaker spent nearly $3,500 per vehicle five years ago.
Hyundai Motor Company U.S. Incentive Spending for Q3 2022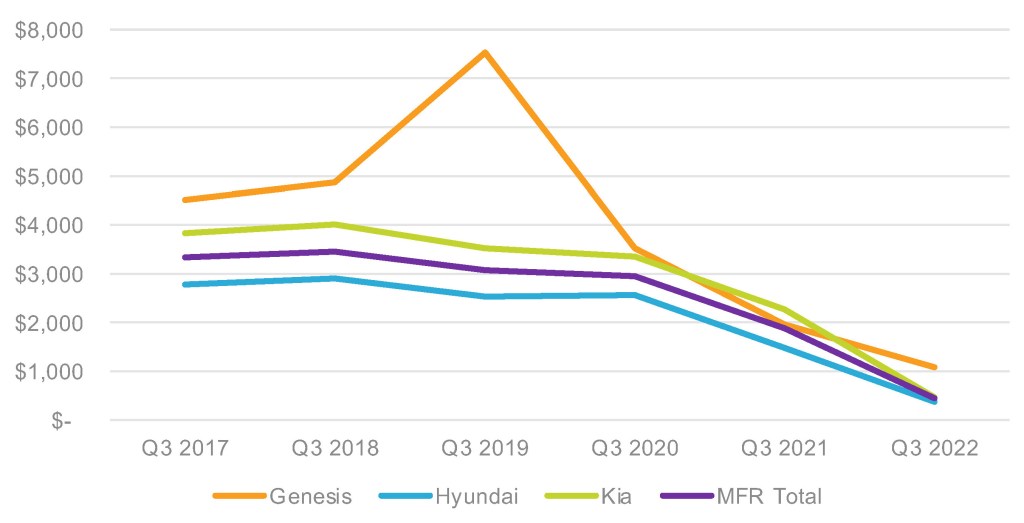 Kia cut the most. Incentives were slashed by 79% to an average of $468 per vehicle. Four years ago, Kia's average incentive spend was more than $4,000 per vehicle.
Hyundai brand had the lowest average per-vehicle spend at $376, compared with nearly $3,000 five and six years ago.
While competing in the luxury segment where prices are higher, Genesis had the highest per-vehicle incentives at just over $1,000, which was down 45% from a year ago. In 2017, Genesis incentives hit a high for the quarter of more than $7,500 per vehicle.
Average Transaction Prices Increase Across Hyundai Motor's Brands
Hyundai Motor's average transaction price (ATP) across its three brands was $36,408, up 9% from a year ago, according to Cox Automotive calculations.
Genesis' ATP of $61,643 pulled up the automaker's average. The G90, though its sales were down to only a couple hundred units, had the brand's highest ATP at $97,775. The GV80 had a big gain in ATP, up 8% to $71,752.
The Ioniq 5, considered a somewhat affordable EV being well below the average for ATP in the segment, had the highest ATP for the Hyundai brand at $54,662. Palisade's ATP rose 5% to more than $50,000. Elantra had the biggest percentage increase in ATP, up 11% to $27,200. The Santa Fe and Tucson also had hefty increases.
Like Hyundai, Kia's electric EV6 had the brand's highest ATP at $57,256. Short supplies of the Telluride pushed its ATP up 3% to $49,173. The Carnival minivan had the next highest at $44,132. The high-volume Sportage had the biggest percentage increase in ATP, up 21% to $36,620.
---
Michelle Krebs is executive analyst for Cox Automotive.
Tags