Data Point
Cox Automotive Analysis: Hyundai Motor's Q4 2022 U.S. Market Performance
Tuesday January 24, 2023
Article Highlights
Hyundai Motor had the best-ever Q4 sales of 386,898 units for a 10.7% market share.
Hyundai Motor slashed incentives by half to an average of $738 per vehicle.
Hyundai Motor's average transaction price pushed past $36K, helped mostly by Genesis.
Hyundai Motor Company, which includes the Hyundai, Kia and Genesis brands, had a best-ever fourth quarter in the U.S. on a number of fronts, which should help the South Korean automaker's financial results that will be announced on Thursday, Jan. 26.
The U.S., where Hyundai Motor sells all three brands and where Hyundai and Kia operate plants, is one of the most important markets for the automaker. Here are data points from Cox Automotive on the South Korean company's U.S. Q4 market performance.
Hyundai Motor Brands Have Best-Ever Fourth Quarter for Sales
Hyundai Motor reported sales of Hyundai, Kia and Genesis vehicles for the final quarter of 2022 at 386,898 units, up 23%, compared with a low point the year before when inventory shortages caused by the chip shortage crimped sales. The final quarter of 2022 marked the highest sales for any fourth quarter, and each brand had their highest sales for the quarter as well.
The automaker has seen phenomenal growth. In the fourth quarter of 2017, it barely surpassed the 300,000-unit mark. By year-end 2022, it was closing in on the 400,000-unit mark for the quarter in a smaller market.
Hyundai Motor Company U.S. Sales Performance for Q4 2022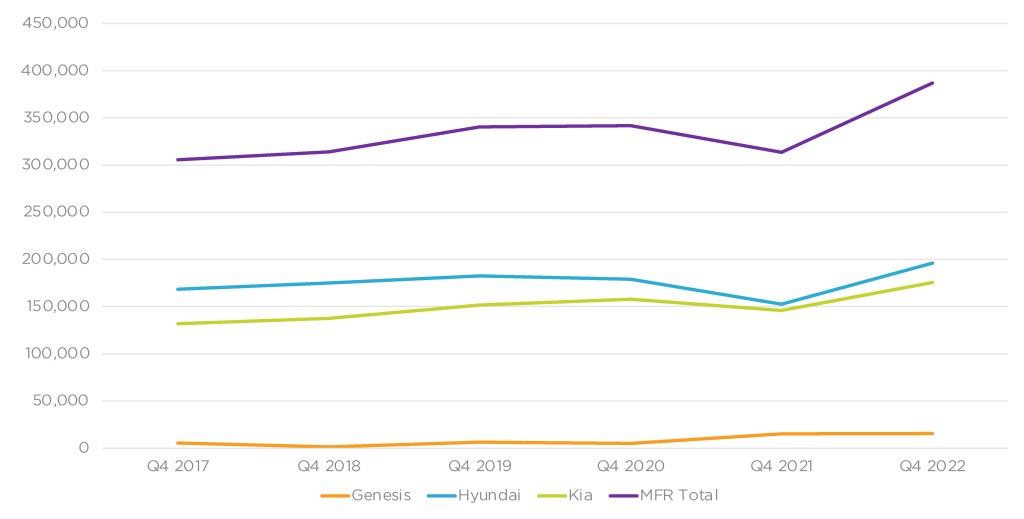 The volume-leading brand for the quarter, Hyundai had sales of 195,967 vehicles, up 29%, thanks to huge sales hikes for its volume models. The brand's volume leader, the Tucson crossover, hit nearly 50,000 units of sales, up 42% from a year ago. Santa Fe was up 49% to 33,460. Despite extremely tight supply, Elantra sales soared by 71% to more than 31,000 units. The Santa Cruz truck was up 37% to nearly 10,000 units. The Ioniq 5 electric vehicle had around 4,500 units of sales. The popular Palisade was down 13% due to low inventory. Kona was off 4%.
Kia had sales of 175,401 units, up 20%. Like the Hyundai brand, Kia had huge sales increases on its volume models: Sportage, up 124% to 35,506; Telluride, which has been in extremely short supply, up 20% to 27,595 units; Forte, up 15% to 26,360; and Sorento, up 12% to 21,806. The K5 was down 33% to under 13,000 units. The new EV6 electric car had sales of nearly 3,000.
Genesis sales were 15,530 units, up 2% and triple what they were as recently as 2020. The volume-leading GV70 had a 7% gain in sales to 5,834 units. The next highest sales generator, the GV80, yielded a 1% gain to 4,902 units. The G70 and G80 had 10% and 19% sales declines, respectively.
Hyundai, Kia Push Hyundai Motor Market Share to 10.7%
Far exceeding the overall market performance, which was up 9%, Hyundai Motor grabbed market share. In total, Hyundai Motors' market share hit 10.7%, up 1.2 percentage points from a year ago though down from 11.3% share in the third quarter of 2022, according to Cox Automotive calculations.
The Hyundai brand rose to a fourth-quarter high of 5.4% market share, up from 4.6% the previous year. Kia also had a fourth-quarter high of 4.9% share, compared with 4.4% a year ago. Genesis slipped to .4% from .5% a year ago, which was its highest-ever share for the fourth quarter.
Hyundai Motor Halves Incentive Spending
Hyundai Motor slashed its overall incentive spending by nearly half to an average of $738 per vehicle, according to Cox Automotive calculations. Before the chip shortage, Hyundai Motor spent between $2,700 to $3,200 per vehicle on incentives.
Hyundai Motor Company U.S. Incentive Spending for Q4 2022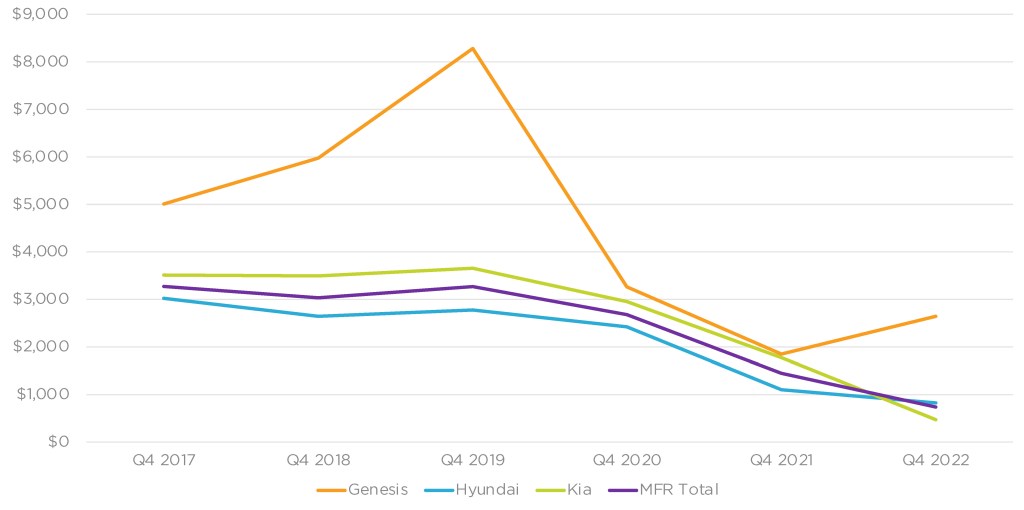 Kia incentives were slashed by 73% to a scant $472 per vehicle. Pre-chip shortage incentives were roughly $3,000 to $3,600 per vehicle.
Genesis incentives rose in the quarter by 43% to an average of $2,645 per vehicle as the automaker's newest marque tried to gain traction in the growing luxury market. Even with the increase, the fourth-quarter incentives are a far cry from the past when Genesis incentives reached a high for the quarter of $8,281 per vehicle in the fourth quarter of 2019.
Hyundai Motor Average Transaction Prices Pushes Past $36,000
Hyundai Motor's average transaction price edged 3% higher to $36,416, the highest for any fourth quarter, according to calculations by Cox Automotive. All brands gained in pricing to new heights for the quarter.
Hyundai Motor Company U.S. Average Transaction Price for Q4 2022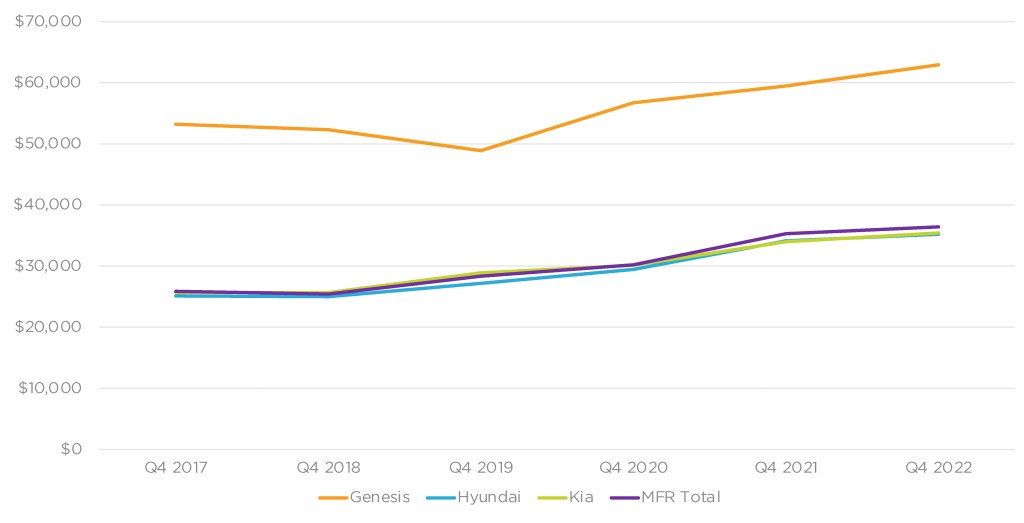 The Hyundai brand's ATP rose 3% to $35,207. The high-demand, low-availability Palisade had the biggest hike in ATP, up 6% to $50,664. The Ioniq 5 was the brand's priciest model at $55,133. Other volume models increased by 2% to 4% in ATP.
Kia's ATP climbed by 4% to $35,419. The Sportage had a big sales increase as well as a significant price hike. Its ATP rose 15% to $35,878. Other Kia models rose by low single digits. The Sorento's ATP slipped. The EV6 electric vehicle carried an ATP of $57,157.
Genesis surpassed the $60,000 mark for the first time in a fourth quarter, with a 5% gain to $62,942. It got a boost from all models but the GV70, which held relatively steady at $57,390. Its highest-priced model, the GV80, had an ATP of $73,089, up 7%. The G80 had the biggest increase, up 11% to 63,836. The G70, the lowest-priced model, was up 8% to $49,600.
---
Michelle Krebs is executive analyst for Cox Automotive.
Tags