Data Point
Cox Automotive Analysis: Nissan Quarterly U.S. Market Performance
Tuesday July 27, 2021
Article Highlights
Nissan brand sales outperformed the market, prompting a rise in market share.
Nissan slashed incentives by 27% to an average of $3,518 per vehicle.
Nissan brand average transaction price climbed to a new high.
Nissan Motor Co. in Japan reports its financial results for the April-to-June quarter Wednesday, July 28. The quarter is Nissan's first in its fiscal year that ends March 31, 2022.
Nissan has been forced to cut production in Japan and the U.S. due to the global computer chip shortage, but, in the U.S., it has had more inventory than many other companies. The company, thanks to the volume Nissan brand, had much-improved quarterly for sales and market share compared to a year ago, but it is nowhere near back to pre-pandemic levels. Long known as a big spender on incentives, Nissan drastically cut its incentives in the quarter. Average transaction prices rose to new highs for the quarter.
The automaker just entered its second year of a four-year turnaround plan, one that relies heavily on Nissan's performance in the U.S. Current Nissan CEO Makoto Uchida may be accelerating that turnaround plan after two straight years of financial losses. At June's annual meeting, he came under fire from shareholders who repeatedly questioned him about the events surrounding the arrest of former Nissan-Renault CEO Carlos Ghosn, who now lives as a fugitive in Lebanon. Some shareholders suggested Nissan was better off under Ghosn.
Here are key data points from Cox Automotive on Nissan's quarterly performance in the U.S., an increasingly important market for the automaker.
Sales and market share
Nissan North America sold 298,148 vehicles in the quarter, up 68% from a year ago. Nissan brand sales totaled 280,282 vehicles, up 74%. Infiniti sales were 17,866 vehicles, up 11%. The total U.S. market in Q2 2021 rose by nearly 50%.
Sales Volume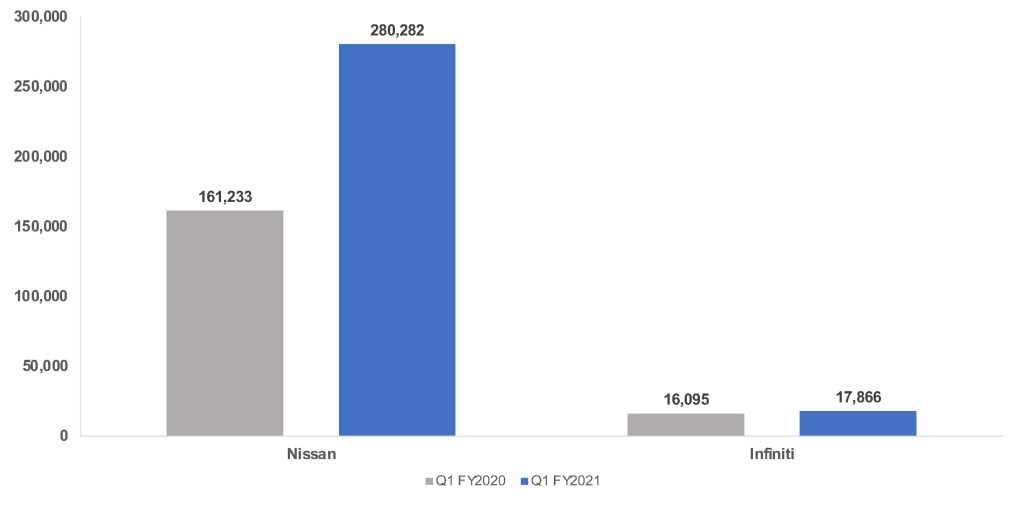 Because Nissan outperformed the overall market, its share edged up to 6.8% from 6% a year ago, driven by Nissan brand, which saw its share rise to 6.4% from 5.5%. Underperforming the overall market, Infiniti share slipped to .4% from .5% a year ago.
While Nissan North America's sales and share were higher than a year ago, they were still the second-lowest in the last six years of the April-to-June quarter. The automaker and its brands posted their highest market share in the second quarter of 2017 when they were directed by then upper management to hit 10% U.S. market share. The company's share hit a high of 9.1% for that quarter.
Nissan is in the midst of a new or redesigned product onslaught. It introduced a revised Rogue last year. This year it revises the Pathfinder SUV and the Frontier pickup truck. It has a new Z sports car coming, being unveiled at the New York auto show in August, as well as a new EV crossover, Ariya.
Nissan brand's small vehicles had sales rise by triple-digits compared with a year ago. The popular Kicks posted a 113% gain to nearly 20,000 units. The volume-leading Rogue doubled sales to just shy of 100,000 units. Sales of the small Sentra and Versa cars doubled and then some. Riding the wave of rising electrified vehicle sales, the Nissan Leaf EV posted the biggest gain of all Nissan models – up 358% on a still low base of 4,804 vehicles.
The Nissan Frontier pickup truck, which is in sell-down mode to make way for the new version, was up 78%. Like other full-size SUVs, the Armada posted a 42% gain. Altima rose 40%.
Nissan's luxury division Infiniti is struggling as it has had little new product of late. Its volume leader, the QX50 SUV, which endured some production cuts, had a nearly 50% increase in sales to 7,324 units. The Q50 had a 15% gain to 4,180 sold.
Incentives
High demand and low inventories allowed automakers to drastically reduce incentive spending last quarter. Nissan overall slashed its incentives by 27% to an average of $3,518 per vehicle.
Sales Incentives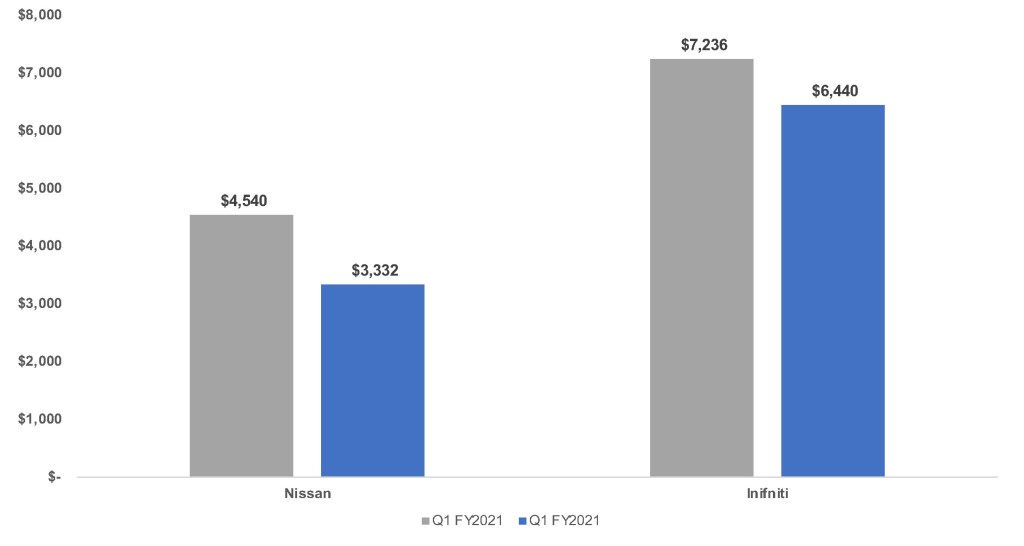 Nissan brand incentives were reduced by 27% to an average of $3,332 per vehicle. For Nissan and the Nissan brand, that was the lowest for the quarter since 2016 in the past six years.
Infiniti trimmed incentives by 11% to an average of $6,440 per vehicle, the lowest for the quarter since 2017.
Average Transaction Prices
Nissan's overall average transaction price (ATP) came in at $32,198. While it slipped by 1% compared with a year ago, Nissan's overall ATP was higher than it was before the pandemic.
Average Transaction Prices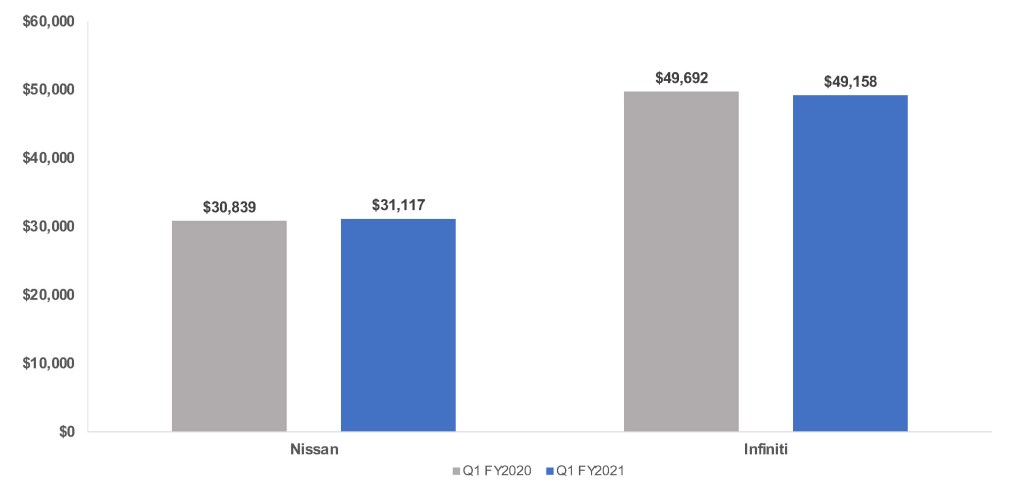 Nissan brand's ATP rose 1% to $31,117, its highest for the quarter. The hike came on the strength of a 9% ATP increase for the Armada, Nissan's most expensive vehicle, to $61,222. Titan had a 6% gain in ATP, pushing it to Nissan's second priciest model at $53,508. Rogue and Frontier also had significant gains.
Infiniti's ATP pulled Nissan's overall ATP down by slipping 1% from a year ago to $49,158, which was still higher than pre-pandemic. The ATP on the new QX55 was $53,443. The volume leading QX50 had a slip in its ATP to $41,518. The QX80 and Q60 had higher ATPs than a year ago.
Tags