Data Point
Cox Automotive Analysis: Nissan Quarterly U.S. Market Performance
Monday November 8, 2021
Article Highlights
Nissan sales slipped by 10%, less than the overall market for a share gain.
Nissan, formerly a big spender, slashed incentives nearly in half.
Nissan's ATP rose, in part, due to much higher ATPs of redesigned models.
Nissan reports quarterly financial results on Tuesday, November 9. It marks the second quarter – the halfway point – of Nissan's fiscal year that ends March 31, 2022.
The global computer chip shortage forced Nissan to cut production, with some of its U.S. plants closed for several weeks. Its U.S. sales didn't suffer as much as the overall industry, which allowed the automaker to gain market share. Nissan was able to slash incentives almost by half while average transaction price rose, with the biggest hikes from its redesigned models.
Here are key data points from Cox Automotive on Nissan's quarterly performance in the U.S. market, which is a centerpiece for Nissan's turnaround plan.
Sales and market share
Nissan North America, which includes the Nissan and Infiniti brands, sold 198,955 vehicles in the quarter, down 10% from a year ago.
Sales Volume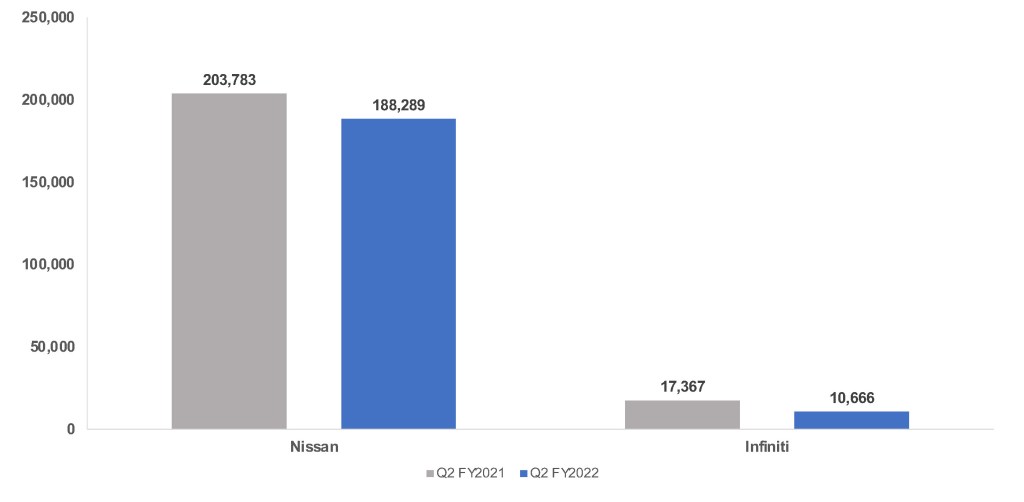 Nissan brand slipped by 8% to 188,289 vehicles. A key element of Nissan's turnaround plan is to vastly freshen its product line, which had been rather dated. The good news is that its new models are resonating with consumers, even with inventory challenges. The midsize Frontier pickup truck got its first redesign in years and sales soared by 62% in the quarter. That was the highest sales percentage increase for any Nissan model. Similarly, the freshened Pathfinder had a 45% hike in sales.
Nissan's lower-priced models saw sales increases as well, likely due to consumers turning to cheaper new cars after not finding used vehicles they could afford. Sentra, Kicks and the electric Leaf had sales gains.
The rest of Nissan's product line had double-digit sales declines, many of them affected by the chip shortage and production cuts.
Infiniti, just starting its product renaissance, suffered a 39% plunge in sales while the luxury market was off only 5%. A single model posted a sales increase. The Q60 had a 15% improvement in sales.
The automaker's overall sales decline was less than the overall market decline of 13% so it eked out a tiny market share improvement, increasing to 5.9% from 5.6%. The Nissan brand accounted for the rise with its share edging up to 5.6% from 5.2% a year ago. Infiniti's share fell to .3% from .4%, well below its high of .8% in 2018.
Incentives
Nissan's corporate plan to be less dependent on incentives got help from the inventory shortage. The automaker slashed incentives in the quarter by 46% to an average of $2,409 per vehicle, the lowest level for the quarter in at least six years, according to Cox Automotive calculations.
Sales Incentives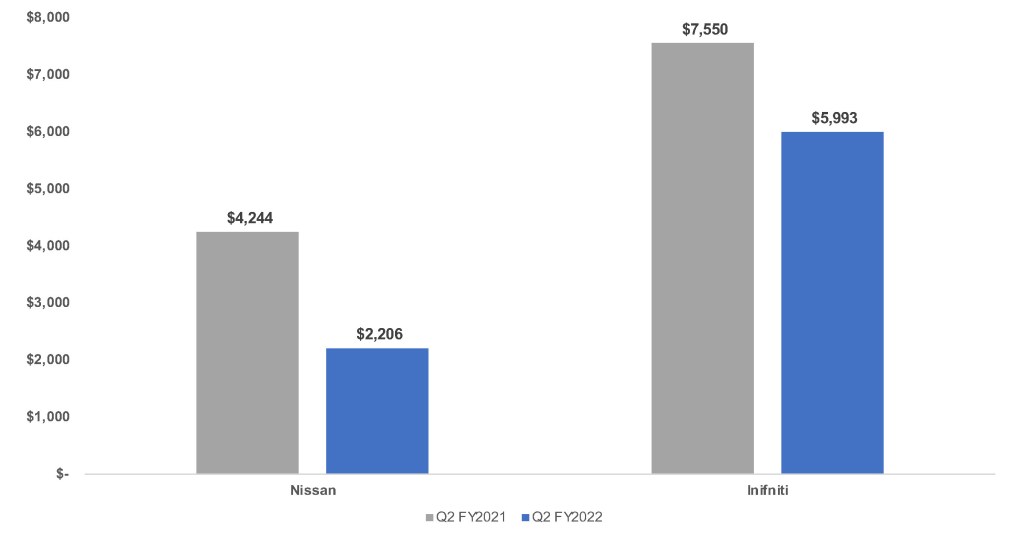 Nissan brand incentives were cut the most, down 48% to an average of $2,206 per vehicle. The lowest for the quarter in at least six years. Infiniti incentives were trimmed by 21% to an average of $5,993 per vehicle, the lowest level since the same quarter in 2016.
Average Transaction Price
Nissan's overall average transaction price climbed by 8% to $33,601, according to Cox Automotive calculations.
Average Transaction Prices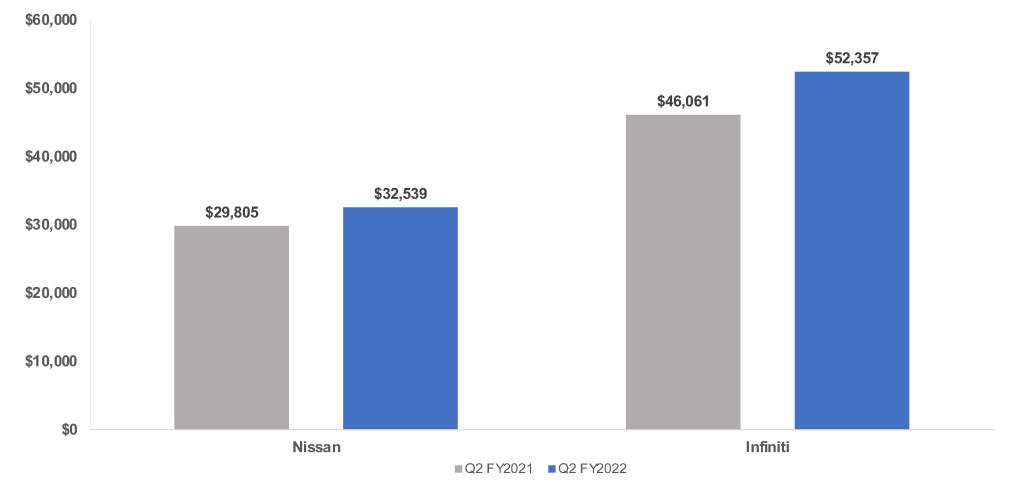 Nissan brand's ATP rose 9% to $32,539, marking the first time it surpassed the $30,000 mark for the quarter. Every model posted an increase. Redesigned products accounted for much of the gain. The new Pathfinder saw the biggest hike – up 19% to $45,285. The Frontier's ATP rose 12% to $36,545.
Infiniti's ATP climbed 14% to $52,357. It was pulled up by the Q50, Q60, QX50 and its highest-priced model, the QX80 at $76,483.
Tags