Data Point
Cox Automotive Analysis: Nissan Quarterly U.S. Market Performance
Tuesday May 11, 2021
Article Highlights
Nissan sales rise; Infiniti sales plummet.
Nissan drastically cuts incentive spending.
ATPs dip for Nissan brand; edge higher for Infiniti.
Nissan Motor Co. in Japan reported financial results on Tuesday, May 11, for the quarter and fiscal year that ended March 31.
Nissan is one year into its four-year turnaround plan announced last spring. Success in the U.S. is the centerpiece of that plan.
The following data from Cox Automotive on Nissan's quarterly market performance in the U.S. shows the Japanese automaker is making some progress. Under former Nissan-Renault CEO Carlos Ghosn, the company was under orders to grab a 10% market share. The goal led to negative behaviors, including heavy sales into fleets and hefty incentive spending that hurt residual values and profitability.
The company seems to have stabilized its market share at about 7.3% but has drastically reduced incentive spending, especially for the Nissan brand, which gains a few freshened and new products this year. The automaker has more work to do with the Infiniti brand on sales and incentive spending.
Sales and market share
Nissan sold 285,553 vehicles in the final quarter of its fiscal year, up 11% from a year ago, but still down from 2019 for the automaker's second-lowest sales for the quarter since at least 2015.
Sales Volume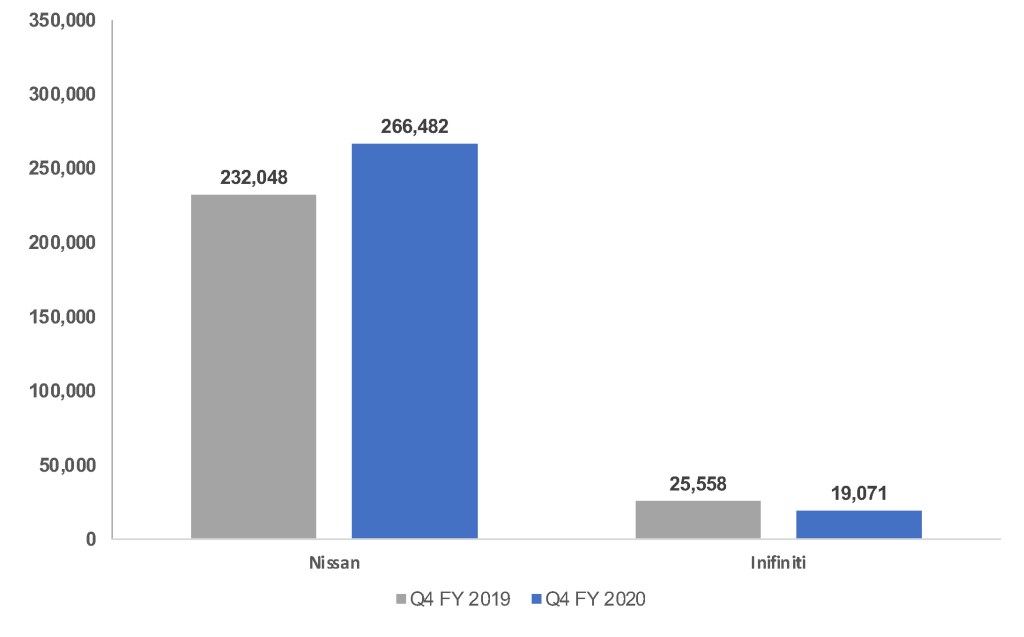 Nissan's overall increase was on par with the industry's gain. That put the automaker's market share at 7.3%, even with last year. Nissan's share was 6.8%; Infiniti was .5 percent.
Overperforming the industry, Nissan brand sales rose 15% from a year ago to 266,482 vehicles, but it was still the second-lowest for the brand for the past five years.
Sales increases came from Nissan's volume-leading Rogue, which was redesigned late last year, putting sales up 45%. The freshened Kicks, which has become a volume contributor with nearly 25,000 sold in the quarter, had a 75% gain in sales.
Nissan trucks, the Frontier and Titan, had gains as did its small cars, the Versa, Sentra and Leaf EV. Nissan rolls out a freshened Pathfinder and Frontier this year, after a new Rogue came on the market last year. Later in the year, it adds a second EV, the Ariya.
Infiniti sold a scant 19,071 vehicles in the quarter, down 25% from a year ago for its lowest sales for the quarter since at least 2015. The brand missed the luxury vehicle sales wave. Luxury sales were up 17% in the quarter. The brand's product line is in the early throes of transformation. It has dropped products and is not adding new ones. Only the QX50 had a gain – up 54% to become Infiniti's volume leaders with only 6,452 sold.
Incentives and prices
Nissan lived up to its promise to cut incentives. Nissan's overall incentive spending amounted to $3,593 per vehicle, according to Cox Automotive calculations. That was down 22% from the year-ago quarter.
Incentives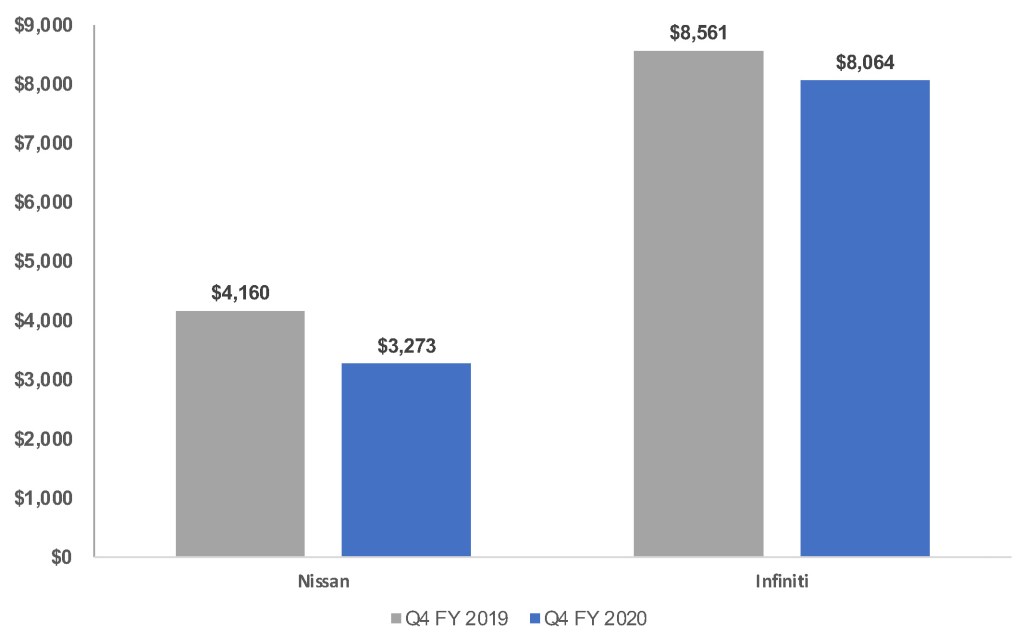 The Nissan brand cut incentives to their lowest level since 2017, an average of $3,237 per vehicle and down 21% from a year ago. Infiniti incentives were trimmed 6% to an average of $8,064 per vehicle. Infiniti's per-vehicle spend was still the second-highest for the brand during the quarter since at least 2015 and is high among its luxury competitors.
Nissan's overall average transaction price (ATP) was $30,846 in the quarter, down 4% but still the second-highest since 2015.
Average Transaction Prices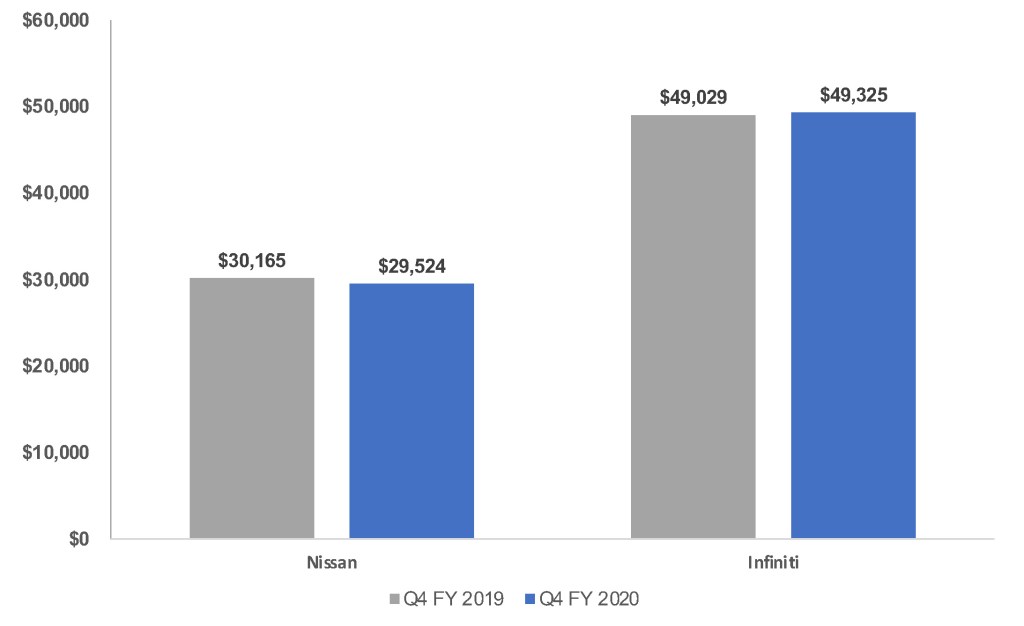 Nissan brand's ATP slipped 2% to $29,524, its second-lowest since 2015. It got help from 9% gains in ATPs of its Frontier and Titan pickup trucks. Infiniti's edged nearly 1% higher to $49,325, its highest in the quarter.
Tags