Data Point
Cox Automotive Analysis: Nissan Quarterly U.S. Market Performance
Monday February 8, 2021
Article Highlights
Nissan/Infiniti sales plummet 19%, underperforming the market.
Nissan trimmed incentives 4%, but they remain high at an average of $4,458 per vehicle.
Nissan's average transaction price slipped 2% to $30,332.
Nissan Motor reports financial results for Q3 FY 2020, the October-to-December 2020 quarter, on Tuesday, February 9, the third quarter of its fiscal year that ends March 31, 2021.
Success in the U.S. is the centerpiece of Nissan's four-year turnaround plan. Here are some data from Cox Automotive on Nissan's market performance in the U.S. for the recently closed quarter.
Sales and market share
Nissan and Infiniti sales combined totaled 243,133 vehicles, down 19%, significantly underperforming the overall U.S. market that was down only 2%. Still, the automaker sold more vehicles in the third quarter than it did in the second.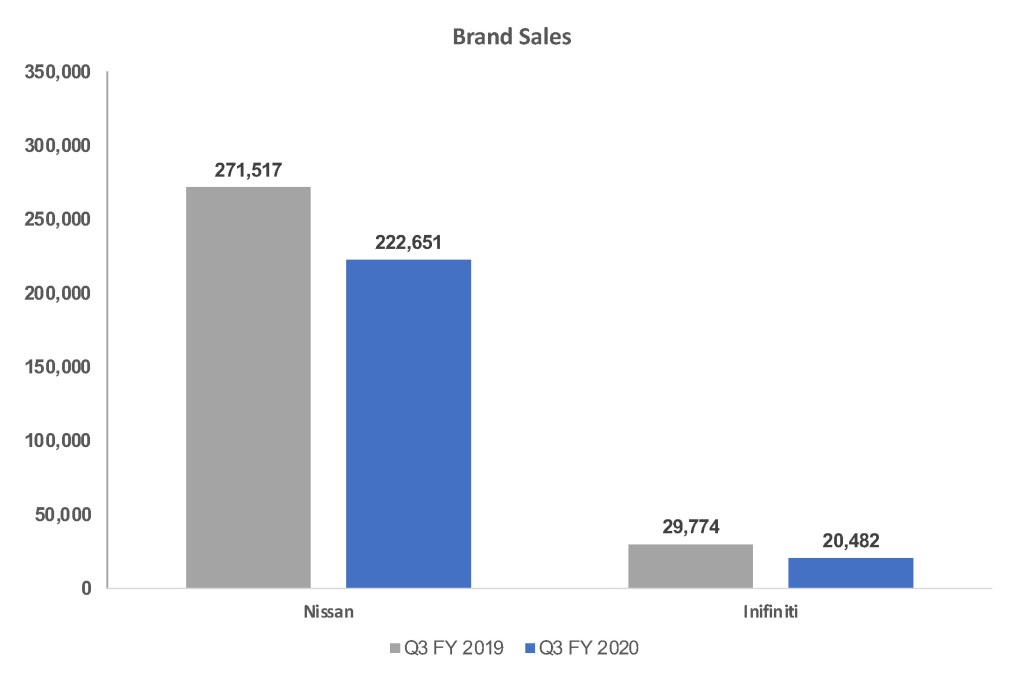 Much of Nissan's sales decline is due to fleet sales, which have been decimated by the pandemic-driven recession. Nissan has leaned heavily into fleet sales to prop up their sales numbers in past year. As part of their North America turnaround plan, however, they've indicted a desire to reduce dependence on fleet, a strategy that will be tested in 2021 as the fleet market recovers.
Nissan's total market share fell to 5.80%. Nissan brand was at 5.31%; Infiniti was at .49%, half what it was in Q4 2018.
Nissan brand sales declined by 18% to 222,651 vehicles, the lowest level in five years. The automaker is undertaking a major product offensive to replace its aged model line. Nissan brand is launching a freshened Kicks and Armada in addition to a redesigned Rogue and Pathfinder. Nissan has teased that a new Z-car is coming and has announced formally announced the 2022 Ariya, an all-new electric crossover, which goes on sale later this year.
In its third quarter, Nissan was one of the few brands to post higher sales of its small cheap models. The U.S. market has been bifurcated to favor more affluent buyers who can afford expensive SUVs and pickup trucks, while potential buyers of cheaper models have been pushed out of the new-car market by job losses and credit challenges. For Nissan, Kicks sales were up a whopping 46%. Versa sales soared 90%, likely aided by fleet sales as it is popular rental car.
As for not-so-cheap models, sales of the Leaf EV were up 43%. The full-size Titan pickup truck saw a sales gain of 15%, though still a small volume at 7,036 units – about 10 times less than Ford sells of the F-Series in a month. Sales of Nissan's NV cargo van were up 12%, a segment that has been booming during the pandemic due to home deliveries of goods. Ironically, Nissan plans to exit the commercial van market.
Infiniti sales plummeted 31% to a mere 20,482 units, about half the volume the brand sold between 2016 and 2018 in the quarter. Only the new QX50 SUV had higher sales than a year ago – up 26% to 6,316 units.
Incentives
In addition to reducing its dependence on fleet sales, Nissan has vowed to dial back incentives, which are typically among the industry's largest as Nissan had tried to buy its way to 10% market share. Indeed, the automaker trimmed incentives by 4% in its third quarter, but they remain high at an average of $4,458 per vehicle, according to Kelley Blue Book calculations.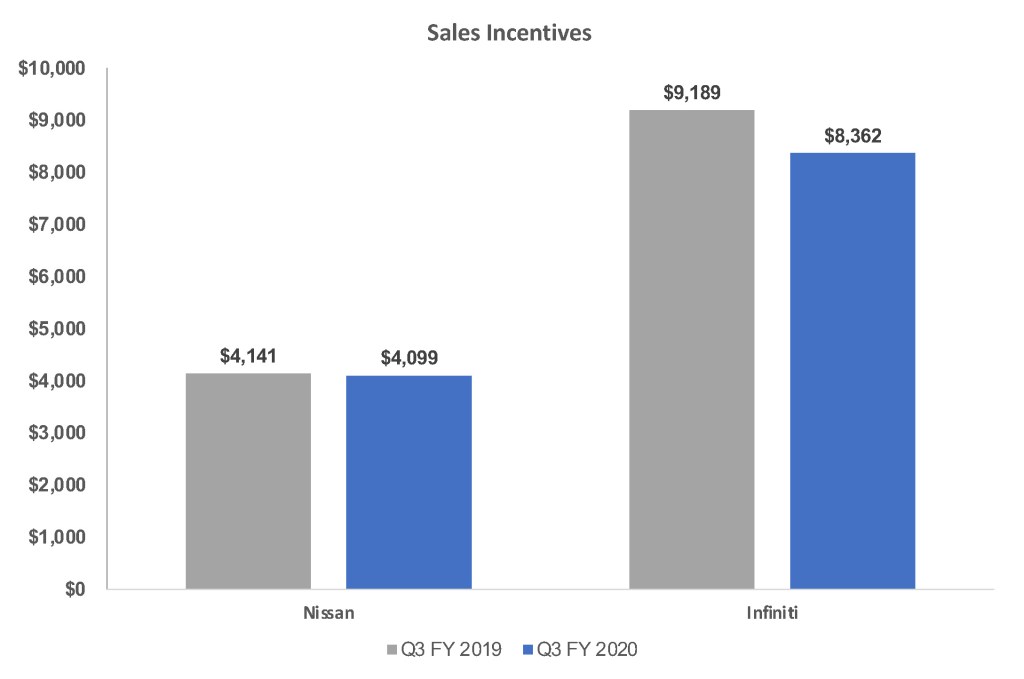 Nissan brand incentives were trimmed only 1% to $4,099 per vehicle, the second-highest in the last five years of third quarters. Infiniti incentives were scaled back by a hefty 9% but were still an extremely high $8,362 per vehicle.
Average Transaction Prices
Overall, Nissan's average transaction price (ATP) was $30,332, down 2% from a year ago, according to Kelley Blue Book calculations.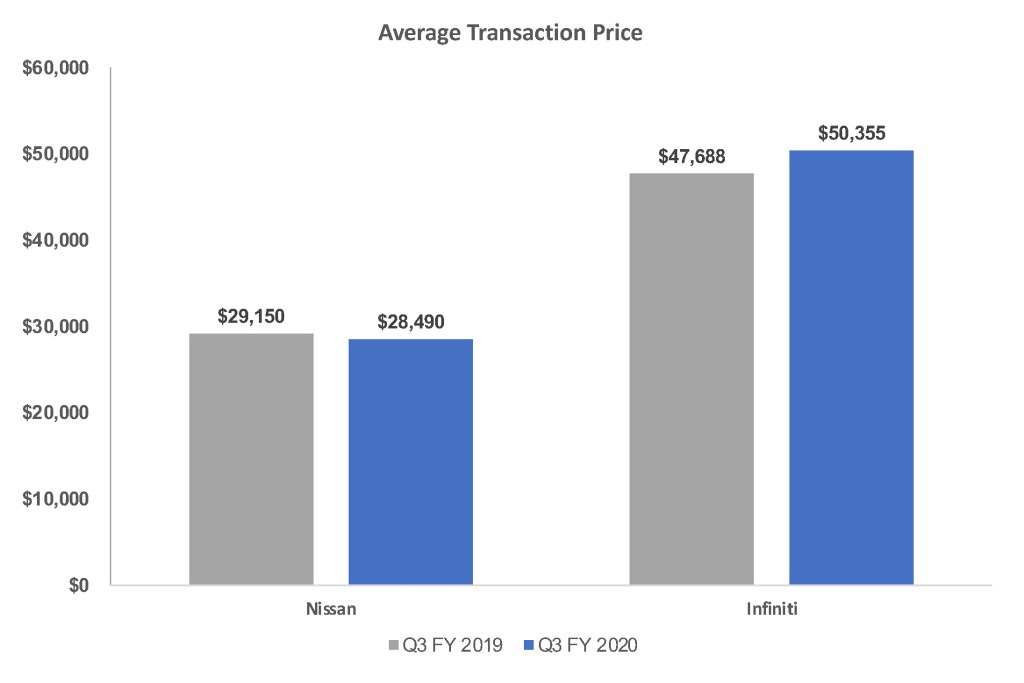 Nissan brand's ATP slipped 2% to $28,470 but remained in the ballpark of what it has been in the last few years. High demand for trucks pulled the ATP for the aged mid-size Frontier and full-size Titan up 12% to $32,666 and $52,840, respectively.
Infiniti brand's ATP rose 4% to $50,355, surpassing the $50,000 mark for the first time in the last five years of third quarters. The QX80 pulled up the average with its ATP rising 6% to $74,061. The rest of the models were in the $41,000 to $45,000 range.
Tags