Data Point
Cox Automotive Analysis: Quarterly Honda U.S. Market Performance
Wednesday August 5, 2020
Article Highlights
Honda/Acura sales fell 27% but still gained market share.
Honda boosted incentives 47%.
Honda ATPs edge 3% higher.
Honda reported a $1 billion operating loss in the quarter ended June 30, the automaker's first quarter of its fiscal year that ends March 31, 2021, due to the coronavirus pandemic.
The loss compares with a $2.35 billion profit in the same quarter a year ago. Revenue plunged 47%. Vehicle sales fell 40%.
In announcing the earnings, Honda executives said it was forecasting operating profit to fall 68% to $1.86 billion for the fiscal year with its global vehicle sales declining 6% to 4.5 million vehicles.
Here are some data from Cox Automotive on American Honda's quarterly market performance in the U.S., a significant market for the Japanese auto company.
Sales and Market Share
American Honda sold 293,481 vehicles in the April-June quarter, down 28% from the year-ago quarter. Sales for the Honda brand dropped 28%; Acura brand sales fell 27%.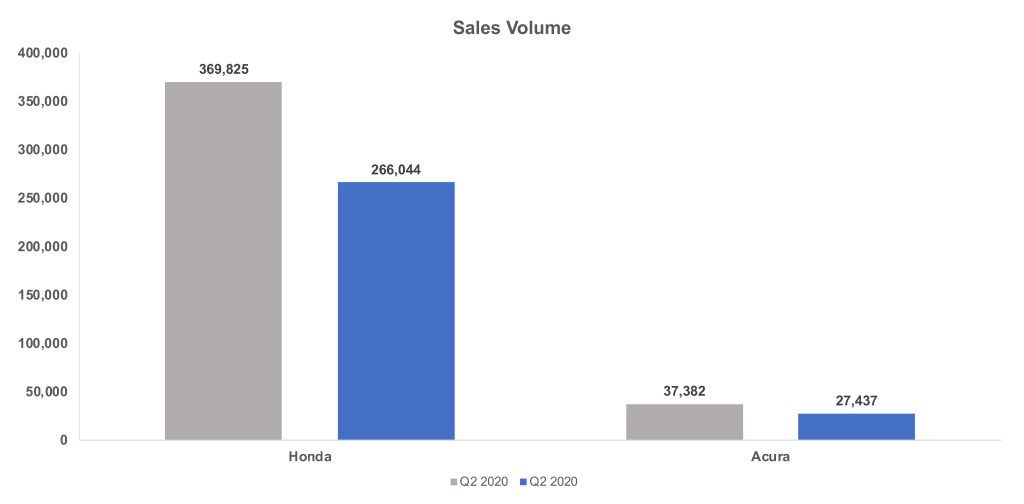 Despite the sales declines, the company and its individual brands gained market share. American Honda's overall market share surpassed 10% – 10.12% – for the first time in the quarter for the past five years. Its share for the year-ago quarter was 9.28%.
The Honda brand also had its highest share in five years at 9.17%, up from 8.43% a year ago, even though every model posted double-digit sales declines. The bulk of Honda sales are made up of three models: Accord, down 36%; Civic, down 30%; and CR-V, down 25%. Sales of other models dropped less than the overall market and less than Honda sales in general. Sales of the Pilot SUV dipped by 13%. The relatively new Passport SUV fell 16%. The Ridgeline pickup truck dropped 23%.
Acura eked out a market share gain – .95% up from .85%, its highest share for the quarter since 2017. Its volume leaders – the RDX and MDX SUVs – each had sales down 24%.
Incentives
American Honda buoyed sales with hefty increases in incentives. The automaker typically offers among the lowest incentives, and, despite the boosts in the quarter, it still spends less than many other automakers.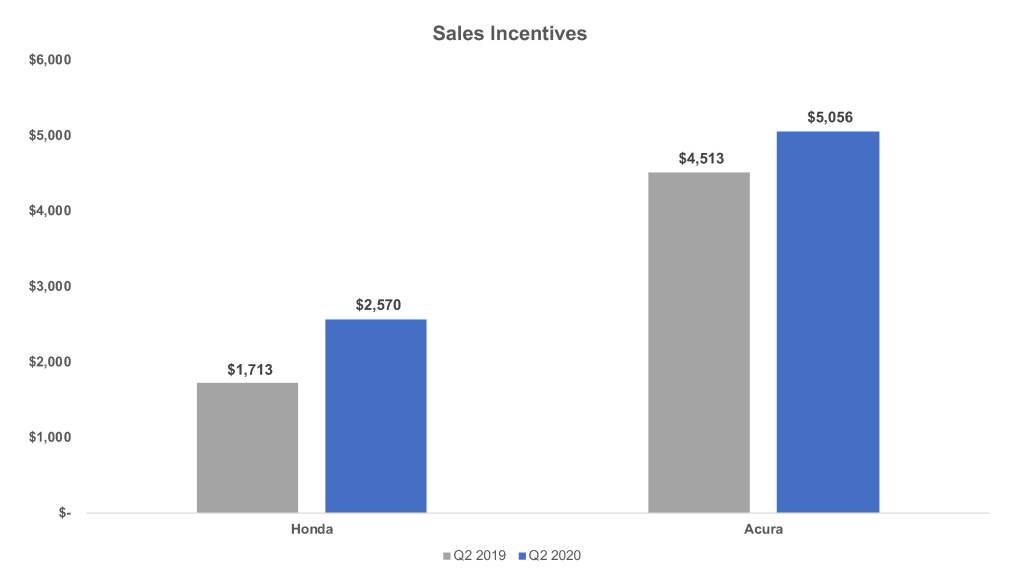 In total, American Honda increased incentive spending by 47% to $2,887 per vehicle, according to Kelley Blue Book calculations. That's the highest level for the quarter in five years. The Honda brand had a 50% increase in incentive spending to a still relatively low $2,570 per vehicle. Acura increased incentives 32% to an average of $5,956 per vehicle.
Prices
American Honda's overall Average Transaction Price (ATP) increased 3% to $29,497 per vehicle, according to Kelley Blue Book calculations.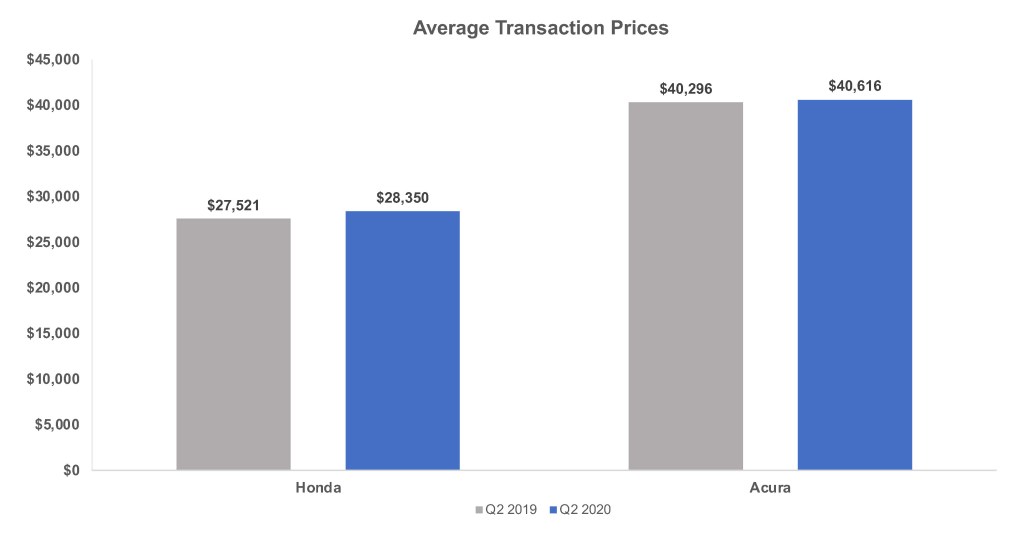 Acura gained less than 1% in pricing at $40,616 per vehicle. Honda's ATP rose 3% to $28,350 per vehicle, on the strength of the Civic, CR-V and Ridgeline, all of which had 3% price hikes.