Data Point
Cox Automotive Analysis: Quarterly Nissan U.S. Market Performance
Wednesday November 11, 2020
Article Highlights
Nissan/Infiniti sales plummeted 32%, 3X lower than industry decline.
Nissan dialed back incentives 3% to an average $4,485 per vehicle.
Nissan ATP up a scant 1% to $30,465.
Struggling Nissan Motor reports financial results for Q2 FY 2021, the July-to-September quarter, on Thursday, Nov. 12, marking the midway point for its fiscal year that ends March 31, 2021.
Nissan CEO Makoto Uchida hinted the quarter may be much better than the previous quarters. Still, the company is forecasting its biggest-ever operating loss of possibly $5 billion for this fiscal year. Uchida said in an Automotive News interview this week that Nissan won't be able to restore profitability without reigniting growth in the key U.S. market, once the biggest and most profitable market before China took that role.
The company has significant work to do in the U.S. Here are some data from Cox Automotive on Nissan's market performance in the U.S. for the recently closed quarter.
Sales and Market Share
Nissan sales, which include Nissan and Infiniti brand vehicles, plummeted 32% to 221,150 vehicles in the quarter. That was three times the decline of the overall industry.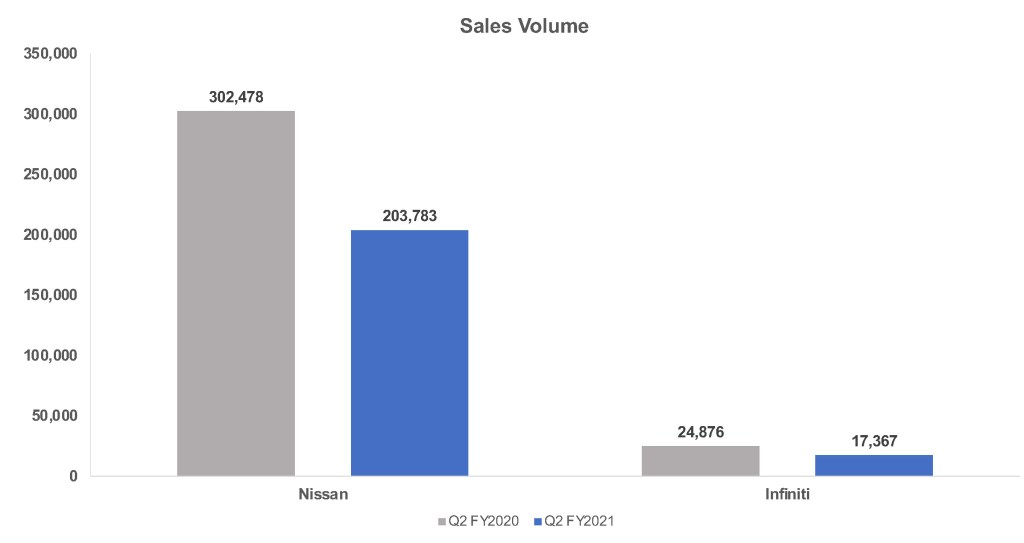 Nissan brand sales dropped 32% to 203,783 vehicles. Its sales volume leader, the Rogue compact crossover, saw sales nosedive 38%. A new Rogue is being launched this fall. Nissan's volume-leading car, the Altima, fell a hefty 45%. The Altima is a favorite for fleets, and that business has dried up during the pandemic recession due to the devastation of the travel business and subsequently rental cars.
Sales of other Nissan models fell just as much or more. Bright spots were Nissan's tiny, cheap car, the Kicks, with sales up 9% to 19,478 vehicles as well as the Xterra utility, up 24% to 10,466 units. Commercial van NV 200 had sales up 10%, but Nissan announced during the quarter that it is ending U.S. production of the van and abandoning that commercial business.
Infiniti sales were down 30% to only 17,367 vehicles in the quarter. Every model but one had huge double-digit declines in sales. The QX50 utility had a 13% sales increase to 5,500 units, accounting for about a third of Infiniti's total sales.
Market share, which the automaker once targeted at 10% under former Nissan-Renault CEO Carlos Ghosn, dropped to under 6% in the quarter, 5.68% precisely. In the year-ago quarter, its share was 7.57%. Nissan brand share dropped to 5.23% from 6.99% a year ago. Infiniti share edged down to .45% from .57%
Incentives
Nissan, once known for driving sales volume with some of the industry's richest incentives and high fleet sales, dialed back on incentives during the quarter. Incentive spending dropped nearly 3% to an average of $4,485 per vehicle, according to Kelley Blue Book calculations. That's still high compared with other mainstream automotive brands.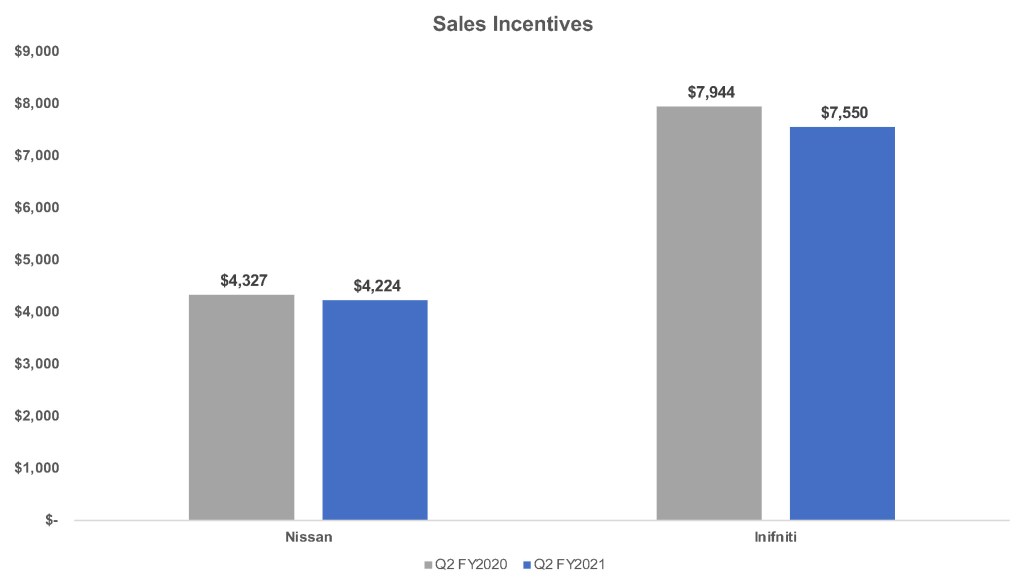 Nissan brand trimmed incentives by 2% to an average of $4,224 per vehicle. Infiniti cut incentives by 5% to an average of $7,550 per vehicle. [For more details on Nissan incentives, see this Data Point.}
Prices
Nissan's average transaction price (ATP) was up nearly 1% from a year ago at $30,465, according to Kelley Blue Book calculations.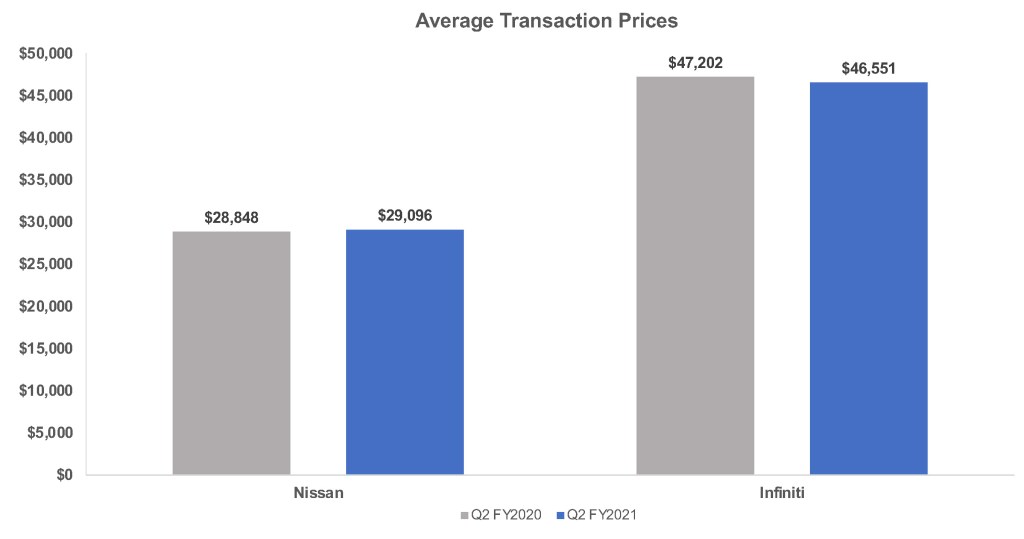 Nissan brand's ATP edged up 1% from a year ago to $29,096. Demonstrating the high demand for pickup trucks, the aged Frontier midsize pickup truck had the biggest ATP increase, up 11% for $31,995, above the $30,000 mark for the first time in the quarter for five years. The midsize pickup finally gets a makeover next year. Similarly, the full-size Titan pickup truck saw a nearly 9% increase in ATP to $51,611, the first time it has surpassed the $50,000 milestone since Q3 2016. Small cars Versa and Sentra also hefty increases in ATP as well.
Infiniti model ATPs were a mixed bag. The Q60 had the biggest hike at 6% to $49,935. The QX50, which also had higher sales, had a 5% rise in ATP to $42,176.
Tags