Data Point
Cox Automotive Analysis: Quarterly Nissan U.S. Market Performance
Tuesday May 26, 2020
Article Highlights
Nissan, Infiniti sales and market share plummet.
Nissan boosted incentive sending 24%.
Infiniti incentive spending soars to $8,561 per vehicle.
Nissan Motor Co. in Japan reports financial results on Thursday, May 28, for the quarter and fiscal year that ended March 31. Nissan also will unveil its 3-year restructuring plan that day.
Even before the global pandemic, Nissan expected weak results for its recent fiscal year. Ahead of those expected weak results, Nissan said it planned to cut billions in annual fixed costs as well as book charges on the restructuring that it will announce.
In North America, Nissan shook up the management ranks and has shut down its major assembly plant in Smyrna, Tenn., for an extended period. It reopens some time in June. This facility produces the Nissan Altima, Maxima, Leaf, Pathfinder and Rogue as well as the Infiniti QX60.
Here are some data from Cox Automotive on Nissan's quarterly market performance in the U.S., a significant market for the automaker.
Sales and market share
Nissan sold 257,450 vehicles under the Nissan and Infiniti brands in the U.S, down 30% from a year ago. It was the first time for the quarter that sales were under 300,000 units for the company.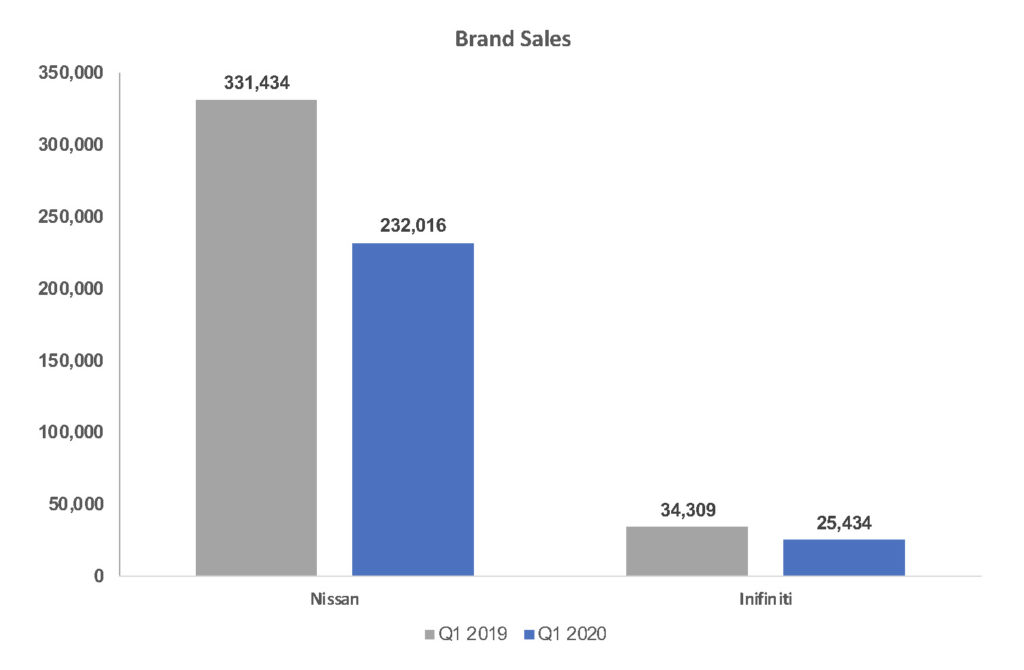 Nissan brand sales fell 30% to their lowest level in at least five years. Infiniti sales were down 26% to a scant 25,000 units for the quarter, the first time they slid under 30,000 units in at least five years.
Market share for the two brands combined dropped significantly to 7.50% from 9.27% a year ago. Nissan brand's share fell to 6.76% from 8.40%. Infiniti's slipped to .74% from .87%.
The only Infiniti model to post a sales increase was the QX50 SUV, up 16% to just over 4,000 units.
Nissan brand had some deep drops but models reporting an increase were the Kicks, Murano, N200 cargo van and Pathfinder. It's high-volume Rogue was down 36% as it is being sold down to pave the way for the new one, being introduced this summer.
Incentives and prices
Nissan spent on average $4,632 per vehicle on incentives in the quarter, up 24% from a year ago and roughly $600 more than any first quarter in at least the past five years, according to Kelley Blue Book calculations.
Nissan brand incentives rose 24% to an average of $4,201 per vehicle. Infiniti brand incentives climb 20% to a heft $8,561 per vehicle, according to Kelley Blue Book.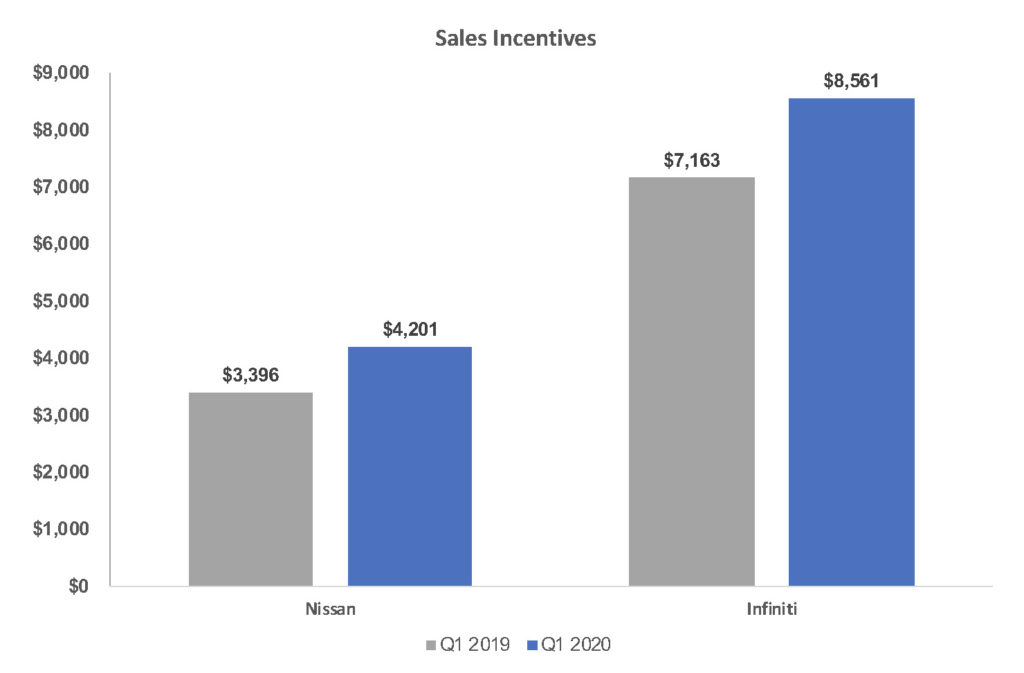 Average transaction price for Nissan and Infiniti combined was up 6% to $31,273 per vehicle. Nissan brand had a 6% rise to an average $29,295 per vehicle. Infiniti edged 1% higher to an average $49,318 per vehicle.