Data Point
Cox Automotive Analysis: Quarterly Toyota U.S. Market Performance
Tuesday May 19, 2020
Article Highlights
Toyota sales fall 8% with Lexus falling the most.
Toyota incentives boosted by 14% with Lexus' high.
Toyota RAV4 is the star with higher sales, higher prices.
Toyota reported earnings last week for the quarter ended March 31, a date that also marked the end of the Japanese automaker's fiscal year.
Toyota reported operating profit fell 28% in the quarter, while net income plunged by 86%. Toyota executives warned that annual profits for this current fiscal year, which ends March 31, 2021, could fall by 80%.
Toyota CEO Akio Toyoda said the current situation is worse than the 2008 financial crisis, but the company will remain profitable, albeit likely its smallest profit in a decade, and it will sustain investments in future technologies.
Toyota restarted its U.S. plants last week. Though the parent company cut North American production expectations by 29% through October, U.S.-based executives say they hope they can reach full production this summer.
Here are some data from Cox Automotive on Toyota's quarterly market performance in the U.S., a significant market for the automaker.
Sales and Market Share
Toyota sold 494,684 vehicles in the quarter, down 9% from the year-earlier quarter. It was the first time that sales fell below 500,000 for the quarter in at least five years.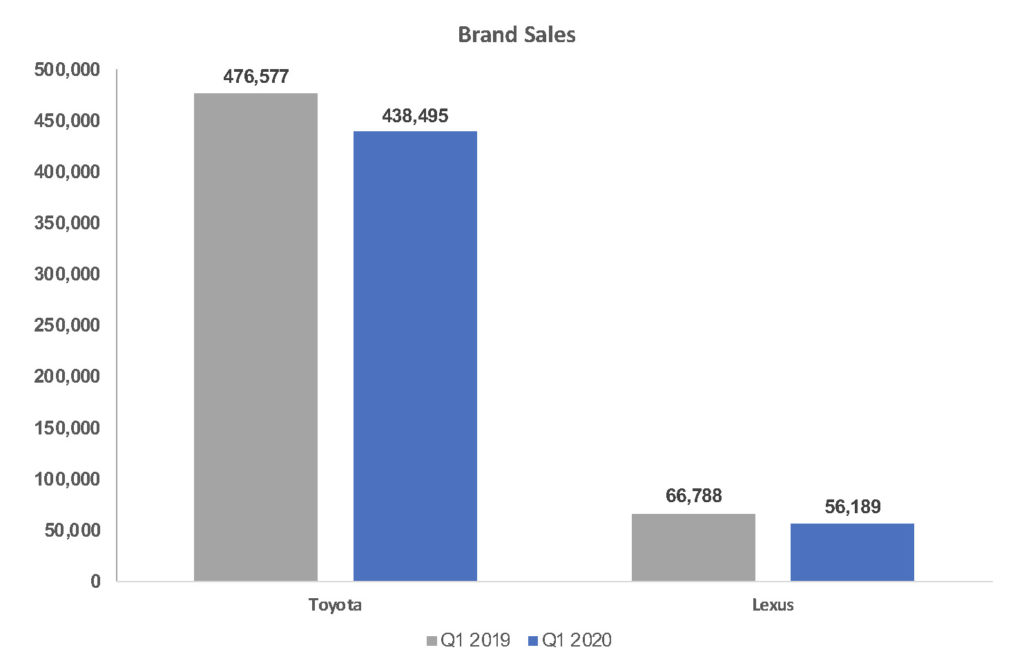 Toyota brand sales fell 8%. Lexus, due to particular softness in the luxury market, declined 16%.
Only two models in either line posted a sales increase. Yaris sales were up to 1,650 vehicles from a scant 184 a year ago. Sales of the recently revamped RAV4 crossover, which has a hot-selling hybrid version, rose nearly 17%. Lexus announced it would drop the GS sedan from its line as luxury customers, like non-luxury buyers, prefer SUVs to cars.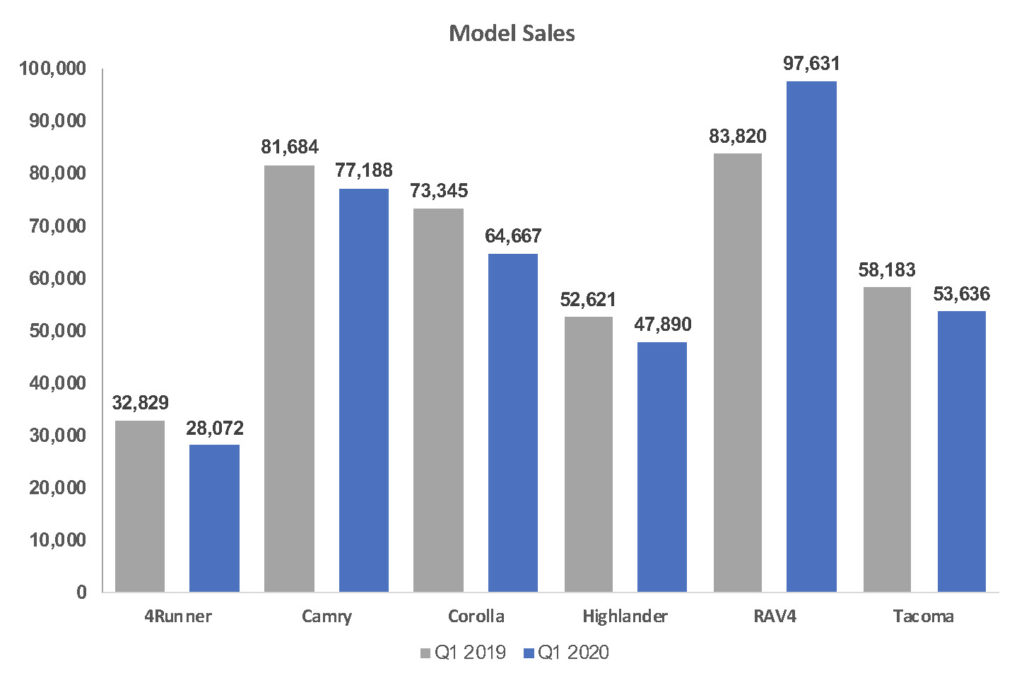 Despite the drops, Toyota's overall market share for both brands rose to 14.41% from 13.77% in the year-ago quarter, thanks to Toyota brand's share edging higher while Lexus' share inched downward.
Incentives and Prices
Toyota boosted overall incentives in the quarter by 14% overall, according to Kelley Blue Book numbers.
Incentives for Lexus rose 15% to an average of $5,489 per vehicle, a hefty number for the luxury brand, which has not had incentives over $5,000 in a first quarter in at least five years.
Incentives for Toyota also rose 15% to an average of $2,239 per vehicle, still at the lower end of the spectrum for incentive spending. The Detroit 3 launched zero-percent financing for up to 84 months almost instantly when the coronavirus was declared a global pandemic in the early part of March. Toyota didn't launch zero-percent financing until late April and then only on the Camry, RAV4 and Tacoma and only for up to 60 months.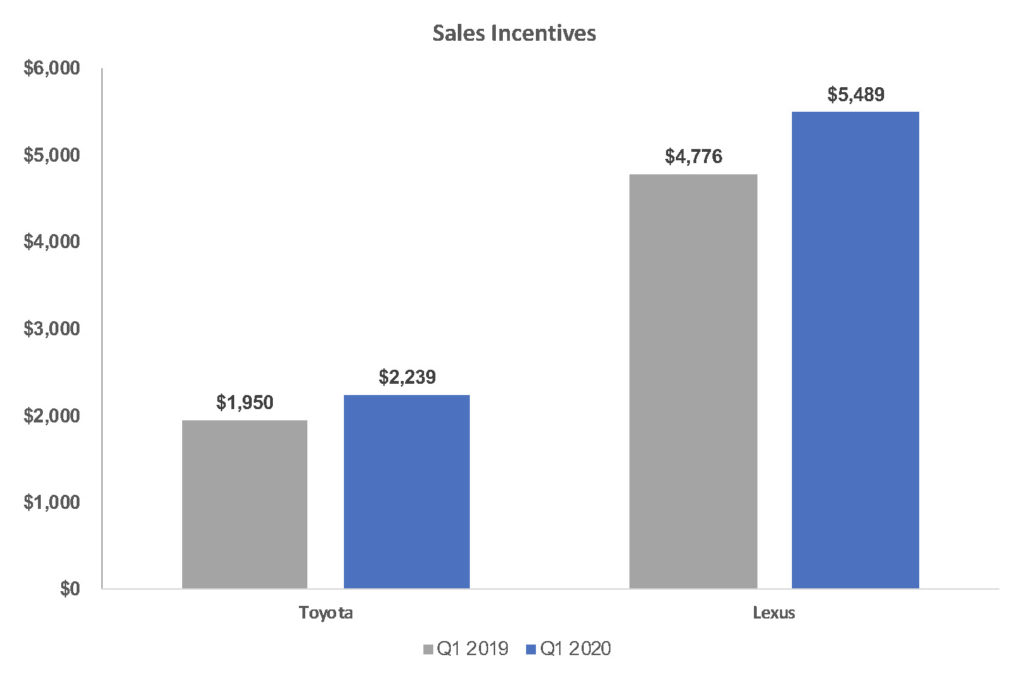 Overall, average transaction prices for Toyota and Lexus brands combined rose 3% to $34,074 per vehicle, according to Kelley Blue Book calculations.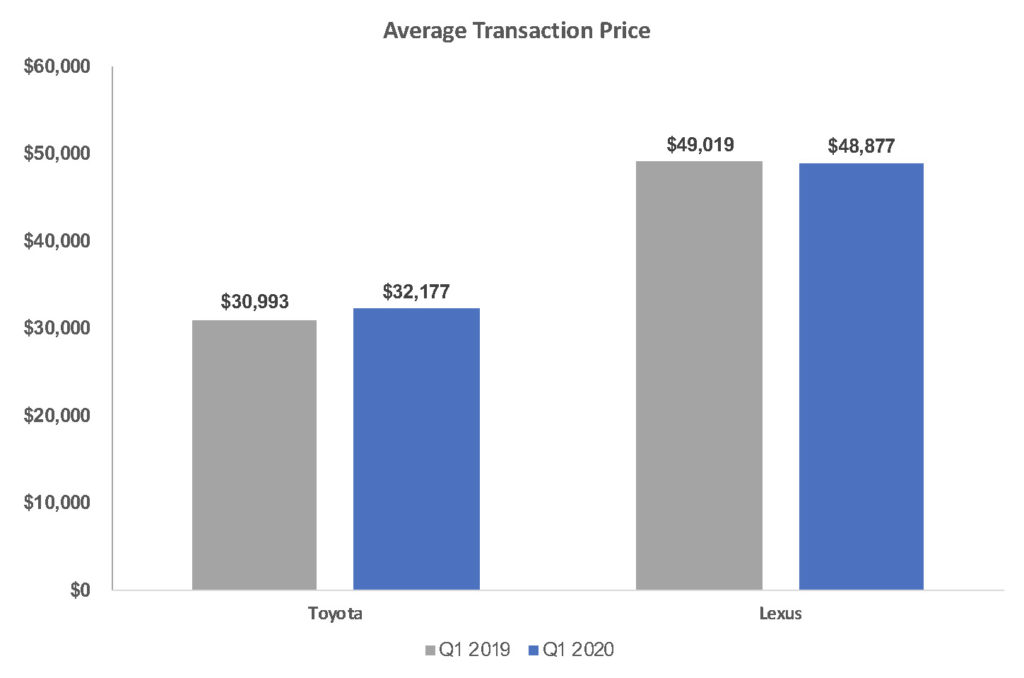 Lexus prices were roughly flat to an average of $48,877 per vehicle. Toyota brand prices rose 4% to an average of $32,177 per vehicle, driven by higher prices for the Tundra pickup truck, RAV4 and Corolla.
Both the RAV4 and Corolla were redesigned recently, and the redesigned versions are commanding higher prices. The RAV4's average transaction price, due in part to the hybrid version, climbed 5% to more than $30,000 for the first time in the quarter. The Corolla's price was up 6% to more than $20,000 on average for the first time, according to Kelley Blue Book figures.