Data Point
Cox Automotive Analysis: Stellantis' Q1 2021 U.S. Market Performance
Tuesday May 4, 2021
Article Highlights
Overall Average Transaction Price set Q1 record at $45,426.
Incentives cut to the lowest Q1 level since 2018.
Ram was the Q1 winner for Stellantis.
Stellantis, now the world's fourth-largest auto company by sales volume, will report its first-quarter 2021 financial results Wednesday, May 5. It will be the first quarterly financial results from the company formed officially early in the quarter by the merger of Fiat Chrysler and PSA (Peugeot) Group.
In the U.S., the company improved its sales performance from last year's pandemic quarter but is not back to pre-pandemic levels. Still, the automaker was able to slash incentives and boost average transaction prices to help its profits.
Here are some data points from Cox Automotive on Stellantis' first-quarter performance in the U.S., where the company derives a large share of its profits.
Sales and Market Share
Stellantis posted total U.S. sales of 469,651 vehicles, up 5% from 2020's first quarter when the COVID-19 pandemic started. Its sales were below 2019 and, in fact, were its second-lowest for the quarter since 2015.
Stellantis underperformed the overall market, which was up 11%, pushing its market share down to 12.0%, its lowest since 2015. By comparison, Stellantis' market share was highest for the first quarter of 2016 at 13.6%.
Sales Volume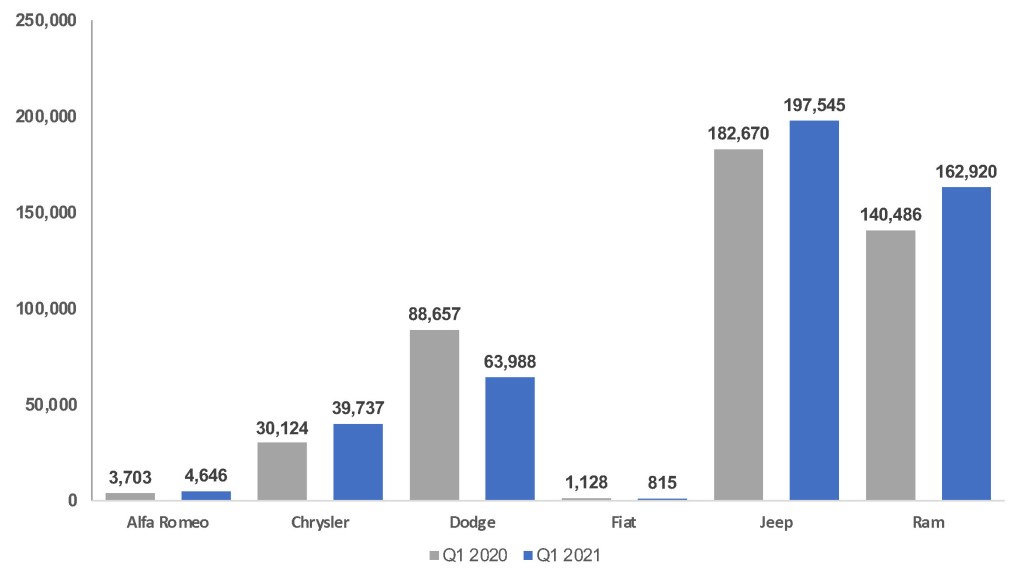 Two of Stellantis' six brands – Dodge and Fiat – posted significantly lower sales. Dodge, which is transforming to a purely muscle car/SUV brand, had a 28% sales drop to 63,998 units as it sold down discontinued models. For comparison, Dodge, which had a broader product line, sold 127,480 vehicles in the 2015 first quarter. However, without the sell-down models, Dodge would have had a higher percentage of sales as Challenger, Charger and Durango posted double-digit sales increases.
Fiat barely exists with sales of only 815 units in the quarter, also a 28% decline. By comparison, Fiat had its highest first-quarter sales in 2015 at more than 10,000 units.
The Ram brand was the big winner in the first quarter. Its sales were up 16% to 162,920 vehicles, its highest sales since 2015. The Ram 1500 had its highest sales since 2015, up 16% to 148,836, which meant it surpassed its rival Chevrolet Silverado. Ram cargo van sales increased as demand for delivery vehicles soared.
Stellantis' highest-volume brand, Jeep, posted an 8% gain to 197,545 vehicles, still down from 2019. Lower sales of the Compass pulled the total down as every other Jeep model had higher sales, though sales were not quite back to 2019 levels.
Alfa Romeo posted a 26% gain on a small volume of 4,646 units. Chrysler, with only two models to sell, had a 30% increase to 39,737 units. The Chrysler Pacifica got a 40% boost in sales. Both brands had higher sales in the 2021 first quarter than in the same period for 2019.
Incentives and Prices
Stellantis cut incentive spending by 10% in the first quarter to an average of $4,505 per vehicle, according to Cox Automotive calculations. That was the lowest per-vehicle incentive spending since 2018.
Sales Incentives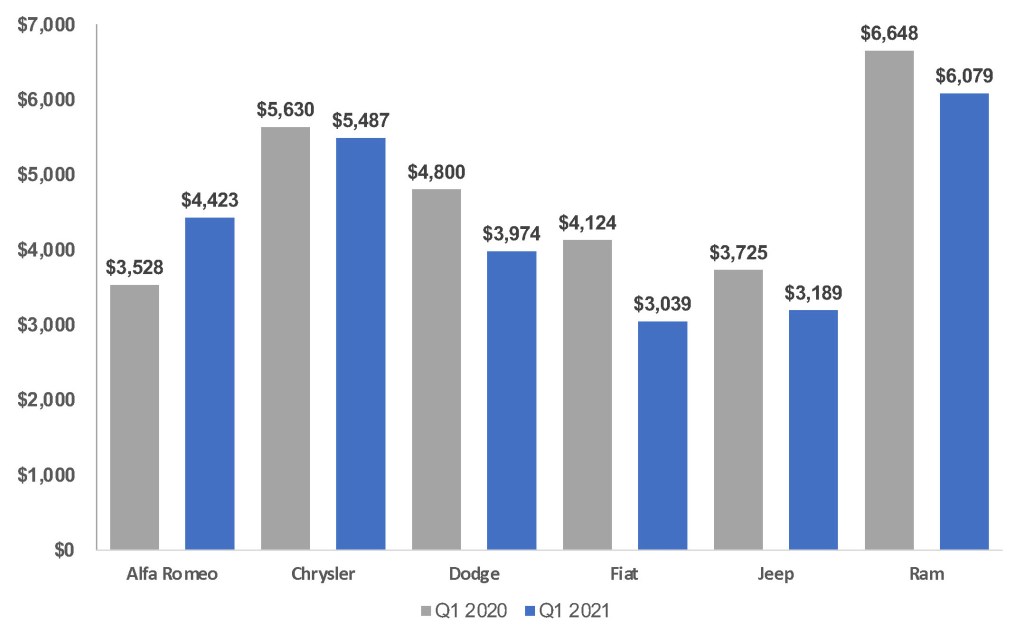 The Alfa Romeo brand got a big boost in spending, which may have been why sales rose. Its incentives rose 25% to an average of $4,423 per vehicle, its highest amount since 2015.
Incentive spending on all other brands was reduced. Ram cut spending to an average of $6,079 per vehicle, down 9% from a year ago but higher than 2019. Jeep cut spending by 14% to an average of $3,189 per vehicle, its lowest level since 2016. Chrysler averaged $5,489 per vehicle, down 3%. Dodge was at $3,974 per vehicle, cut 17%. Fiat had the biggest decline of 26% to $3,039 per vehicle, which is high considering the low price of its vehicles but still it was the lowest level since 2015.
Stellantis' overall average transaction price (ATP) set a new first-quarter record of $45,426, up 11% from a year ago, according to Cox Automotive calculations. Every brand had a higher ATP than it did a year ago, some setting new records.
Ram brand got a 9% bump in ATP to $53,316, helped by the Ram pickup truck, which now has an ATP of $55,074. Jeep pitched in with a 7% hike, putting its ATP over the $40,000 mark. The boost came from higher ATPs on its most expensive models – the Wrangler and Gladiator. Dodge, thanks to eliminating lower volume, cheaper models, gained 19% in its ATP, which put it over the $40,000 line as well. Chrysler brand also surpassed the $40,000 mark with an 8% overall gain, thanks to the Pacifica minivan that blew past the $40,000 milestone. 
Average Transaction Prices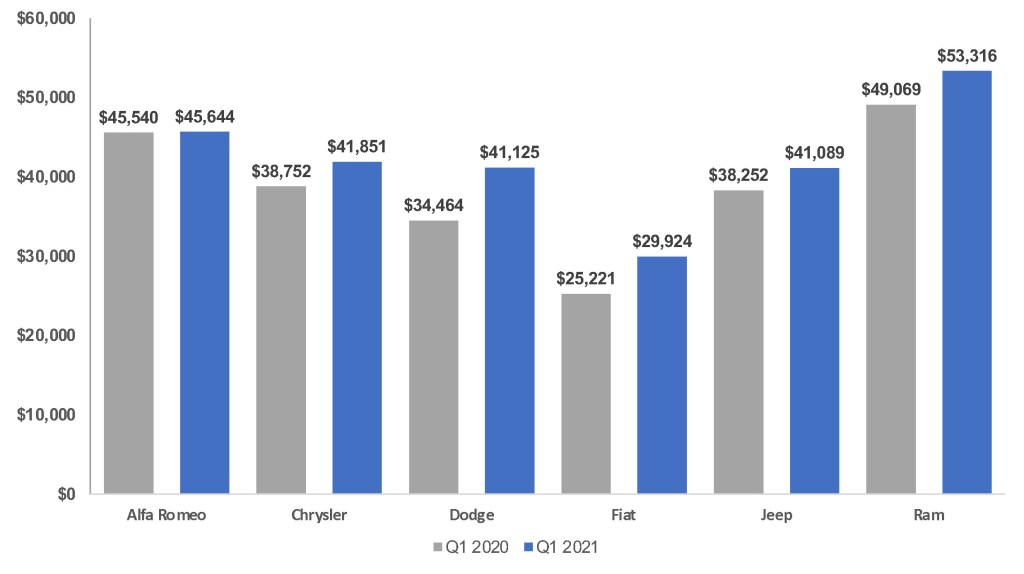 Alfa Romeo's ATP was flat at $45,644 with the 4C carrying a $70,000 plus ATP. Even Fiat had a gain, a hefty 19% to nearly $30,000, due to the 124 Spider which has an ATP of $32,427.
Tags